What a nice Bi-retro Radek, I just saw the *g§$µ0@ (censored ...
watch still under embargo
)
moderator's note
HL diner last night I hope a Lounger with a nice camera (my mobil did only bad pictures) will post some pics
probably one of the nicest VCs ever! Hats off to you sir :-) nt
Thanks for this comment...
I was able to read your post before Alex censored it
I'm a happy man now, and I can't wait for the embargo to be lifted to see the real life pictures... Lucky guy, you got to see it in the metal... Cheers,  Francois
does your watch have the cal 135? (nt)
it is a cal 135 from Zenith in a yellow 18K original screwed-back case.
nniiicceeee :-) that's one amazing caliber! Supposedly Vyskocil got
his inspiration from the 135 to create his own movement
One of the most beautiful watches ever?
If not it's very close up there. What a great contrast with the gold
Well, your "today" is my yesterday...
and I had this on my wrist for a lunch with some friends and then a watch-related appointment...
Cheers, Duncan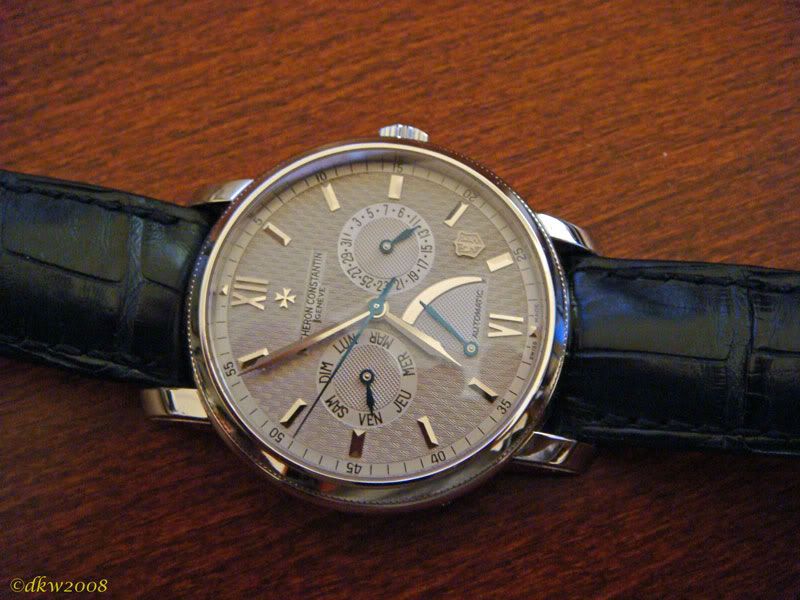 that's another one I'd like to have on my wrist...
another one to add on the list
Should I be adding you to my will? :-) (nt)
Hahaha.... Now, what to leave you? ;-) (nt)
500th post that is...
Hello fellow Loungers, It is good to be back after a short vacation to Manila (where Gilbert has bought the last interesting piece from the local AD) and catching up with the tons of work that piled up since then.   I am still enjoying my Contemporaine boutique edition on weekdays (other watches still kept elsewhere since my trip).  Relax guys...I am not actually wearing that shirt today.
I will probably never be able to get one of those TTGE (Colombus?) in Alex's great report on alternative watch displays (muchas gracias, Jefe!), but whenever I look at this watch, I see the faces of Alex, Radek, LN, JB, JL, Francois, and the rest of the friends and VC staff I met during the VC SIHH event last April (I am glad their faces are not actually enamelled onto the dial though
). A belated congratulation to Radek on the acquisition of your Malte Chrono EP.  If you ever tire of No. 7, please give me a call.
Work and family life has certainly been getting busier and busier since my first post in the Lounge, so it took longer and longer for me to even reach the 500th mark.  Still, the Hour Lounge has opened so many windows for me and I am glad that Alex invited me to join at the onset of the project.  My posts may become sporadic at times but I still look forward to posting my next 500!!  
Happy weekend to all!
Kazumi
Nice to get fresh news Kazumi (nt)
Missed you my friend and a toast to you 500 and the next 500 :-)
Hope you visit more often. You're a great addition to this forum and you have been missed... Thanks for kind words on Malte Chrono EP - I am sure it's a keeper, for a while at least
Congrats on no500 Kazumi...
Your humor has been missed in the last few weeks... By the way, I think you've had the idea of the year - maybe the decade in this memorable post! Imagine, the HL LE edition being a TTGE, but with the faces of the Loungers (and that would include your mop-hair
) enameled on it
... How amazing (and horrible) would that be!!! Cheers,  Francois
Good to see that all your watches are getting some wrist time...
Ahh...Those were the days... (nt)
Re: been a long time: WHAT'S ON YOUR WRIST TODAY?
Today its another Richemont family, IWC Portuguese 5001. Have a great weekend everyone!! Regards, Matt
sweet set - especially the watch ;-) (nt)
Love the Malte Chrono, Gilbert! Am going to put it on tomorrow ;-) nt