Sorry, Rei the dial's too loaded for me...
Your previous post had a much bigger emotional impact
You're right. The dial is too clutered.
Sometimes I even find it hard to read the information on the dial, like date for example. Oh well, where else can you get hand finished grande complicaton for only $2000?
it is a drop-dead-gorgeous watch...
That's indeed unexpected. He must be someone special. Someone I was introduced to was wearing Patek Sky Moon Tourbilon, and when he handed it to me to look at, it felt so light and maed out of plastic! Talk about a 3rd class fake! 
but it must have been quite a lump on the fellow's wrist?
he was wearing a short sleeve polo :-)! (nt)
Love the color of the blue steel hands
the picture doesn't do it justice. What a great case design Peter came up with for his line of watches
Re: the more I see your watch the more I love it! here's something rar
Hi Alex,
Always nice to see Peter's fine watches.  While I was most impressed by the Quai de l'Ile line by VC at SIHH, I did go home with a PSM that I picked up from Peter. 
Now, for a rare VC, how about this one?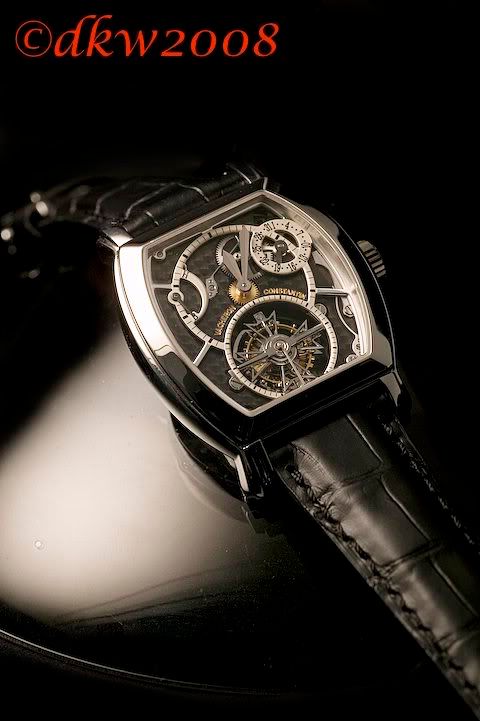 Duncan
Only 3 available, yours is #1, I believe (nt)
Hats off Duncan, you rock :-) (nt)
the most beautiful Malte Tourbillion ever! nt
Re: the most beautiful Malte Tourbillion ever! nt
Thanks guys!  This one is a real fave of mine and one that I will never tire of.
I am just glad that VC has introduced the Quai de l'Ile line as it is another blend of new and contemporary elements of haute horlogerie with the traditional aspects of fine watchmaking that are at the heart and soul of the manufacture.
Duncan
Hi guys,
Glad to see you're enjoying your Contemporaine boutique, Rei. 
Actually, my Contemporaine boutique is in the shop right now. 
After getting back from Switzerland, and when the excitement had settled down,
I noticed that it was gaining a full two minutes in one day, and felt it was losing power much faster than normal...
This was my first such experience with a VC.  The rest of its siblings have been keeping perfect time since day one.
Oh well, these things are man made so they can't be perfect every time...
Its been away for almost two weeks now and I am really missing it.
Cheers,
Kazumi
P.S.   By the way Rei, "Katsumi" is a porn actress...but don't worry, Alex used to call me Katsumi too. 
Just shows what everybody is doing when we're not in the Lounge...
LOL you still remember that? :-) and sorry to
hear about your watch
Kazumi, NOT Katsumi
 ...
No, I don't watch porn...I produce them! LOL! Just kidding...
Sorry to hear the watch had to go back to Switzerland. Mine also had to go back after a month or so since the dial had a dimple so it was swapped with a perfect one free. It took about 1.5-2 months. When you get iti back, it'll be perfect again!
Actually, I haven't heard from VC Japan yet...
so there is a chance that adjustments can be made locally.
BTW, please PM me if you need someone for your next movie!
Enjoy the rest of the weekend guys!
Kazumi
LOL! Should we feature VC for a screen shot as well
Hahahaha
Re: Really missing mine...
They have porn in Japan???
I'm shocked, shocked, I tell you!!!
LOL!!
Joseph
hope it makes it back home soon...
and as you wish you will get to star in the XXX movies to get the VC screen shot
Yes I think that will end up as an iconic VC watch...nt
Patrimony Contemporaine is already considered an iconic VC watch...
by many watch aficionados
I just love it. Wearing it everyday...
Maybe I should get the dateless auto version too