I thought it was this one
Doc
Really nice pic of a beautiful watch :-) (nt)
Re: Friday ! What's on your wrist ?
I've got a gorgeous invisible VC on my wrist today
Ohhh, that's beautiful !!! (nt)
Thanks Doc for your appreciation
I must say that this new model is really amazing, very classy, and really a feather weight. And the new invisible movement with Geneva seal is truly amazing, the best ever. OK... I swear I did not drink or smoke anything illegal
My newest vintage acquisition (not V&C)...
While several steps below the V&C's which we are used to seeing on this forum, I find this mid-level vintage Girard–Perregaux to be very elegantly designed. I particularly like the case and lugs, and the dial itself is actually not far removed from some of the classic '60's V&C designs. Hmmm...that leads me to wonder which company influenced which? 
Regards, Tony C.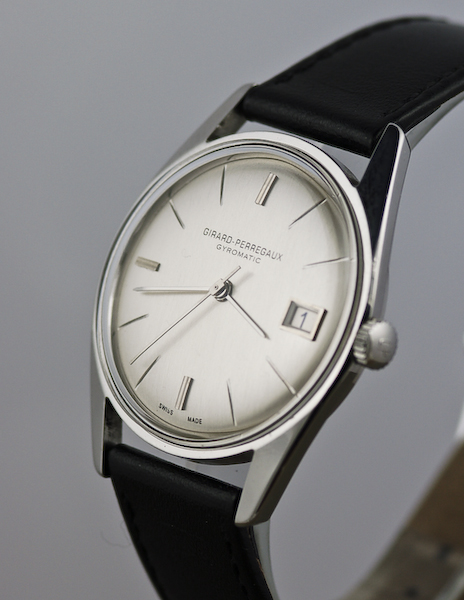 I was thinking of a Girard-Perregaux
as my first vintage watch, V&Cs still being out of my league. Glad to see I am not the only one who enjoys those watches
. What would be your advice (the nice calibres, dials) bearing in ming I would probably go for a man's watch rather than a lady's ?
Many vintage men's watches are
today small, and could well be used as a lady's watch. This is a very cheap old GP from the 50's I bought many years ago. This GP Gyromatic was one of the first selfwinding watches, that worked and still does
Only 31 mm without crown,  but seems bigger with the long lugs, 41 mm. It was first with ball bearing system.
Cheers Doc
Yes, including the one in my original post...
definitely a man's watch, at around 35mm (excluding crown). That was, as Doc says, roughly typical of the period, including plenty of V&C models!
Re: I was thinking of a Girard-Perregaux
Hi Tacha, I'm a big fan of GP too and have a few of them. I have a vintage one and I'll try and take a photo for you. I think its 34-35mm. It will give you some idea of what's available. Not too expensive either. Regards, Joseph
...it is on my wrist ! Have a nice weekend, Mark
Please give us a wristshot! (nt)
a quick one I am afraid..... Kind regards, Mark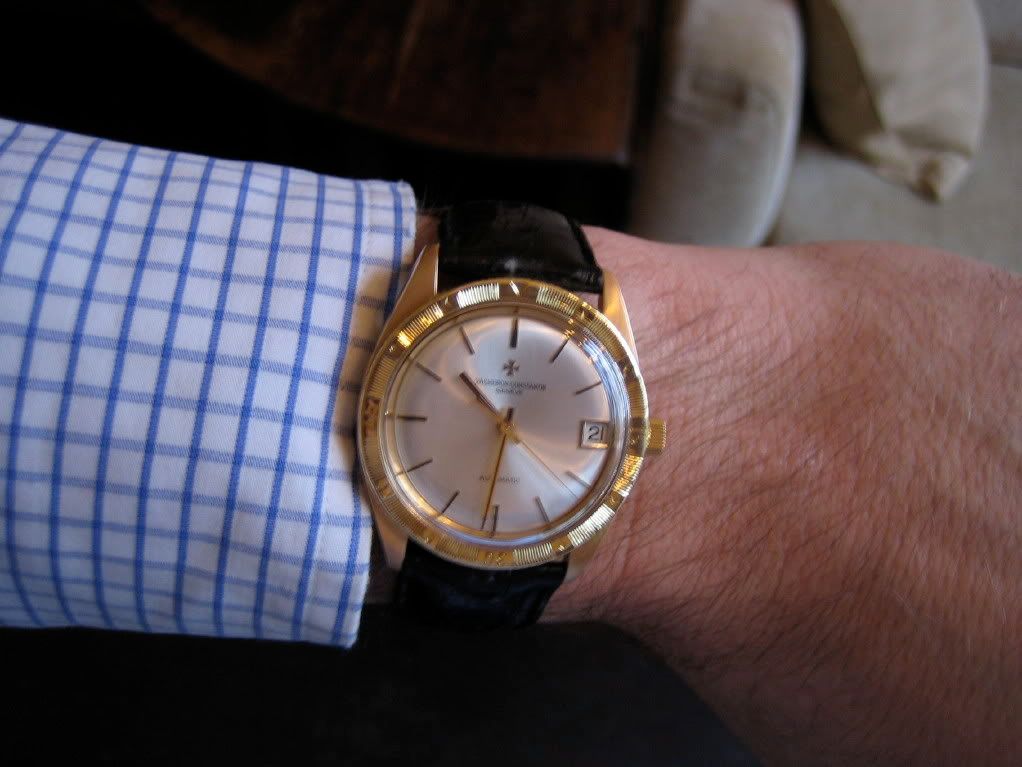 Just perfect :-) Thanks ! (nt)
Looks good from every angle! nt
Still enjoying the new family member...very comfortable to wear on a daily basis!  Say Doc, that two-tone dial really shows nicely on your "driving" watch
Yes, what else could you wear? :-) (nt)
I love that watch. Classic in all details. Congrats
Doc
 Classic style like Breguet but distinctive on it's own merits....stunning
JB, that is truly beautiful....
I love the moonphase with the small checks...lot's of detail.  Is that YG or RG? Best regards, Tom
Greetings, Thanks for the kind words. Its YG. I don't think it was ever made in RG but I'm not sure. It was made in platinum for sure. They were all numbered but I don't know the criteria. The blued hands though are quite rare. Only a handful were made that way. Here again I'm not sure how it was done but the failure rate in the process was 90%. So they stopped doing it and went to gold hands. All their watches are (to uses some lyrics by Jerome Kern) "Lovely to look at, Delightful to hold and Heaven to wear" Haha I'll bet you thought I was going to say "kiss". Seriously, they do have some spectacular pieces. Regards, Joseph
AFAIK only one piece was made in RG as a prototype (nt)
stunning is what first come to mind. Love it! (nt)
Wow, I didn't know you were hiding
this one for me. It sure is a genuine classic, even if it hurts,  I must admitt I like it very much
Cheers and see you soon Doc
Can't by cleaner ! Classic. (nt)
Very nice!! Me gusto mucho!!
never seen that version before, amazing
Think how much work put in that dial !! Take care of it, because it's a beauty
Cheers Doc
agree, the dial is gorgeous! nt
Re: agree, the dial is gorgeous! nt
Thank you both (Doc & Alex), for your nice comments. Marios
A classic IWC is neber wrong :-) Thanks! (nt)
Some real stunners have come out from under today...
Under the cuff that is
I'd love to get a better look at the dial.  Do you have any closer photos?  What a handsome watch. Thanks for sharing it with us. Best regards, Dino
Re: Of course! Here's for you Dino!
clasic & elegace VC it is very baeatiful dear Doc and the sape is one of a kind imo
 wear it always in good health vassilis
Thank you very much, Vassilis :-)
you bought it on the date we met :-) (nt)
The case is very handsome, but the two tone dial is very very cool!  From the photo in the car it looked two tone but the close up photos show that the watch is even nice than I anticipated.  Great watch! Wear it in good health and thanks for the additional photos. Best regards, Dino P.S.  The "Father" 1972 is a very a great looking watch, but we both knew that already
.
I love the dial and the way the hour markers follow the shape of the case even though the case is asymetric.  Also the curved case is very comfortable. Best regards, Dino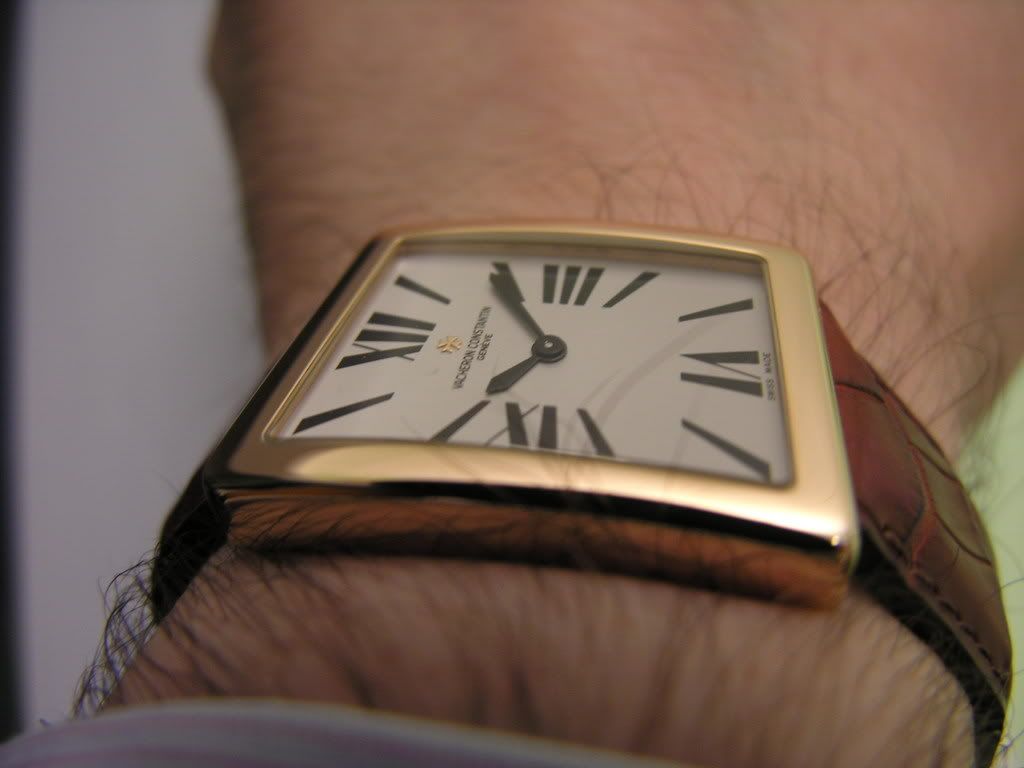 Long time since I saw a Lange, very nice! (nt)
We had a beautiful snow fall yesterday so I thought
Amazing pics, almost as advertising!
Enjoy it and the holidays too
Cheers Doc
dial looks as if it was made of snowflakes :-) (nt)
Re: We had a beautiful snow fall yesterday so I thought
You know what John that watch never appealed to me.......... Until now. I hate you!
Mike S.
Not much to sat about that one John.......
Just Gorgeous!
Best regards, Tom