one of the best-looking vintages IMO... (nt)
congratulations Radek, I was wondering when I was
going to see a picture of this one.  Wear it in good health. John
Love the white metals (nt)
My collection is overwhelmingly skewed towards steel, white gold and platinum.  I even have more titanioum pieces than yellow or rose gold ones. Cheers, Duncan
Here's a newer version of yours.
nt
i need to see this one again in the flesh
beautiful picture, Mr L - this one's a keeper
Surprisingly, man cannot live on VC alone... ;-)
This is what I was wearing yesterday (Casual Friday).  Okay, as those who know me, everyday is a casual day for me....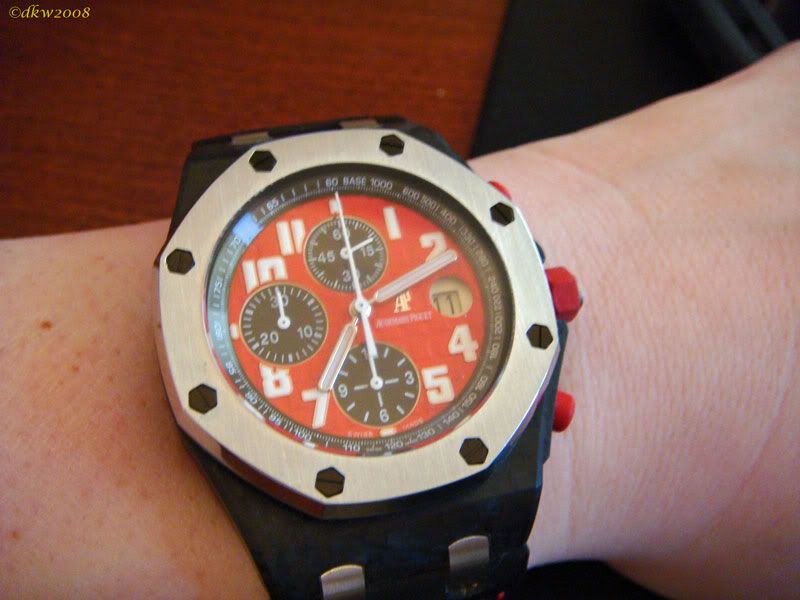 that's the Singapore F1 model? Very cool !
+1 on level of coolness...
Duncan, one day I would like to be able to see your collection in person...
My collection??? Believe me, there are definitely...
much larger and vastly superior collections out there.  I simply collect what I like and what I will wear as I do not believe in having safe queens. Cheers, Duncan
we must have similar taste
because every piece that you have that I've seen, I would like to one day acquire...
Cheers, Francois
Hahaha.... Thanks Francois. What is odd is that I do not....
have a common theme throughout my collection.  I simply collect those pieces that are special to me in some way, shape or form.  It may be some technical aspect of the watch that fascinates me or a design element that speaks to me or perhaps the back story behind a watch is captivating to me.  Thankfully, I have grown a bit more discerning and am not as easily impressed as I use to be.
Sometimes it is the heart, sometimes it is the mind and sometimes it is something else that moves me to desire a watch...
Anyway, I am glad that you like my pieces and thank you for the kind words.  There are still a few others that you haven't seen yet.
Cheers, Duncan
Keep them coming, Duncan! Especially with those beautiful pix of yours
Thx but if the pix are good then someone else was the fotog. :-) (nt)
How will I live up to these lofty expectations??? :-) (nt)
Don't be such a tease Duncan! Just deliver ;-))) nt
Oh the pressure.... What to do???? :-)
Actually, I am working on something for hopefully this week or next at the latest.  Alas, it is something you have already seen.
Cheers, Duncan
let's see again then :-) (nt)
To quote myself when I gave away a tourbillon last year...
"patience is a virtue".
Cheers, Duncan
Ding-ding, we have a winner!!!
You are right Alex!  The last couple of weeks, with the arrival of the VC Quai de l'Ile and the AP Singapore F1 Offshore, have been great and have helped to reinvigorate me after a very quiet year for me in watch terms. Cheers, Duncan
Already Saturday here but what the heck...
Perhaps my least expensive, but...
I love the dial, and it oozes vintage character.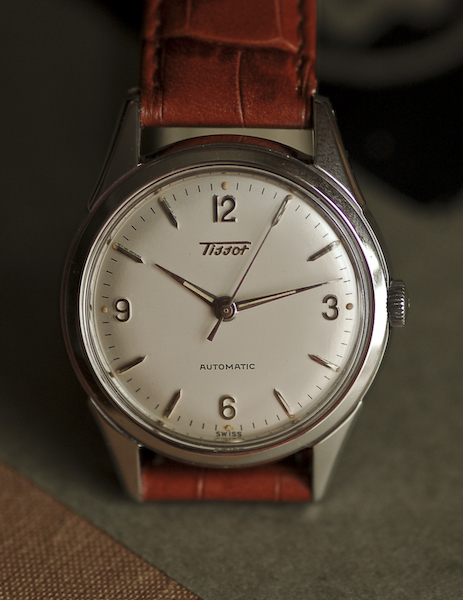 how do you find it to tell the time on the All-Black?  I have always wondered about these pieces and others like the Bell & Ross Phantom as to how difficult it is to read the time on them. Thanks, Duncan
Easier than you would think...
While the hands are black, they are highly polished and reflect the light quite well, and therefore quite legible. At night, however, I have to rely on my phone...
Thanks Francois for the feedback.
Actually, what would be quite cool and yet I don't know if it is possible, but if there was something like a black luminova for the hands.  It would then appeaer black during the daytime and yet woud have luminous properties in the dark.  As I said, I have n oidea if this would be possible, but it sounds cool to me...
Thanks again, Duncan
I think that Hublot did test some black luminova,
but in the end they decided to issue the watch without. The Ice Bang has some grey luminova, but it doesn't work very well in the dark...
Ahhh, okay, thanks Francois for the additional info.
I confess that I do not closely follow Hublot's activities and so it is always good to hear from those who are more familiar with a brand's watches and ideas. In a way, black luminova is something of an oxymoron...  Back to the drawing board and the testing labs...
Cheers, Duncan
I think Bell & Ross use black lumious material as well on their
Thanks Alex. Somehow, I do not expect VC to follow the...
all-black/phantom trend...
Good for Hublut and Bell & Ross and their fans as those pieces certainly have attracted a segment of the market. Cheers, Duncan
I would indeed be surprised if VC went downt his path
Although I would expect it - and welcome it - from AP. They've released a few black ROOs (I'm thinking of the End of Days), but none that was completely black. While it would make a really cool watch, I'm not sure if they'll refrain from doing it so not to be seen as imitating the competition... I think Biver had a stoke of genius when he came out with his Big Bang All Black, and it was a good idea to make it a LE.  What is less good is that while there are only 250 BB ABs, given the response the watch got, Hublot then went on to design another 10-15 other models that were a variance of the original AB... (most of them also "limited editions"
)
While AP has done black pieces, the End of Days, NYC La Boutique...
and last year's Alinghi Team watch come to mind, we'll have to see if they go the all-black route.  I think we might see the next opportunity early next month...
Without a doubt, Biver is a marketing genius and he deserves all of the accolades that he receives as such.  However, IMHO there are a few too many similarities in the Big Bang product line from the Royal Oak family.  I wish that Hublot had come out with something a little bit more original.  Anyway, we'll see how and what both brands do in the future.  As they say, time will tell....
The limited edition game is something that many brands and even more buyers have gotten caught in.  I readily admit to having more than my fair share of these LEs.  However, I also am completely aware that the bubble will eventually burst and the current over-inflated prices will return to reality.  Perhaps this is why I refuse to pay more than retail price to an AD for any watch, including any highly sought after limited edition.  Just not worth it in my opinion....
Cheers, Duncan
I can't even fathom an AD asking over retail for a watch! That is of
the most dispicable behavior.
Sadly, that is the norm with some retailers and certain pieces...
such as certain Rolexes, Pateks and limited edition AP Offshores.  For example, the new AP ROOS F1 piece was being sold for more than 25% over retail by one prominent AD in singapore. It comes down to simple greed and also a fundamental lack of understanding by the retailer of building long term relationships with clients.  Thankfully, the AD in question is one that I refuse to do business with...  In the end, this is the best way for us, as customers, to express our displeasure with retailers.  Speak with our wallets...
Cheers, Duncan
"...we might see the next opportunity early next month..."
Is there something you know that we don't? Don't worry, I won't try to get it out of you, you're as bad as Alex when it comes to teasing
I'll just be on the lookout... I'm not sure however that I agree with you that the Big Bangs are too similar to the ROO. Yes, they both have an elevated bezel with bolts/screws, but IMO this is where the comparison stops. There is an evoltion chart of Hublot's models that demonstrate well that the BBs are a natural progression of Hublot's previous models rather than a copycat of the ROOs. One thing that the Big Bangs are definitely lacking is a superior movement. For the price they command, one should expect more than a 7750.   Re the high price tags on some of the LEs, I'm with you. My dream ROO is be the Barrichello II Ti - it is such a beautiful sport watch, but completely overpriced in my opinion. Cheers,  Francois
Well, Alex and I share a common respect for embargoes and....
neither of us has any desire to betray the trust that anyone has granted us. I thinkl the Big Bang vs Royal Oak comparison/debate will always be there and I leave it to each collector to make his or her own mind up about the issue. Initially, I thought the Hublot pieces were a decent introduction to higher end sports watches as the pricetag was more reasonable but with all of the recent price hikes, I think some of the value proposition has gone.  I am very happy that AP is progressively incorporating their in-house Caliber 3126 movement in the Offshores and was quite pleased to find it in the new Singapore F1 piece. If it is any consolation, I think that the secondary market prices for some of these limited editions will decline and then your drteam watch may be more attainable.  Good luck! Cheers, Duncan
I have no problem with you and Alex respecting the embargoes and
not betraying the trust of others... what is a bit more naugthy is the teasing part, letting us mere mortals know that there is something that you know that we don't
But hey, if I could tease, I would!!!
Cheers,  Francois
Since my physical appearance can never be described as "sexy", I guess I just have to tease with something else...
Cheers, Duncan