but the watch is DEFINITELY NOT!!! Gorgeous!
At least the letters on the keyboard came out clear...
Keep 'em coming, Francois!! I doubt if even a better camera can capture the true beauty of that piece though. Cheers! Kazumi
I'm not sure if I should laught or cry... :-) (nt)
A view from the Colorado Rockies with my weekend watch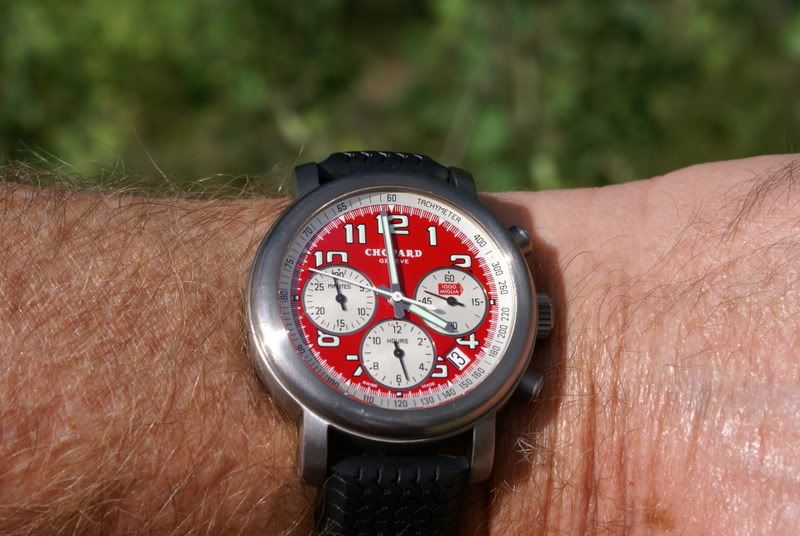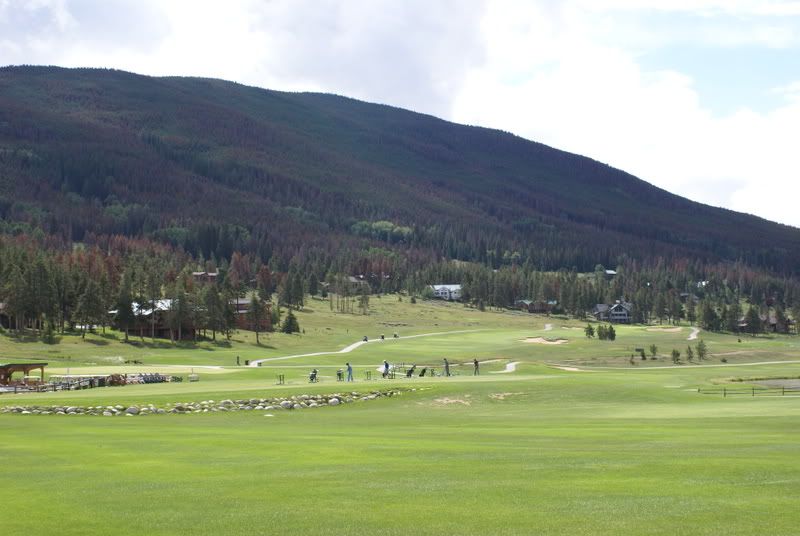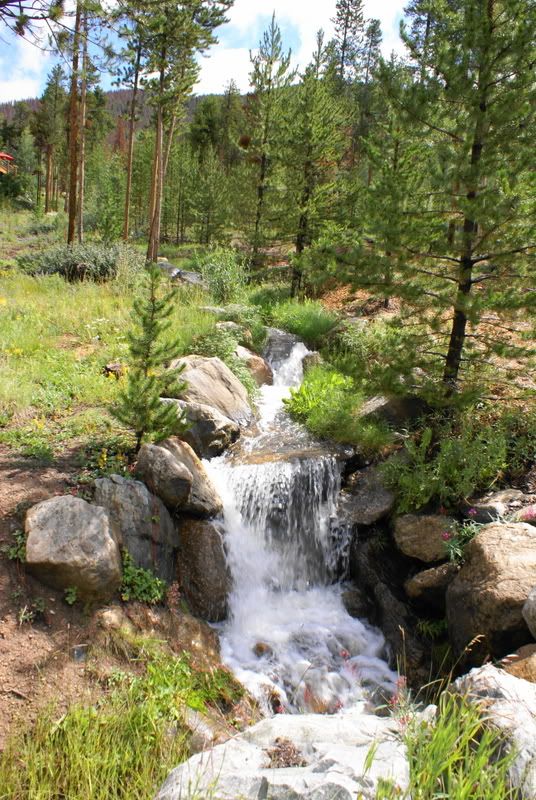 Chopard Mille Miglia 16/8407 Limited Edition. Have a great weekend and enjoy.  Best regards, Matt
California, the Rockies... you're hanging in all the right places
Your MM is pretty cool ( a bit sportier and fun than your OS), and I really like your last picture
Thanks for your kind remarks and Alex too!! We love Colorado for hiking and skiing. Here's a much clearer photo of the watch's dial. I will have my VC OSC back on tomorrow when I head back to the west coast. Warmest regards, Matt
Matt you definately know where to spend you week ends :-) Pic n° 2
would be where I would want to be right now!
I also wore it today...the dial is really beautiful!
I think more and more that I would enjoy a time only piece, and the more I look at the VC Patrimony Contemporaine, the more I like it... I might have to change the list that I put up a day or two ago (I might also want to insert in there a De Bethune Dream 1...) Cheers, Francois
I like your taste Rei. You should join the club to Francois..
Hi Rei, Francois, Yes, the Patrimony Contemporaine (especially the boutique edition) is such a killer watch despite being the simplest in VCs line up.  I would recommend it to everyone. Now that I sort of outgrew my date complication fetish, I am beginning to regret not getting the the same Malte Chrono as yours Rei.  Of course the chronograph function will only be utilized for such critical activities as timing pasta, and the like, the Lemania movement alone is worth the price.  I really like the PG version.  Maybe I should trade in my Toledo, Overseas, and Rolex (and some cash?) and get myself one too (my wife will kill me though). Enjoy the rest of the weekend guys. Ciao! Kazumi
Maybe I should trade in my Toledo, Overseas, Rolex and some cash...
Is Malte chrono that expensive now? I don't think so... But it's really a gorgeous watch Kazumi
, you SHOULD really think about getting one...FAST!
it shouldn't cost you THAT MUCH to get the Malte Chrono?... You should really get it while you can, even if it means selling your Toledo (I do love the Toledo, but much prefer the Malte Chrono - that's of course only my personal opinion...)
The Toledo is si iconic in design but then again the Lemania chrono
movement is as iconic as it gets! The Malte Chroni is one hell of a fantastic watch and look at it this way, if you sell it now you can always buy one back as I don't see VC stopping production in the near future.
My dear friend, you should do what your heart tells you to. Remember our conversation about which way and what key I should take to further develop my VC collection. I had a hard time making my own decision then and I do not have any remorse nor regret it in any way. You just do what you feel is right and there are no wrong decisions you can make. You just upgrade your collection - that's it
. don't be so bashful about your wife. I know she'll accept your decisions and will support you in your great watch passion and further proceedings/trades/purchases. if you care about my opinion, I am positive the Malte Chrono is a great watch and it's one of my favorite VCs now. Go for it if it calls out to you. just remember it is a 41,5mm and make sure you feel comfotable with its size (Chronograph Historique is always an option - remember Lin's beauty in PT/salmon dial).  just be careful about getting rid of/trading in your Toledo - I believe it's one of VC's iconic watches. But then again, as Alex said, you can always buy one back if you feel like it. I guess you're into the most fun part - making the (always) right decision
Also crappy photo from camera phone but..
figured I would play.. A word of caution, there is a pernicious computer virus here in the US called Anitvirus 2008/2009 circulating. It took my tech people 5+ hours to clean up my computer yesterday and according to them Symantec/Norton does not currently have a fix. This virus hijacks Internet Explorer and makes it impossible to go out on the internet to get a fix, which apparently is available via freeware. Be cautious about visiting websites you are not 100% certain about. Great weekend to all, Ray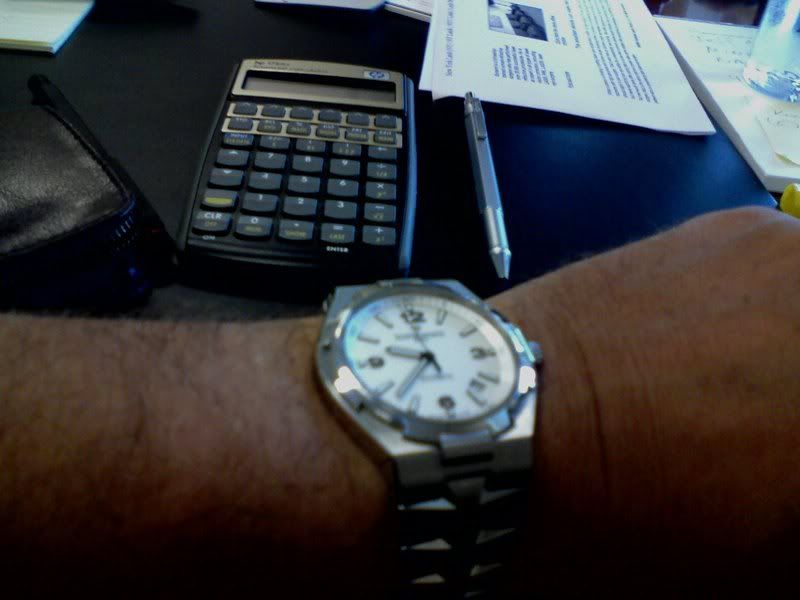 thanks for the virus warning Ray
looks like we both have nice VC but crappy phone camera
looks nice, but it is a bit small...
can we get a better view please?
Beautiful lugs... And I'll make sure not to p**s off La Familia
ouch! tough love... nice watch...(nt)
got a picture of the suspect ? :-) (nt)
Re: How many wrists do you have? Take a look at the Carmel selection,
Hi Tim, The 2 in the centre are 2 I hadn't seen before. But they're on the VC website as "New Creations"...Malte Tonneau Chrono Ref 49180. Very nice! Thanks for the pic. Now all I need is an extra 18 arms
Regards, Joseph
Now that's a collection I could live with!
It must have been a blast to try them on... thanks for sharing!
Re: How many wrists do you have? Take a look at the Carmel selection,
OMG this mast be the heaven that anybody talk about
vasilis
The one with the rotated dial is interesting.
Sorry, no pics yet but coming soon...
courtesy of a friend at an event last night. 
Duncan
it is something that Alex requested to see or was that hear?
Duncan
looking forward to seeing AND hearing that one
ooooh can't wait :-) (nt)
sounds like a minute repeater :-))) nt