Really CoooooL watch, Alex.
I really like this watch a lot even in RG.
Don't look now but I think one of our regulars will be joining you and Chronometer with the same watch soon...
Not me, of course.
you mean the guy who's trying to buy absolutely every platinum
watch made by VC?
He's got a fetish for things with VC, PT, and LE on them ;-> nt
Guilty and loving it, but not just platinum and not
just Vacheron. I admit I have a problem and perhaps an addiction but fetish????? Perhaps but I won't admit it.
For too many years I stood by PP but since it became some what of a commodity/investment  watch I went out to see what else is out there that would be of interest to me. I still admire many Pateks (mostly vintage) but have gotten to appreciate Vacheron, Lange, and now Journe.
Ahh...actually you are not alone in this one, John..
Hi John,
I think I might have gotten a different perpetrator to fess up.
I am not sure about Alex, but I was actually referring to another one of our friends who, like you, has many LE's and loves white metals especially PT, but unlike you, only has VC's in his collection.  He was with us at SIHH...any guesses? 
You, sir, are guilty of the higher crime of making LEs and PT rarer accross the board (I mean including PP, Journe, etc).  If he deserves "life", you deserve "the chair".
Let's see if he fesses up soon.  Have a nice weekend, John.
Kazumi
You know, right after I posted I thought oops, they might of
meant RXXXK,. I am feeling more than a little bad. I will gladly take the chair on this one.
John
no stress John! we just happen to have a similar taste in VCs ;-))...
For now, this happens to be occupying my wrist and probably will for the most of the summer...
Rubber strap on US Overseas Chrono wears comfortably and looks great!
Will occasionally put my favorite VC LEs in PT
on my wrist, too 
Hi Radek. How about pictures of the rarely seen OS on strap...(nt)
Glad to be in such good company...nt
It's a fantastic watch in the Souverain collection. I have got the same and enjoy it every time I wear it.
Thanks anka, have worn it quite a bit and
feels really light on the wrist. I am curious how the 38mm would look on the wrist.
That's a beauty, Mr. L.. (nt)
I'm present! Just got back from a weekend in Rome :-)))
A Malte Chrono EP on the way from HK... Just can't wait :-)))
Let it be a fetish for VC in PT (white metals in general) and LE. I'd also call it good taste
, won't you guys?
Congrats on your new (and wise) purchase!
I'm guessing you got it through an auction/2nd hand?
If VC Pt LE is your fetish (I'll agree it's a good, albeit expensive one to have), then what better than a VC PE?
Cheers,
Veillotron
Very nice G-Shock a.ler...
... but unfortunatly, it's not the same price
LoooL
It's the first time when I see a photo of this AP ... very beautiful!
NY Boutique edition? really nice! Now you don't need the
Z1 anymore
alex, i wish i don't need that many watches :),,...................
then maybe i can break even for the losses i incurr selling some of them i lost interest, but then, i just could not bring myself to lose some of them.
seriously who needs 4 VCs when u have only 2 wrists and wears 1 watch at a time ?  logically, i can't answer this question being finance trained. my only answer is emotional and has to be passion for watches.
coming back to the 2 watches in comparison, though both housed with the same movement, the Z1 is my answer to AP's offshore which i sold cos i cannot carry with my small wrist , i much prefer the retograde complication with an integrated movement that wouldn't make the watch thicker and difficult to take care. 
The emperors new watch? ;) nt
Haha! Good one. Wearing an Emperor's LE right now. nt
what have you been drinking Lin? :-) (nt)
Just a glass of Leoville Las Case 1982 (nt)
how about sharing next time?!! (nt)
For once, we wear the same watch Lin LooooL (nt)
Re: On my left wrist (sorry for the quality of the pics)
Now I understand the meaning of that expression:
"What time is it?"
"Two freckles past my right hair!"
Re: long time since the last scan day. What's on your wrist today?
A funny Nicollet Watch with 2 seconds hands not synchronized on this photo. One at at 6:00 and the second central. I don't know the reason for this "complication" !!. I love the dial.
Best regards. Patrice.
I don't blame you! Might want to...
change your name to CHRONOGRAPHE though
I don't blame you! You might want to...
change your name to CHRONOGRAPHE though...
Real cool watch!!!
Sorry for the double posts. Watched too many hula dancers in Hawaii
Too sweet Kazumi!! :-) (nt)
I'm wearing an El Primero...
...still waiting on my VC to arrive.
Hopefully soon.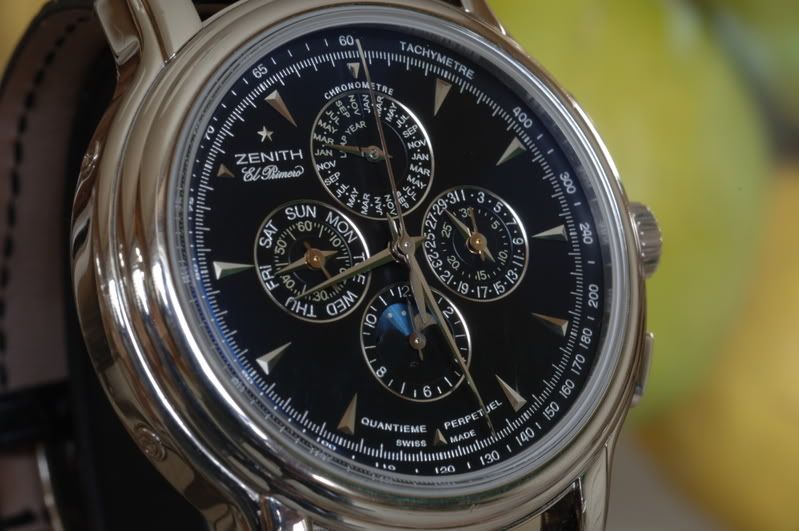 that's a nice one... and really good value for money! (nt)