Lounger's Monday: Muse The Resistance (review)
October 26, 09 12:30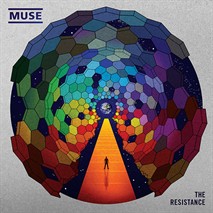 I will start with a disclaimer stating that Muse is one of my all time favorite bands and hardly a day goes by without me listening something from them. Needless to say that I was impatiently waiting for the release of The Resistance their 5th studio album. At first hearing I was disappointed, MAJORLY disappointed. I decided not to jump the wagon and after 15 or so hearings I may be less disappointed but it is not what I was hoping for.

For me Muse represents Bellamy's saturated  guitar riffs and out of the world vocals, massive sound, inventive and complex tunes with a pinch of classical music. They have always been grandiose but with this album I feel that they are on the verge of pompous.

With The Resistance Muse seems to be hesitating between too many routes: "The Resistance", "Unnatural Selection" or "MK Ultra" are closer to classical Muse even though I can't really say I hear the guitars.

The rest seems to take some Queen + Depeche Mode + Pink Floyd and mix it up into a rather uninspired musical compilation. I do like the catchy tune and pop atmosphere of "I Belong to You" however.

The last three songs: Exogenesis is a 3 part 15 min symphonic tribute to one of Bellamy's favourite composers: Rachmaninoff

I am all for creativity and being where you are not expected (just look at my attraction for the Quai de l'Ile) but with this album Muse want to diversify their music but don't seem to know exactly where to go, too many influences and too many directions in my opinion.