NYC Botique visit.......
October 17, 11 05:05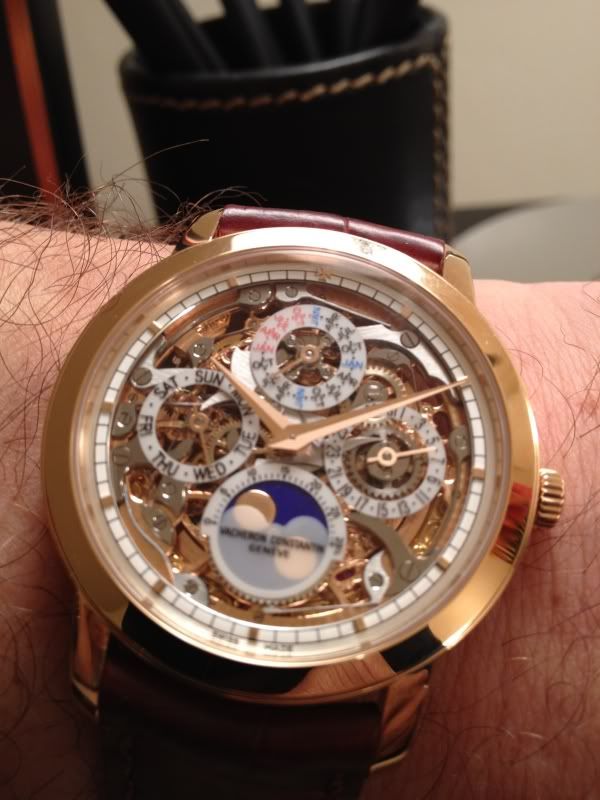 So, after a few months of visits to the city and no time to go shopping my wife and I go stay with friends for the weekend. We get there early Friday afternoon and start the "watch crawl" up 57th  St towards 64thand Madison- lots of watches to see. About halfway there the sky opens up and we are soaked, wet clothes wet camera, staying dry in Bergdorf Goodman. We get to the boutique, drowned rats, and meet with Andre March one of the Sales Consultants-absolutely amazing fellow. OK the point and shoot camera is not working, probably because it is wet. Andre helps and takes these wrist shot with his brand new I Phone 4S. My wife sees the skeleton pc and says  " honey why don"t you try this one on", they had to twist my arm, sorry for the blurry pics-I love that women. The second is the 1921. I have found my new grail-this is spectacular!!!!!! We then meet Hughues de Pins Pres of VC US and find out he has family in the town we live in.  I saw the original 1921 and the Diamond Jim pocket watch.   On Saturday night we are in a restaurant several blocks from the boutique and ran into Andre- had some fun!