Re: OK, what's on your wrist today ?
Wearing this today and yesterday,  I love this bracelet!
Love that bracelet too
Doc
Nice with arabic figures, Kazumi !
I think that one is quite rare, or isn't it Bill ?
I know Bill (WHL), have one with figures like that and that his was made in a limited serie
,
for the USA market ?
Cheers
Doc
Is it this special US Overseas you're talking about?
scan courtesy of Henrrik
That's the one Bill has, isnt it?
Doc
Hey! Everybody look at this handosme guy! :-) (nt)
Wearing this since Friday ...
It finally landed on Friday morning, and it's been keeping me the companion so far.
(Photo credit: WHL)
Ref. 4217, cal. 454, c. 1950.
And in RG. Anything better than that to warm the South American cold and wet early Spring days and nights?
Did I say I am happy?
:-)
Jian
Guess you're happy but tired,
after, putting on the light each end every hour at night,
just to look
It's a true beauty, but what else to expect,
when Bill has something to do with it !
Heartly congrats from me, Jian,
I'm nearly as happy as you,
since I know you been aiming for this a long, long time !
BTW, the Longines Lindbergh was my first really exspensive buy....
Then my eyes opened for Vacheron & Constantin
Doc
That was the last piece I needed to "complete" my aimed collection of main manual movement based simple watches: 453/454, 1001/1002, 1003, 1007/1008, 1400. Some of specimens I own might be subject to be upgraded, but you can easily say that I'm more than happy!!
Now that it's done, I might turn my eyes to formed watches. So, look out, my dear Doc! ;-)
Greetings,
Jian
oh oh Jian now you're in trouble :-) (nt)
Yeah, I'm afraid I'm ... ... (nt)
Doc, you tricky fox ... :-)
I didn't know you're so versatile! Good for you!!
:-)
Jian
I neither have been to Budapest or own a Speake-Marin!
It's said to be a fantastic city,
and the watch,
you where among the first to appreciate,
and also to get !
You're the man, Alex
Doc
That Speake Marin is a very nice watch,
but a bit too thick for me.
Moreover, Budapest is a very attractive city, quite dynamic...
This week end, I was wearing this FP Journe
this will be in my site in 3 monthes.
Ahhh, that's a Journe in my taste !
Absolute clean.
Back to basic.
Love it
Congrats Patrice !
Doc
Agreed. Maybe far from the CS type, but a beauty indeed! (nt)
WOW talk about a scan posted as soon as it has been taken! Ceramic
bezzel right?
I really like the new models IWC has added to the Ingenieur line up.
honestly, i wouldn't for any watch.....
as the bldg i am staying in hasn't any equipment for that sport. :) btw, i am in hong kong- fragrant harbour (in case u don't know its translation from cantonese)
I feel safer now, that we can keep you alive,
participating at our Club
But for the VC above I think I'll do it....
Cheers
Doc
Miki, what are you doing ?
Here you have an extremely elegant shirt, with monogram, gold buttons,
a classic designed watch (Lange?), and you take such a lousy pic !
Shame on you !
I want to enjoy the elegance
Doc
And a nice classic watch, but it's worth to invest in a better camera,
or have drink before,
so you don't shake so much
Doc
since this thread is spanning more than one day
Since this thread is spanning a few days, I wore this Sat and Sunday, my favorite!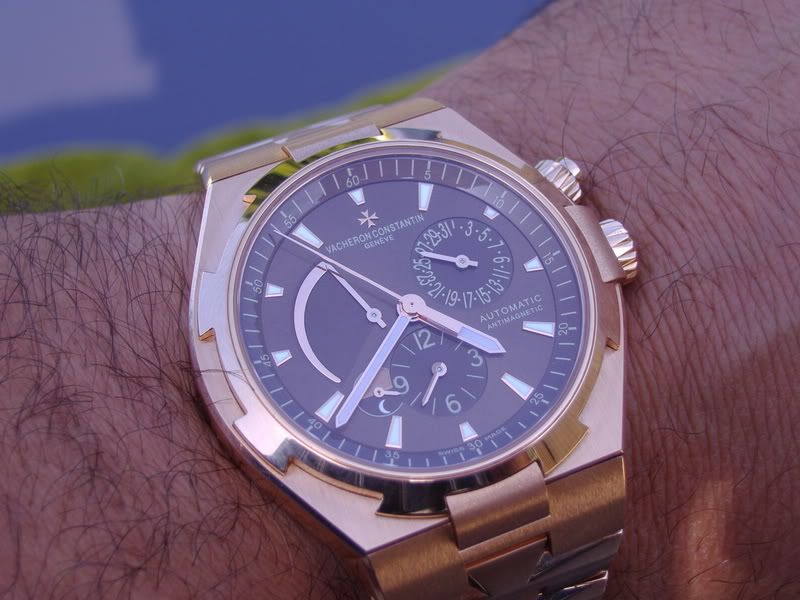 In sunlight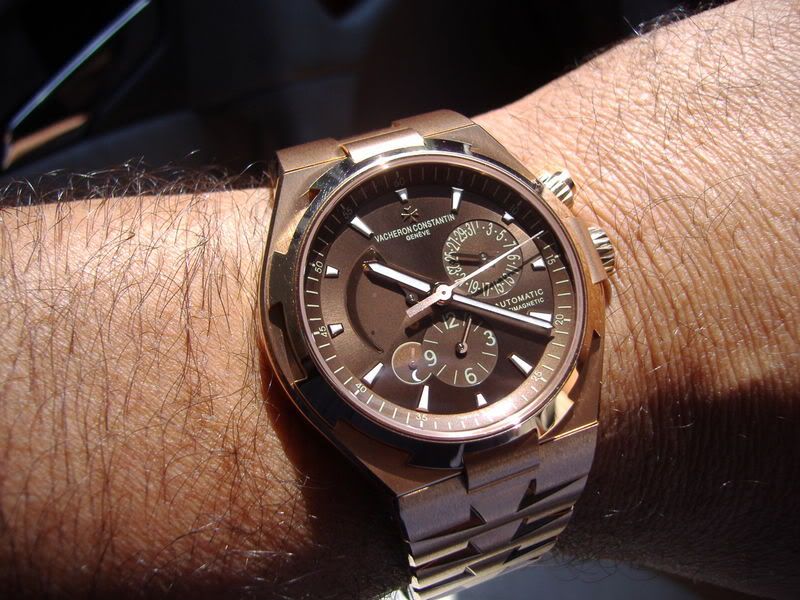 Re: since this thread is spanning more than one day
Fantastic Photos Guys of some superb watches!!!!   Really like the Longines and of course all the others!
I think this is the nicest "replica" I have ever seen!