O/T - added a German to the stable
December 17, 12 06:27
Aside from the odd ultra-expensive limited edition that I'd like to own one day (one Vacheron Constantin and one JLC) this watch nicely rounds out the collection for me at this point in time. I certainly wasn't expecting to buy another watch so soon but this was too good to pass up. I'll post a wrist shot shortly but for the purposes of this post I'll use some better photos than I could ever take of this watch.  photos used are with permission from Jocke at Purists.
Here's a basic shot of the watch in question - the new Glashutte Original Panomatic Lunar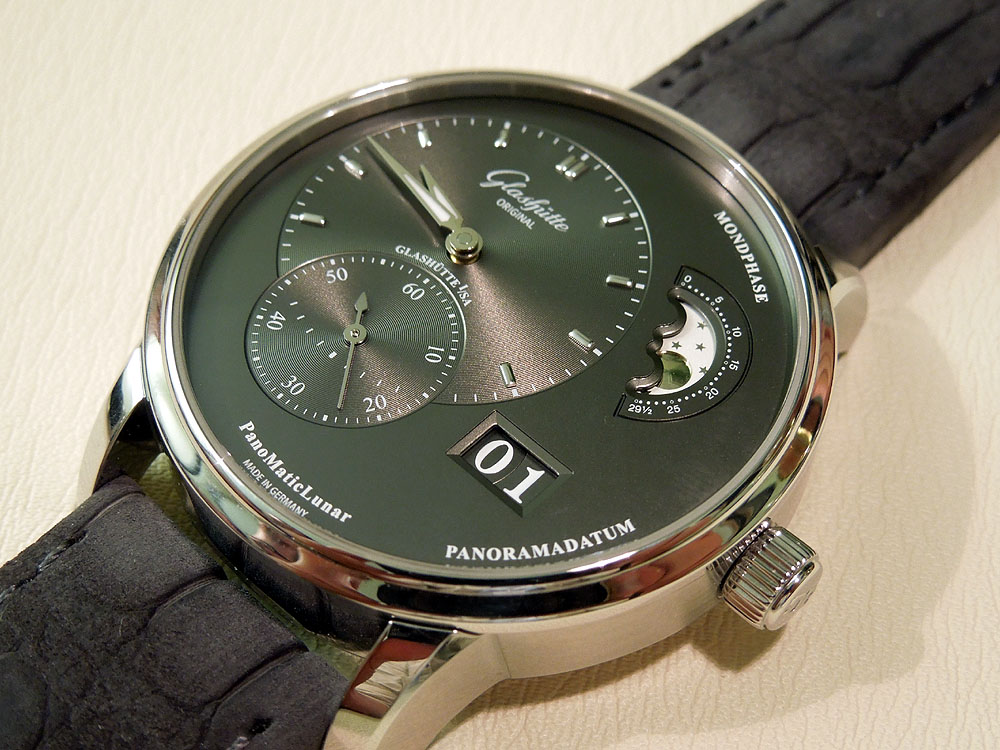 Even allowing for the fact that I really don't "do" dedicated dress watches and have only the rarest need for one I always felt that my collection was missing something without a more formal watch , but had never managed to stumble onto anything that grabbed me as a "wearer". Given my very particular (sporty, certainly not delicate) tastes it's not often that I see something you could call a dress watch that I'd want to wear. Using Vacheron Constantin as an example I greatly admire almost every single watch in the range as a work of art , but there's a big difference between a watch being something I like/admire/love to look at and something that suits me to wear , given my casual style.   What I'm after in a more formal watch is timeless elegance/class but also something that has just enough underlying sportiness and presence to allow it to be dressed down to neat casual. Also something a little different – classic yet contemporary. One pattern that is clear in my prior purchases is that the "sportiness" element almost certainly requires a dark dial on stainless steel,titanium or white gold and this watch is no exception. In this case a stainless steel case with a dark grey ruthenium dial – markers and hands are in white gold. The special nubuck alligator leather strap unique to this model has an alcantara type look and feel that adds to the subtle sportiness and versatility .   I'm not going to write up a lengthy review on the watch as the pictures will do all the talking for the most part. I will say that I think this watch is more than a bit of a bargain, if such a thing is possible at these prices – it has all the cache of a 100% in house operation (even down to 95% of components) and a brand only marginally trailing Lange in terms of German watchmaking prestige , finishing (plenty of it hand done) that is the equivalent of just about anything going around at up to 5 or 6 times the price etc.....and a brand that produces only 6000-7500 timepieces per annum as best I can ascertain.   The substantial 40.2"case/lugs and dark face with nice guilloche on the subdials give it a classic but purposeful look that I love and when you turn it over............WOW! A very clever design with beautiful finishing throughout – the traditional German three quarter ribbed plate with a three quarter 21k gold rotor that stays out of the way of the balance with beautiful twin swan neck regulators and a delicately engraved balance cock .  The trouble is I keep wanting to take the watch off and look at the movement LOL.   The extra functions on the watch are fairly self explanatory – small seconds , Glashutte's trademark panoramic big date and moonphase in silver on white, although the light distorts that a bit in some photography. Beats at 28,800 vph , 42 hr power reserve with 47 jewels , 50m water resistance and a deployment buckle. Case has a combination of polished and brushed SS.     I was lucky enough to pick this up "unworn" through an authorised dealer at 35% off RRP and almost the full factory warranty - so this watch (aside from my TAG) has cost me less than half of any other watch I own but it's not occupying a second tier position in my collection by any means. I can't think of anything better in terms of bang for the buck in this sphere. Glashutte has no presence in Australia so I doubt I'll be seeing any others about the place.
This isn't the easiest watch to photograph - if you follow this link you'll see a front on shot of a Glashutte watch that's exactly the same apart from power reserve in place of moonphase.  This is the best shot I've seen to illustrate the way this watch looks in real life.
http://vl1.watchprosite.com/img/watchprosite/vl1/73/scaled/vl1_image.2949573.jpg
    Some pics of the caseback of another watch with the exact same movement and caseback....................enjoy.  The engraving is slightly different on mine (nicer if anything) but these photos give the best illustration of the work on the movement.  Will be back with a wrist shot or two later.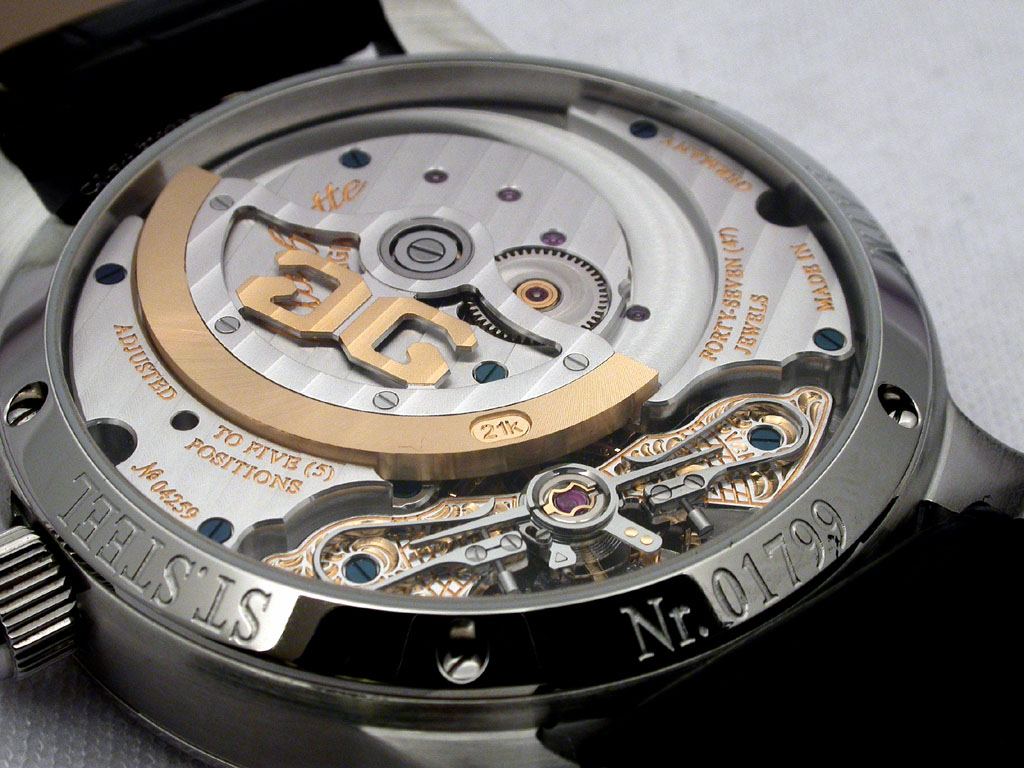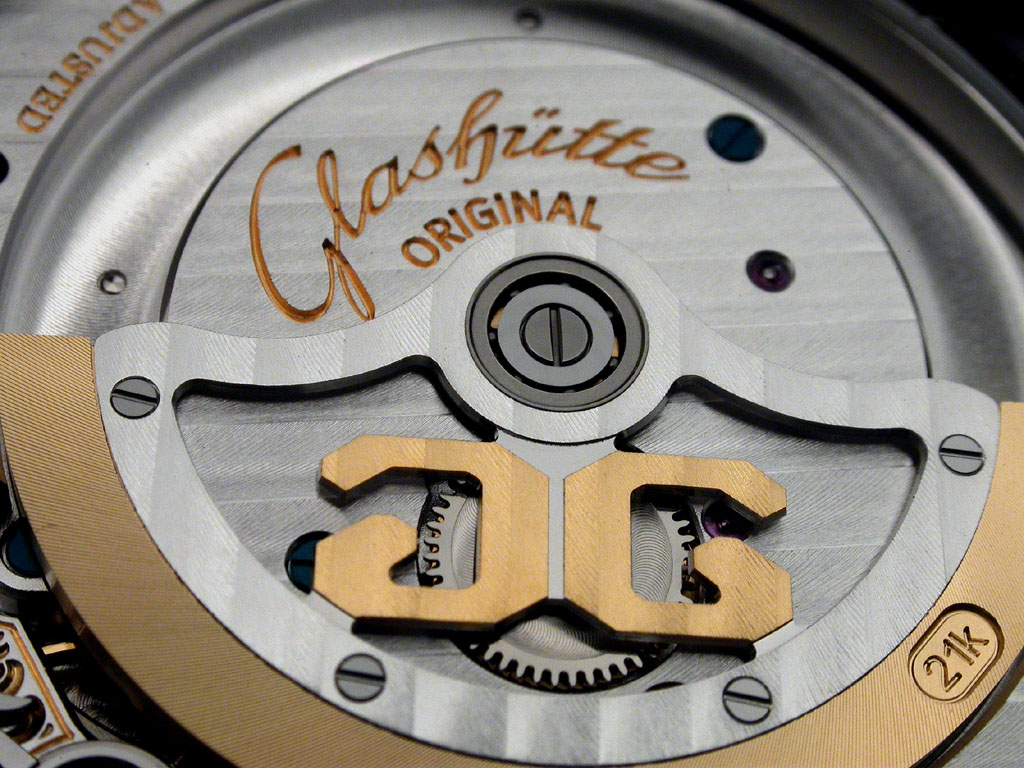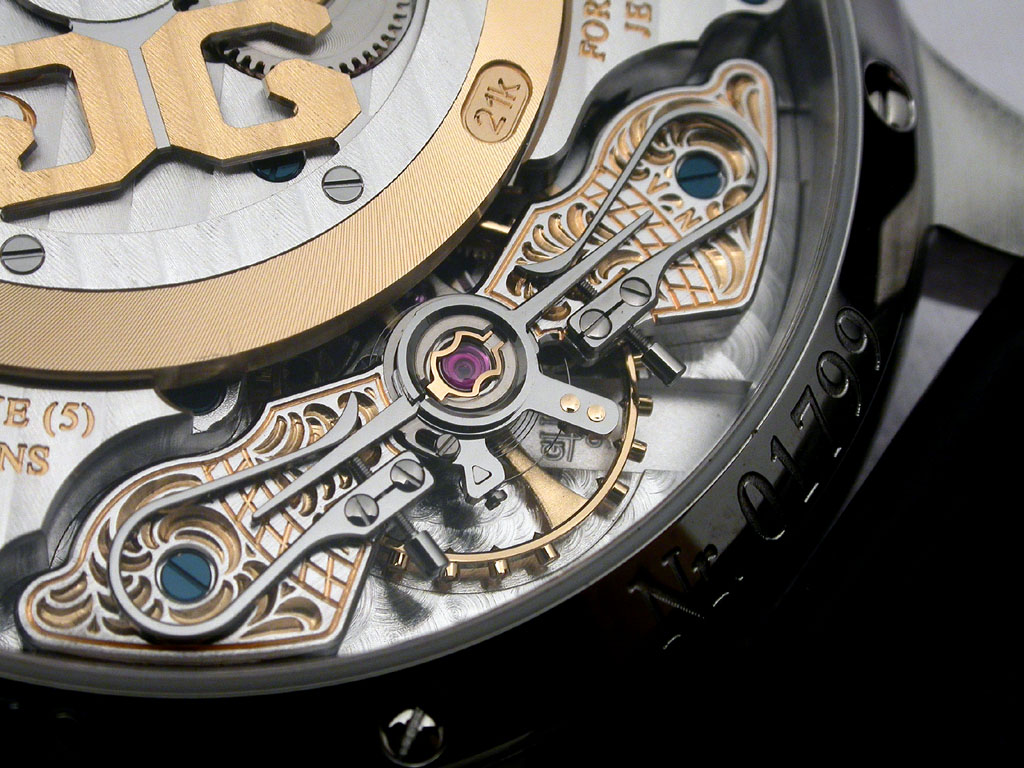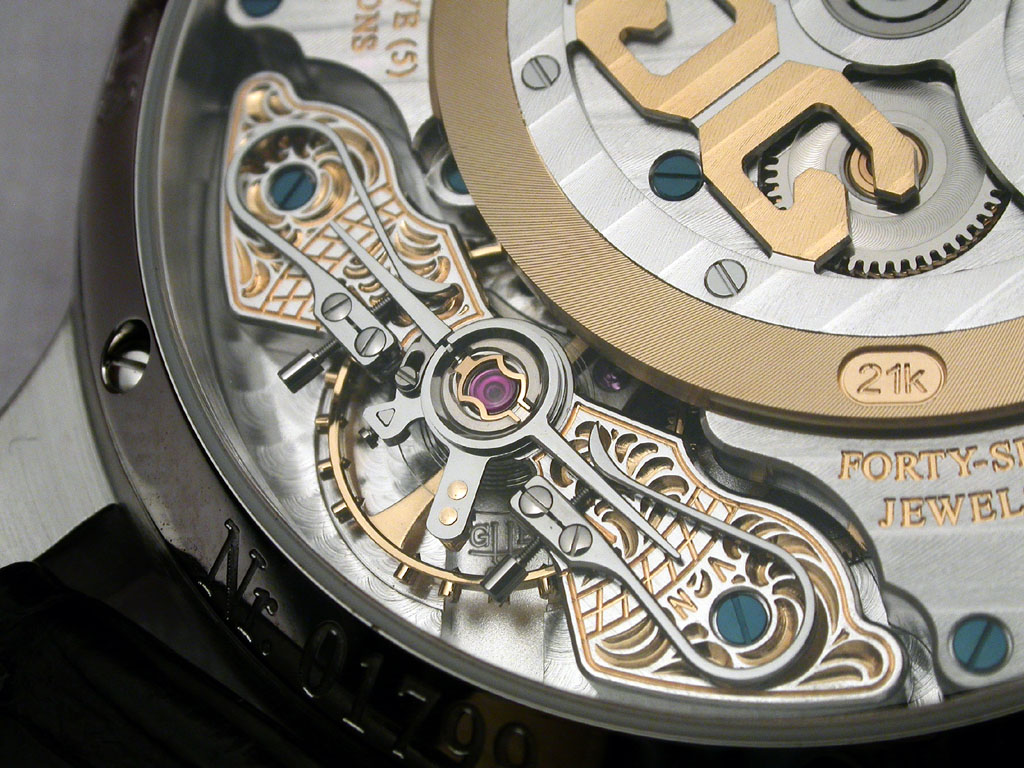 Actually this is a shot of the engraving that looks pretty much exactly the same as mine
http://vl1.watchprosite.com/?page=photo.raw.forum&msid=24452963&imgid=2949798&fi=966&pi=5469768&ti=811998&s=0&size=raw
It's not a Vacheron Constantin but it's about the only watch outside of VC that has given me this sort of wow factor without being OTT expensive.
Cheers
Brent