Quai de l'Ile Ownership Report and New Pix
October 21, 08 09:35
Quai de l'Ile Review and Ownership Report
While 2008 may be most remembered for the ongoing financial crisis, for fans of Vacheron Constantin it will go down in the history books as the Year of the Quai de l'Ile.  For a brand, which has long been known for its classical and generally conservative looking timepieces, the Quai de l'Ile is proving to be a tremendous leap forward.  While still possessing and exemplifying the hallmarks of fine watchmaking done at its highest levels, these watches present a more contemporary design that is destined to be iconic during this 21st century.
A couple of years ago, while admiring the Malte Black Nickel Tourbillon and expressing my hope that the piece was an indication of things to come for the brand, I was told that there was something in the pipeline.  Well, that something turned out to be Quai de l'Ile and I believe that it does demonstrate the continuing evolution of Vacheron Constantin.  Similar to the Malte Black Nickel Tourbillon, the Quai de l'Ile perfectly marries the traditions of masterful craftsmanship and fine watchmaking that VC is renowned for with a sophisticated and more avant-garde design that is de rigueur for today's haute horlogerie.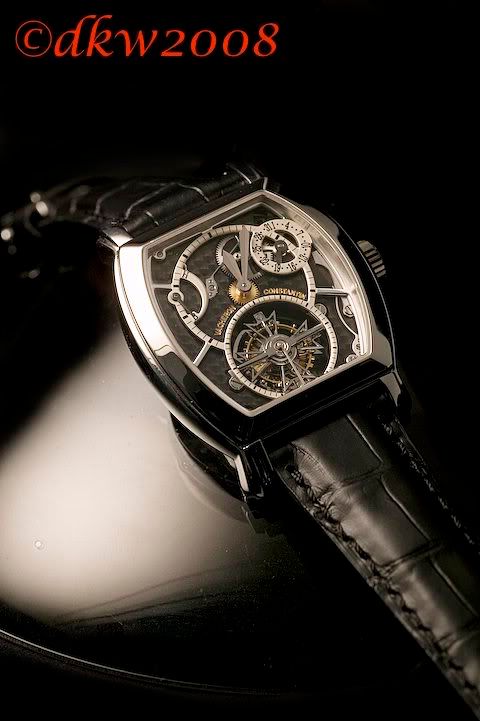 Malte Black Nickel Tourbillon
After first learning about this new product line, I knew that I would be adding to my watch collection.  In fact, I can still recall the exact first word out of my mouth upon seeing  a Quai de l'Ile watch for the first time, "Wow!"  With the kind and wonderful assistance of friends at VC, I was able to acquire the Quai de l'Ile Date Self-Winding model in titanium.  After having the watch for a couple of weeks, I thought I would share some thoughts and comments regarding this timepiece.  Here is a link to my original post about the Quai de l'Ile, including some excellent photographs (including this one) taken by my good friend, Tay kok Choon: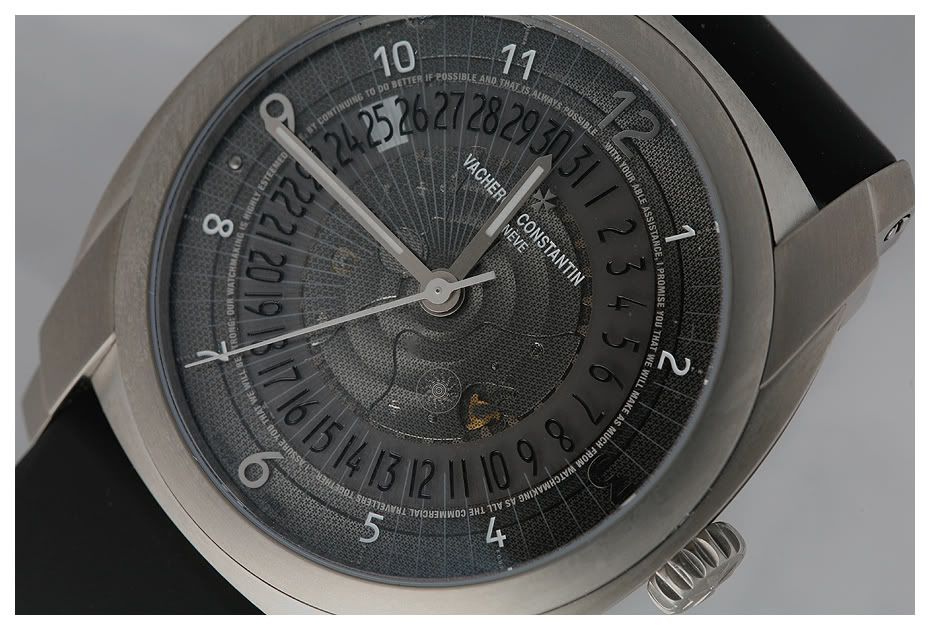 Click here to see the first post and Kok Choon's terrific photos of my Quai de l'Ile
N.B. I have included some additional quick pictures that I recently took.  Please do not blame Kok Choon for these inferior photos as I am wholly responsible for them.
Now, without further ado and as we await the official launch event tomorrow in my hometown, New York City, please find following my report on the new star in the Vacheron Constantin lineup, the
Quai de l'Ile
.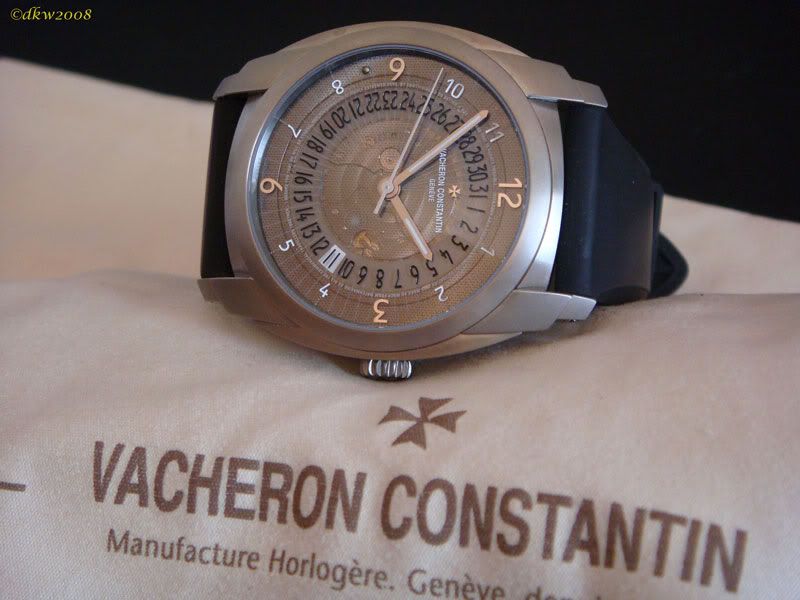 The Choice
A question that has been asked of me several times is "why this model and in this metal?"  Well, one of my aims was to find a good watch for everyday wear.  Therefore, it needed to be comfortable to wear and also very legible.  Titanium is one of my preferred materials when it comes to watches.  It possesses a discreet appearance and is both lightweight and durable.  Furthermore, the titanium model comes standard with the dark dial, which I think provides the best contrast and background for the hands.  The Date Self-Winding model is very clean in its design and very easy to read without too many other indicators on the dial other than the one for the date.  I considered the other current model (Day-Date with Power Reserve Self-Winding) but opted for the simpler model due to my preference for a daily wearer.  More about this alternate model later on…
The Package
With its new product line, VC debuts a new packaging and presentation for the Quai de l'Ile.  Included inside of the primary box is a nice little leather travel case, which contains a polishing cloth, magnifying glass (plus a pusher for the Day-Date model), USB thumbdrive, special Quai de l'Ile passport and a space and roll for the watch.  All of the items are neatly placed and easily accessible.  As with most new things, VC is still giving consideration on how to improve the packaging and presentation of this new line of timepieces.  Therefore, I believe that we can expect to see some changes in the future.  Overall, I think the current version is just fine and more than meets the expectations of this VC collector.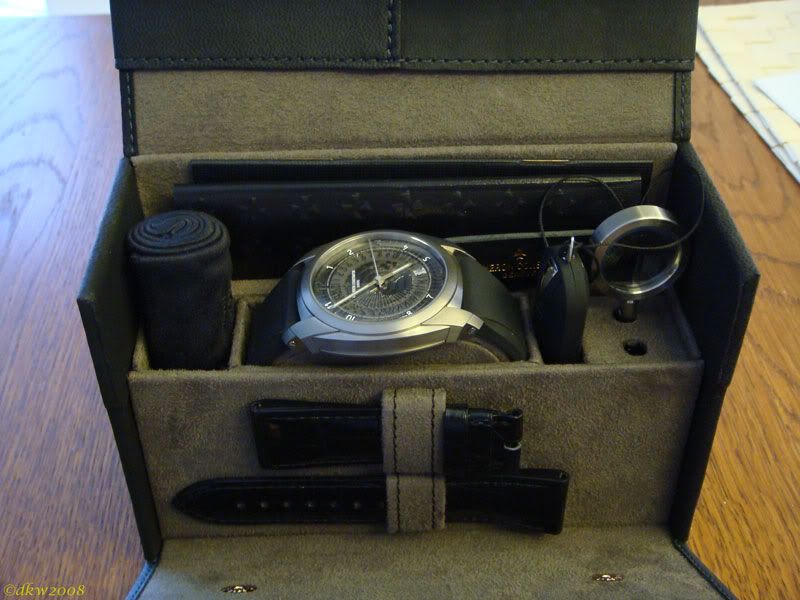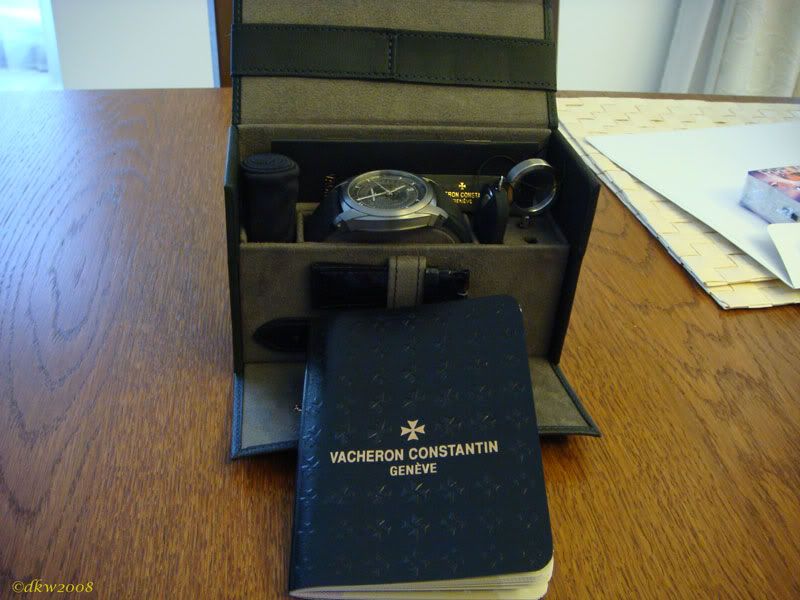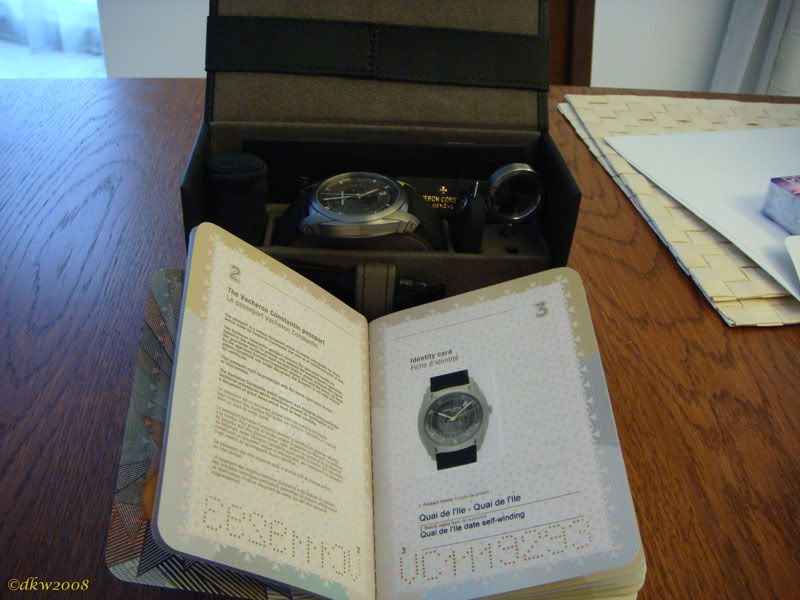 The Watch
There is little that I can write about this watch that has not already been written before.  Alex has written extensively and enthusiastically about this remarkable timepiece and there have been numerous articles on what has been described as one of the stars of SIHH 2008.  I will simply offer my observations after having had the watch for a couple of weeks.
I immediately noticed the lightness of the watch.  Having, over the years, experienced other lightweight timepieces made from such materials as forged carbon and Alusic in addition to titanium,  I admit that I was still a little surprised by this piece.  Historically, one associates VC with high-end luxury watches and precious metals such as gold and platinum.  While titanium is often used in sports watches, you quickly realize that the Quai de l'Ile is not a sports watch per se.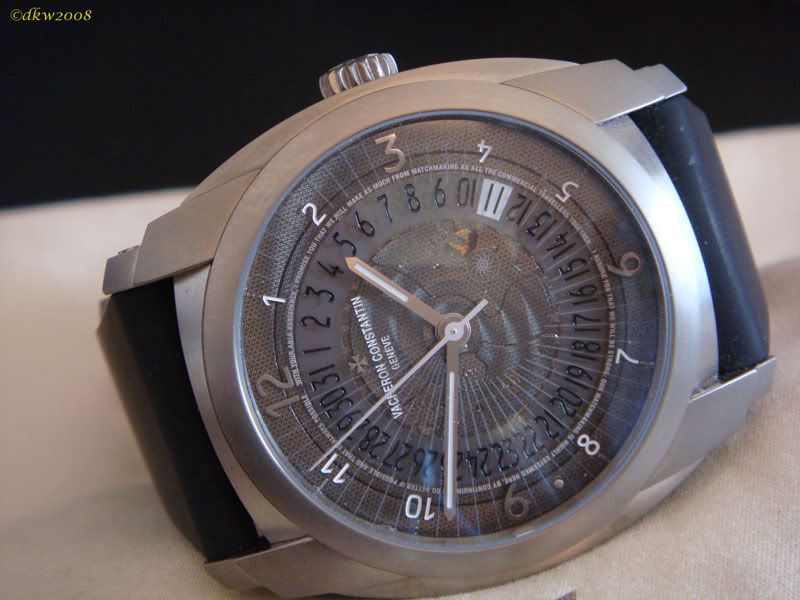 It has an elegance that becomes readily apparent upon your first inspection of the watch.  There is beautiful finishing that can be appreciated on both the front and the back of the watch.  On the front side, you see the marvelous Côtes Circulaires while through the crystal caseback, you can cast your eye upon lovely anglage, perlage and Côtes de Genève finishing that has earned VC is well-deserved reputation for being amongst the foremost masters of this art form.  This level of finishing is not found on sports watches and helps to elevate the Quai de l'Ile to a higher category of timepieces. 
Much has been written and discussed about the revolutionary application of security printing, laser engraving and utilization of speacial high-tech materials in this new line of watches.  While many brands try to introduce new techniques for their novelty value and the result can be somewhat discordant with the timepiece as a whole, VC has achieved a harmonious watch with the incorporation of these features.  To fully appreciate them, one needs to use the included magnifying glass or a good quality loupe.  In fact, it is quite fun to take a close look and discover the different elements on the dial, including the text from letters by Jaques-Barthélémy Vacheron and François Constantin.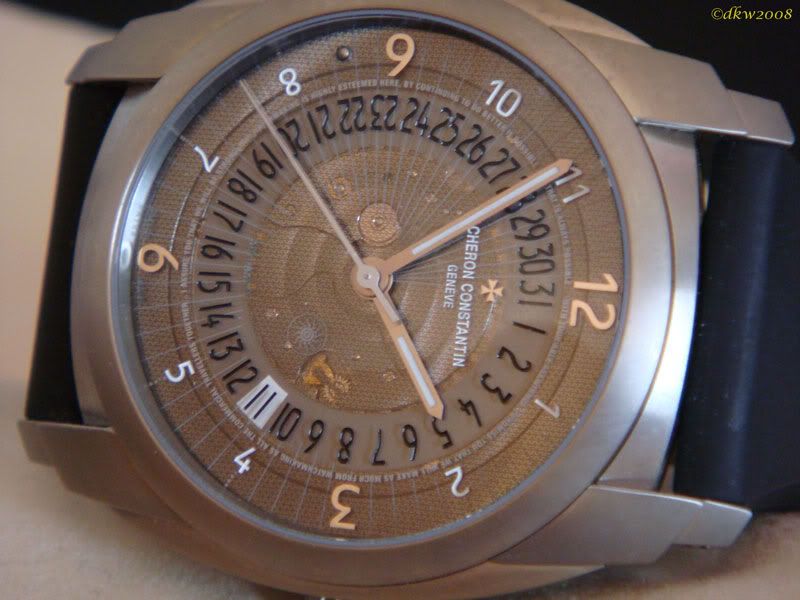 From a usage perspective, I have no complaints.  The date display is interesting as it is the white background box which rotates around the dial and highlights the specific date.  This is different from the typical date disc which rotates and displays the date through an aperature.  Alex has commented about the hands and how he wished that they could have been enhanced in some fashion.  I agree that they are quite simple and lacking in great excitement but they are quite functional and quite legible with a filling of luminova.  I suspect that there was a design decision to keep them relatively plain so as not to distract from the other facets of the dial.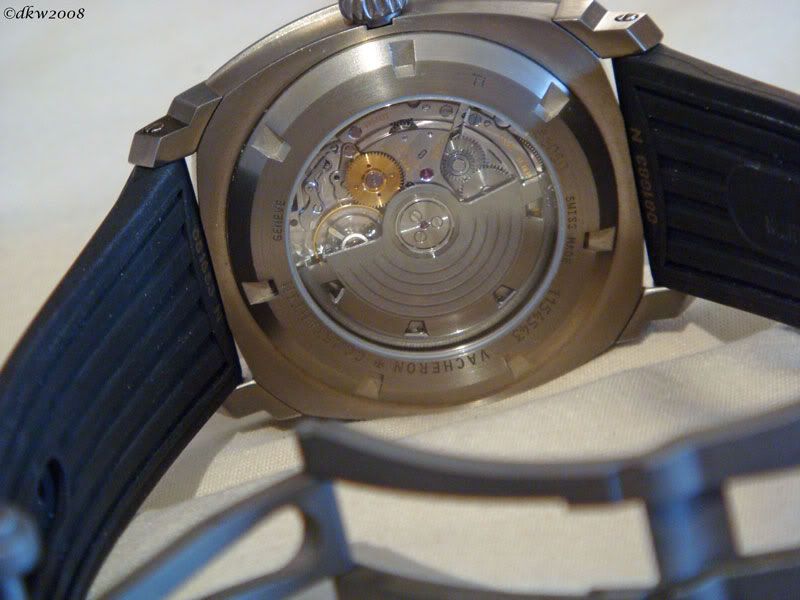 The operation of the watch is a pleasure.  Winding is quite smooth though the sound is ever so slightly rough.  I am not sure as to the cause but maybe Alex or one of our other horological experts can shed some light on this.  Setting the watch is an easy exercise with the hacking feature of the Caliber 2460QH movement helping to ensure accuracy.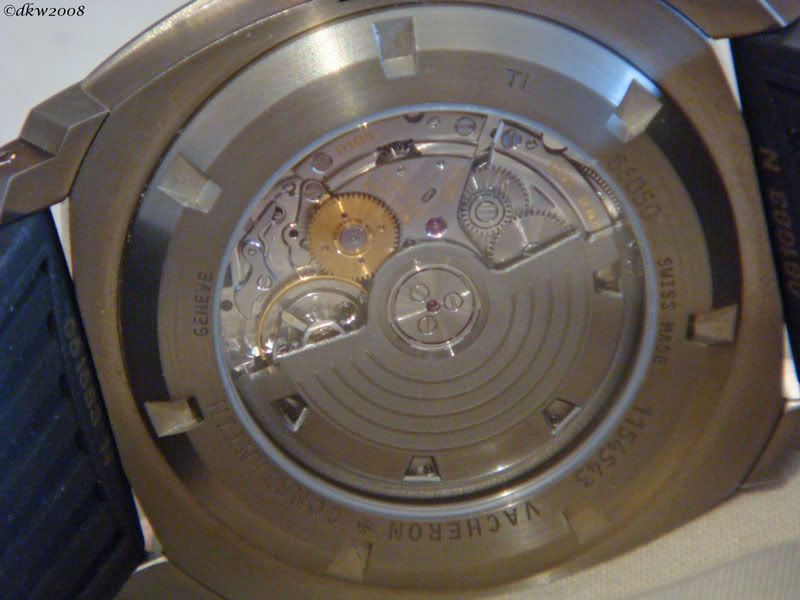 After having this watch for a couple of weeks, I have also been testing its accuracy.  I am quite pleased that throughout this period, the watch has been well within an acceptable range of ±2 seconds per day.  In fact, it has been consistently running at about +1 second per day.  This has been the case for both when I was wearing the watch throughout the day and on other days when it was resting crown-side up on my table.  Some may quibble that this is not absolute perfection but I find it perfectly acceptable for a mechanical watch.
The watch comes with both a rubber and a leather strap.  Living in the tropics, I have found that rubber straps are the most suitable for this climate.  I have yet to try the leather strap but it does appear to be of comparable quality to other VC alligator straps.  The rubber one marries well with the titanium buckle and aesthetically speaking, they form a very nice pairing. The half Maltese cross in titanium looks very good against the rubber strap.  I did find that the folding clasp was occasionally a little difficult to close.  As rubber straps are still relatively new for VC, I suspect that we might see some changes in the years to come.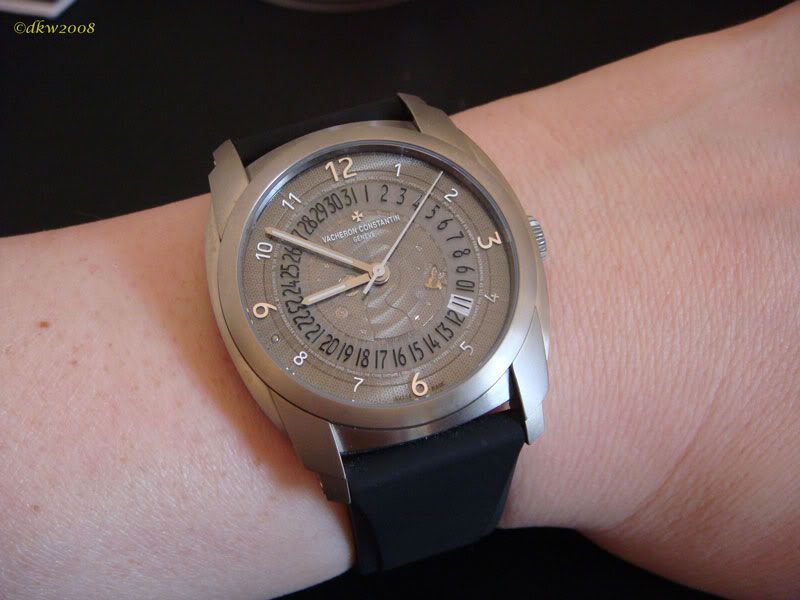 Conclusion
I am very happy with this watch and as they say, it is a "keeper".  It has quickly become a regular in my daily-wear rotation.  Earlier, I mentioned that there is another model in the current product line.  The Day-Date with Power Reserve Self-Winding model is available in 3 standard configurations (just as the Date Self-Winding model is) but what makes it very compelling to me is that it can also be customized into hundreds of different configurations.  I am planning on ordering a custom configuration of this model next year after it has been officially launched in Asia.  With its added complications and customized case assembly, I will consider this new piece to be more of a special watch and still retain my current piece as my daily-wearer.
Perhaps my feelings can be best summed up in this famous quote from the Charles Dickens' novel,
Oliver Twist
: "Please sir, I want some more."
Thanks for reading.
Cheers,
Duncan