Quai de l'Ile Workshop Presentation (Modem Burner)
November 30, 08 09:54
This week in Asia, we were graced with a visit by Christian Selmoni (Product Director) and Vincent Kauffmann (Design Director).  They came to Singapore as their first stop in Asia to launch Quai de l'Ile in this market.  I will provide an event report in the coming days but I thought I would share with you part of the presentation given by Christian and Vincent.  They graciously provided me with a copy of their PowerPoint presentation and I have managed to convert a major portion of it so that I can post it here on The Hour Lounge.
Some of you have either seen the entire presentation or at least portions of it but this collection of timepieces is one that provides continuous opportunities for further discovery.  I hope that you will enjoy this presentation and while I am surely not as knowledgeable as Christian or Vincent, I will endeavor to offer some commentary to accompany the slides.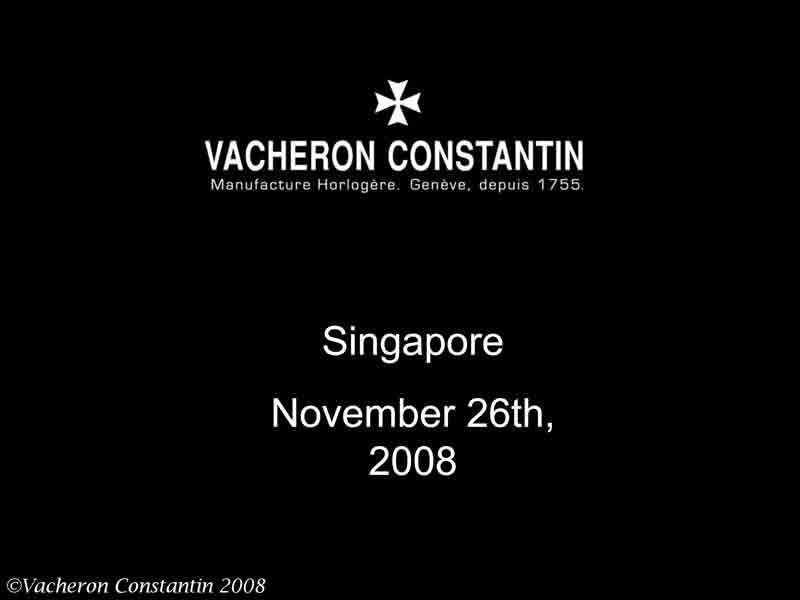 As many of you know, Vacheron Constantin redefined its product strategy this year.  It introduced a "3rd Pillar" to its product foundation, which already included the Malte and Patrimony product lines.  This new collection was the brand new Quai de l'Ile.
The new collection seeks to integrate 3 primary characteristics: Personalization, Security and Innovation.
And as I think all of us, who have had the pleasure of seeing the new Quai de l'Ile collection, would agree, VC has most definitely succeeded!
The new collection required a new case that would convey the essence of the Quai de l'Ile.  Here are some early drawings by Vincent of the Quai de l'Ile casing.  It is bold and modern but would not necessarily be described as "sporty".  The brand did not want to add a new sports line of timepieces but it did seek to address today's blurring of the line between what is defined as sporty and dressy.  Modern haute horlogerie has torn down the constraints that defined previous periods of fine watchmaking and the Quai de l'Ile collection is an excellent example of this new generation of watches.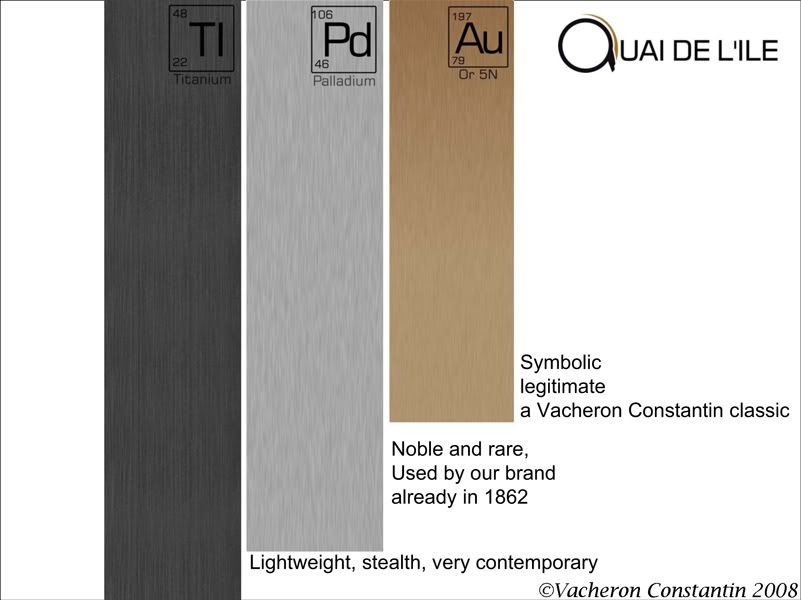 Personalization is achieved, in large part, due to the new case design.  There are 8 primary component parts to the case and they can be combined in various combinations of the 3 different metals.
Security and innovation  are best found in the remarkable Quai de l'Ile dial.  The QDI collection is probably the hardest set of watches for would-be counterfeiters to copy.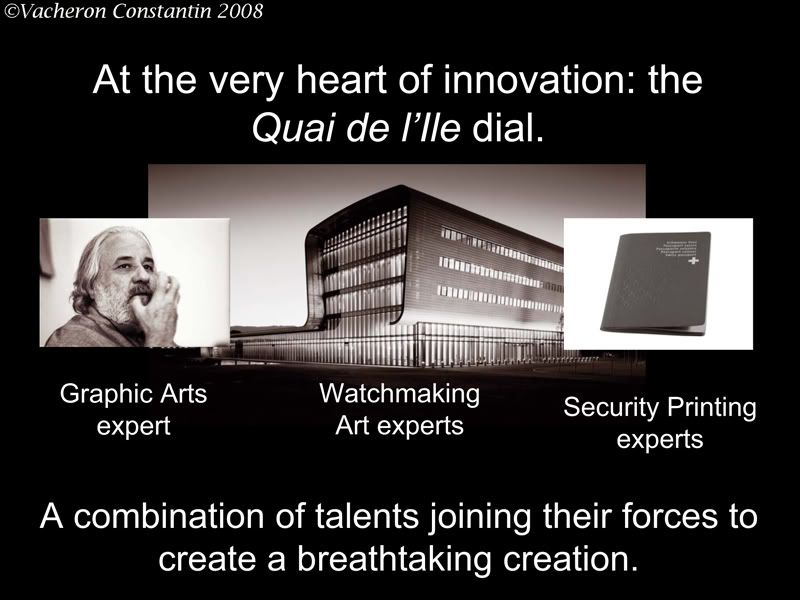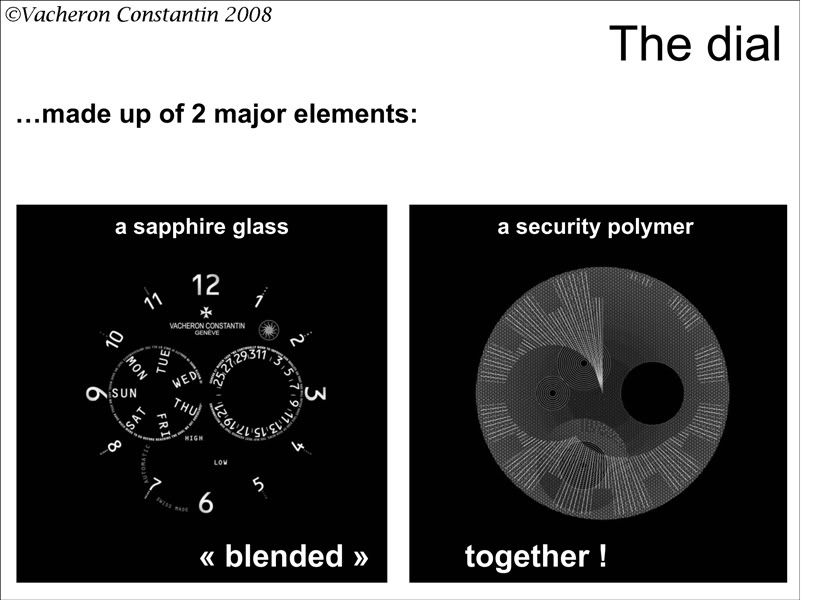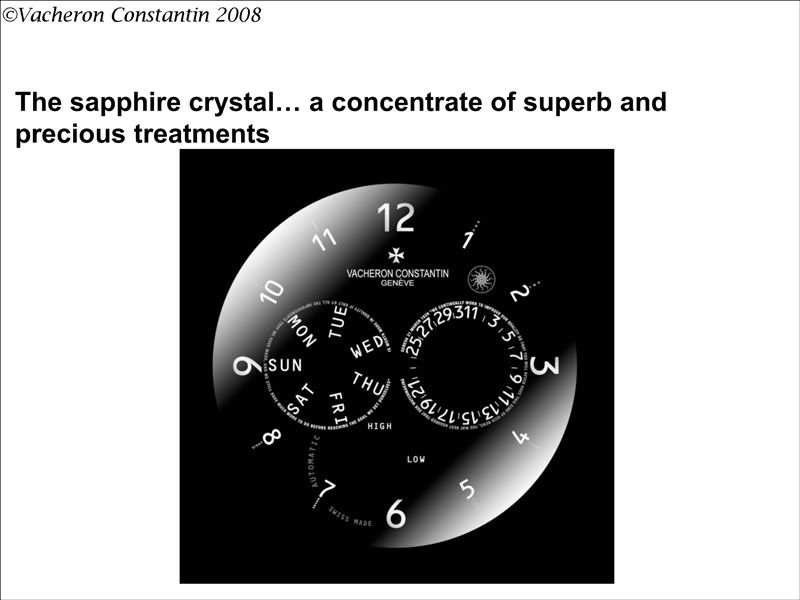 The dial combines features and technology traditionally found in the printing of bank notes and passports.  In fact, VC worked with Roger Pfund who is responsible for designing the current Swiss passport and its incorporation of numerous security features.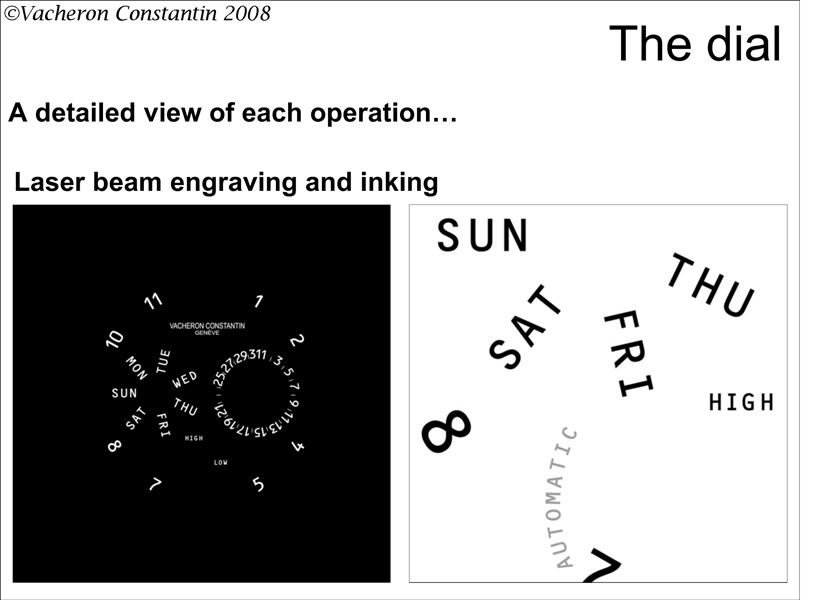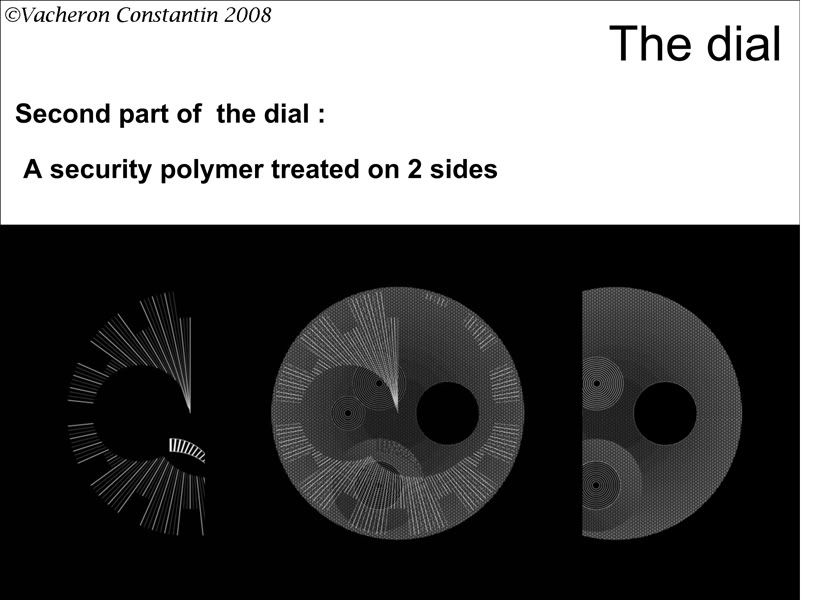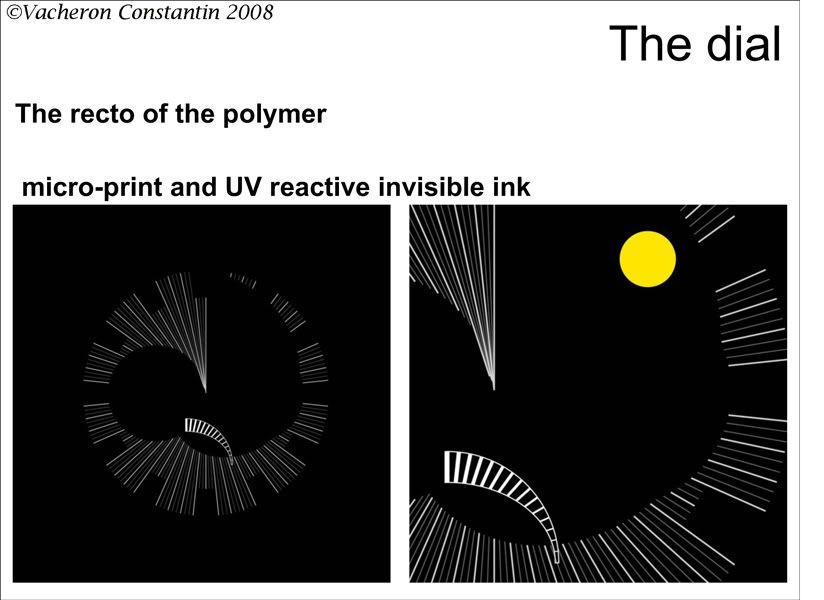 I believe that this is the first time there has been such a deep integration of fine watchmaking with security printing.  Typical of VC, this integration is done with style and class and also in a very thorough manner.  Other brands might opt to try for a much more superficial incorporation of the security features but that would not be an option for VC to consider.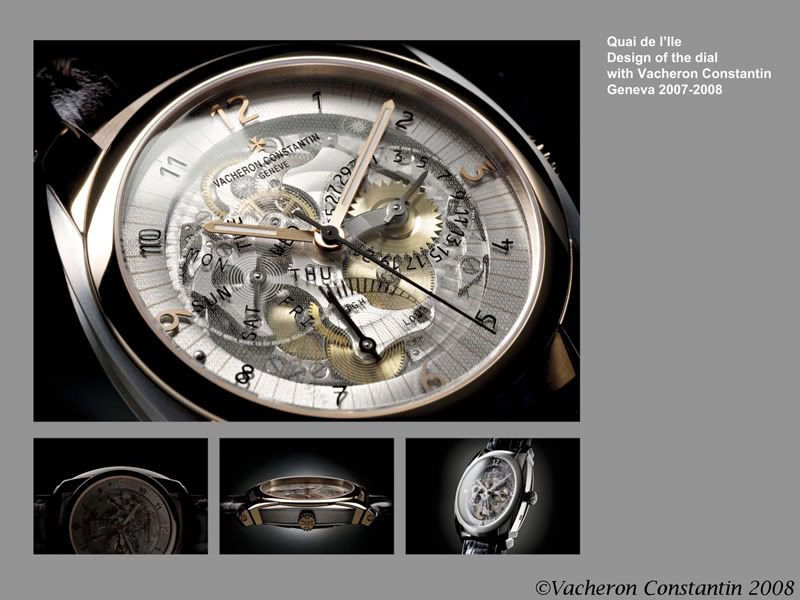 Following are some additional slides showing the various features integrated into the Quai de l'Ile dial.  In the past, I have often said that I can spend hours looking at a finely finished movement but now, I can say the same about a dial.  It is truly an occasion of discovery when you can closely examine the QDI dials.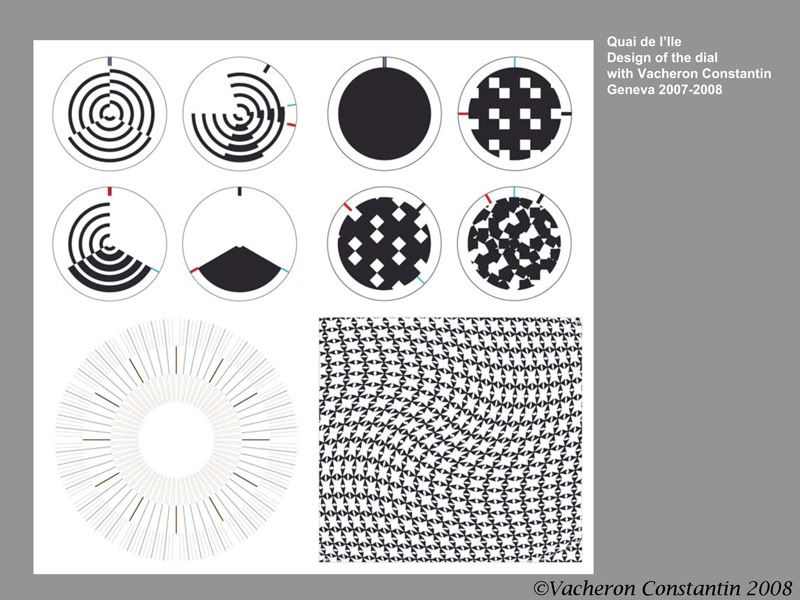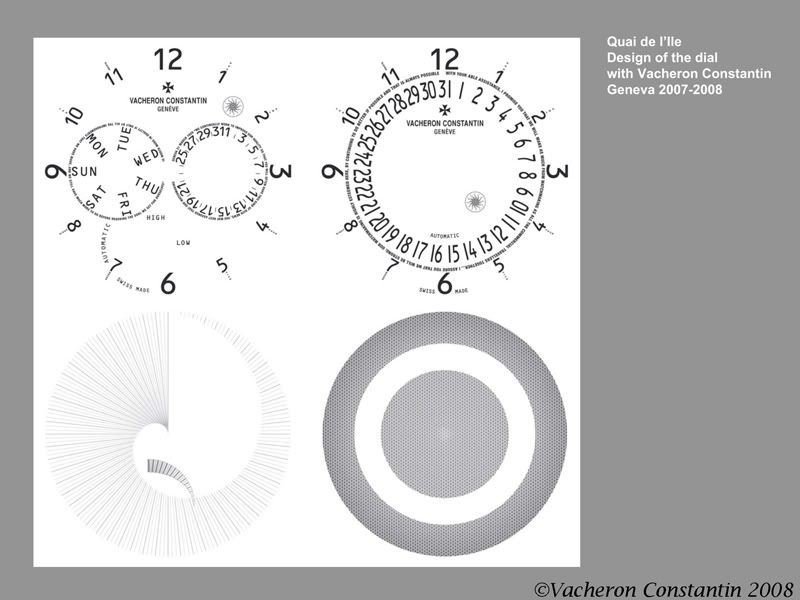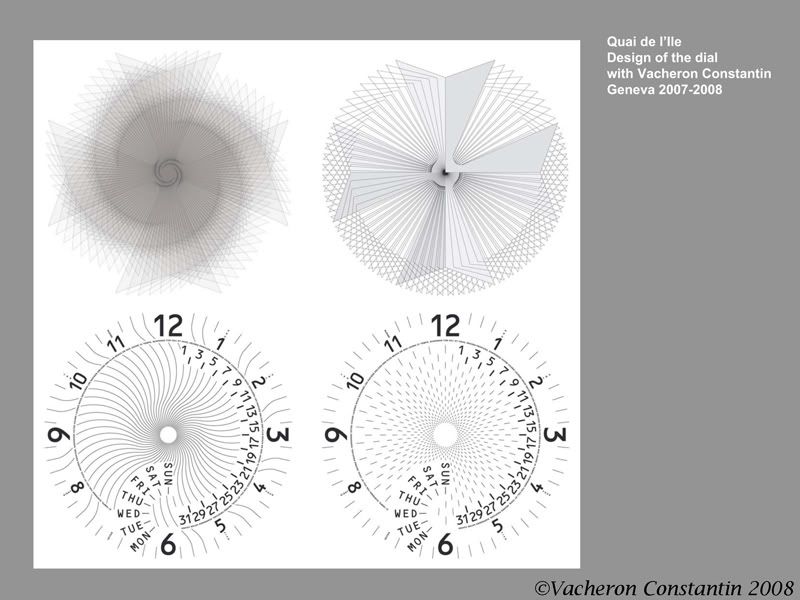 At the heart of every great watch is its movement.  I was extremely pleased when I learned that the Day-Date with Power Reserve model was using the Caliber 2475, which had been introduced in 2005, when VC was celebrating its 250th Anniversary.  The manufacture put this movement in its Jubilé 1755 series of timepieces.  The implementation of this movement in the Quai de l'Ile seems very fitting to me as it demonstrates the manufacture's fine history and skills in traditional watchmaking, while casing it in the very modern and contemporary new case design.  In some respects, it is the perfect marriage of the old with the new.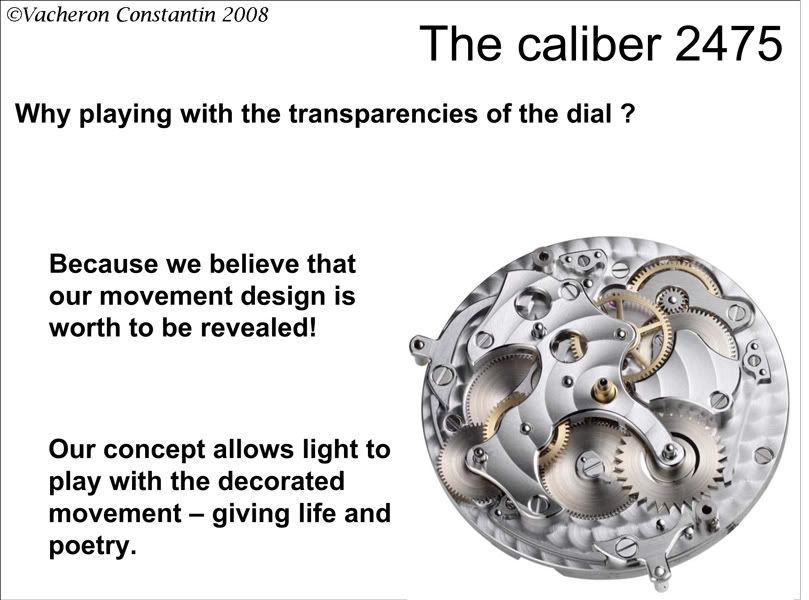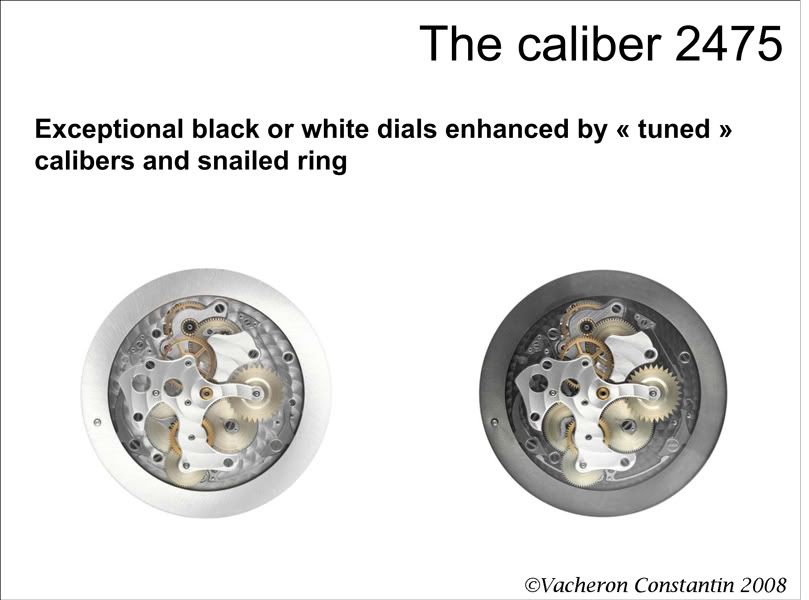 While there has been much discussion this year about the Geneva Seal, VC stands by it and believes in the values that it represents.  Other brands might use it as a "to-do" list for producing watches, but VC follows the spirit and original intentions associated with the Geneva Seal and as such, the two watches in the Quai de l'Ile collection both possess this hallmark of watchmaking executed at its highest levels.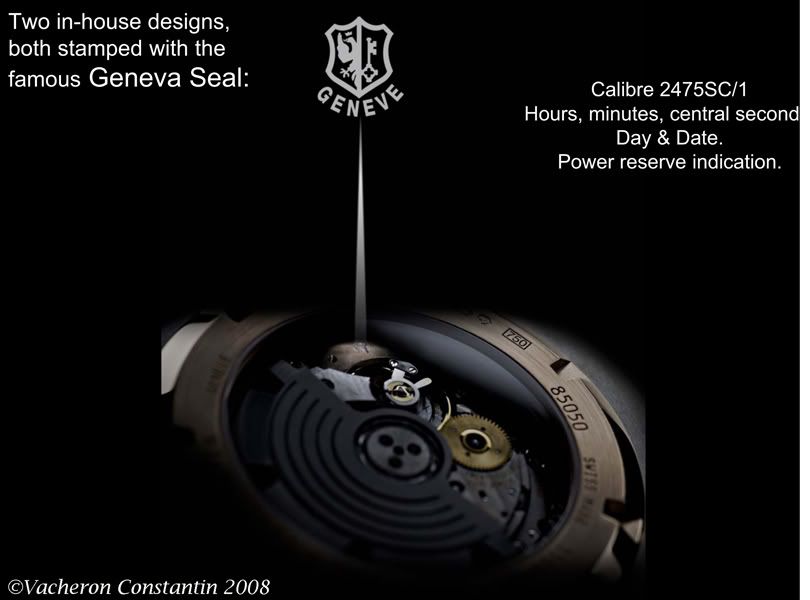 I hope that you enjoyed this portion of the QDI presentation.  Most of the slides that I did not include are related to the unique QDI Passport.  These slides did not transfer well from PowerPoint to PDF to the JPEG format. 
If you have the opportunity to meet Christian and Vincent, then I encourage you to do so.  Both are wonderful gentlemen and you can chat with them for hours on any number of different topics.
As mentioned before, I will be doing an event report on the evening in Singapore, so plese keep an eye out for that.
Cheers,
Duncan