Quick sharing: My just-arrived ref. 6099
October 19, 12 13:34
Ever since getting hooked by Paul's photo essays of VC watches, I have been on the lookout for timepieces that carry some historical significance or modern interpretations that reflect the brand's DNA.  My first acquisition, the Toledo, was along those lines.  In the same spirit, I am happy to share with you this ref. 6099 carrying the legendary cal. 1003.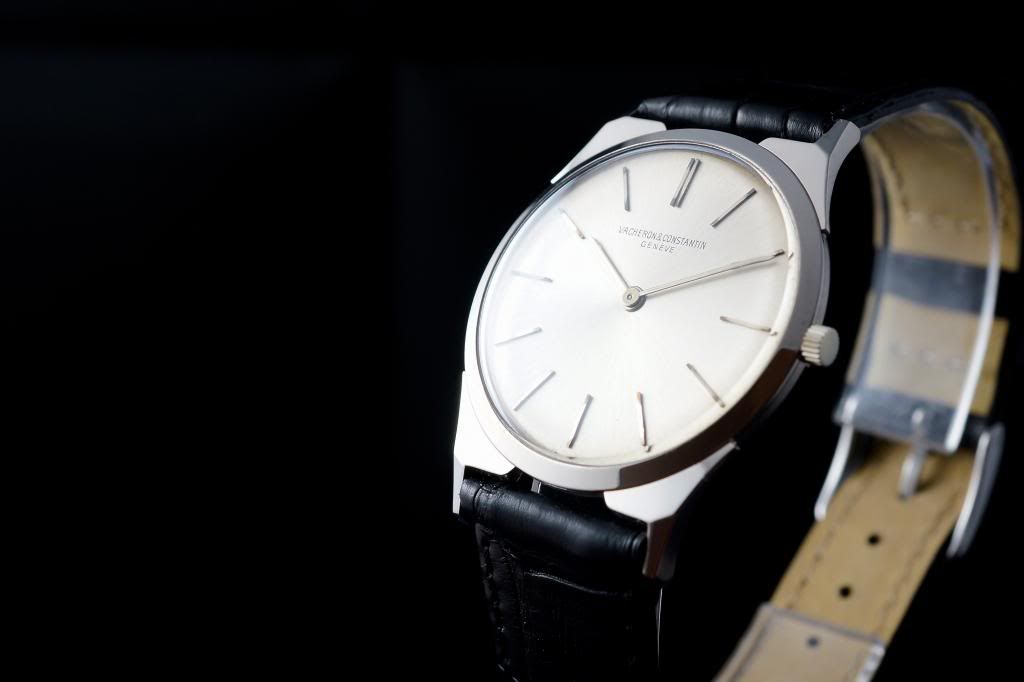 The thinness really is a marvel, and it's mind boggling to me that this could have been achieved fifty odd years ago.  The lugs with the "split maltese cross" motif is another plus for me.  On that score, I did initially have some concerns, as the lugs are unlike any of the pictures I have seen of the same reference in the public domain - the Antiquorum pictures, for instance, show lugs where the "slant" carries a much sharper profile.  Thankfully, Alex came to the rescue with an assist after some fact checking ... thanks a million Alex! 

The picture may not show it well, but the dial has a slight patina that shows off an almost champagne like color under some lighting conditions ... a pleasant surprise that added to my enjoyment of the watch.

One minor regret is that the watch dates to 1965, not 1955.  I would have loved to be able to say that I got "one of the first" ultra-thin watches released, but anyway this timepiece is also very nice and in fantstic condition, so I am not complaining!

No wrist shots yet, because the strap that came with the watch is too long (I'm very finicky about this), so I am putting off wearing this until my custom-ordered one arrives. :(   I can say though that with my 6.25" wrist, the 32mm watch doesn't wear terribly small, even by today's standards.

Will share more shots in a few weeks after the strap arrives!

Cheers, Jeff