Singapore Collectors' Gathering (Major Modem Burner!!!)
November 7, 08 11:01
Trick or Treat???  Halloween with Vacheron Constantin = TREAT!!!

By now, we all know that Vacheron Constantin only organizes the best events, which marry delicious food with fine wine and add in some spectacular timepieces with the company of good friends.  While some may seek quantity, VC places all of the emphasis on quality.  Of course, everything about VC exudes excellence.
It had been quite some time since the brand had hosted a collector's gathering and David Heng (Managing Director, Southeast Asia) felt that the time was right to bring together the community.  With the help of good friend, Tay Kok Choon, a gathering was planned for Halloween night.  Unfortunately, Kok Choon was unable to attend as he had to be overseas for another commitment.  Isn't it a shame when work gets in the way of one enjoying his or her hobby?  Well, outside of Kok Choon's absence, it seemed that all of the other important collectors were in attendance for a fun and enjoyable evening.  While most of the attendees were local, there were some who had traveled thousands of miles.  Such is the lure and appeal of a Vacheron Constantin event…
The venue for the evening's festivities was the newly opened Bellini Grande at the lively entertainment hub, Clarke Quay.  Though this was a relatively new venue, VC had identified and secured a terrific location to host this get-together.  Upstairs at the club is a private lounge area with an attached dining room with an open kitchen.
Guests started arriving around 7 pm and were directed to the lounge area.  It was a nice opportunity for friends to catch up and enjoy a comfortable, relaxing environment.  After a short while, a few models joined us and everyone was given an opportunity to examine some stunning VC timepieces.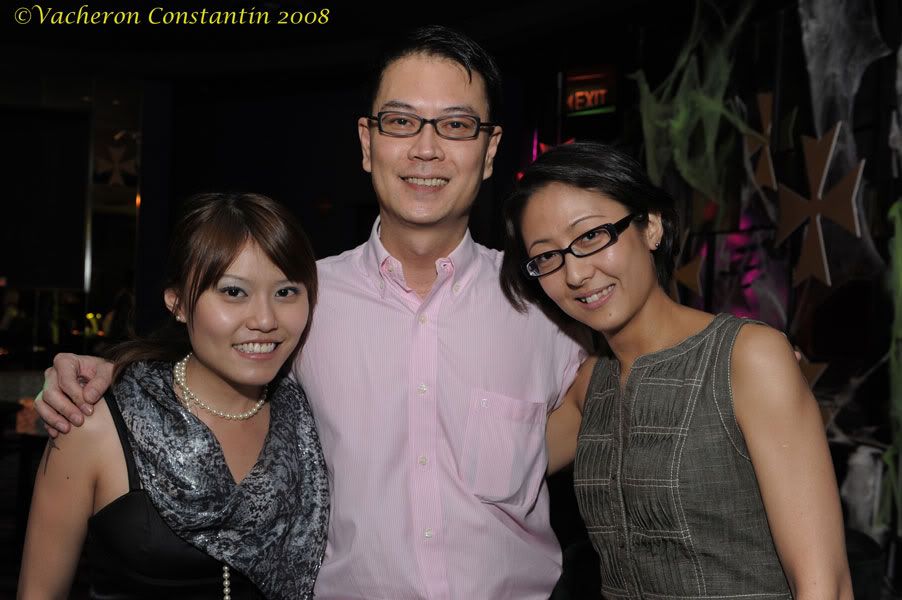 Felicia Wang (Marketing Manager, SE Asia), Zach Toh and Chion May Yee (Assistant Communications Manager)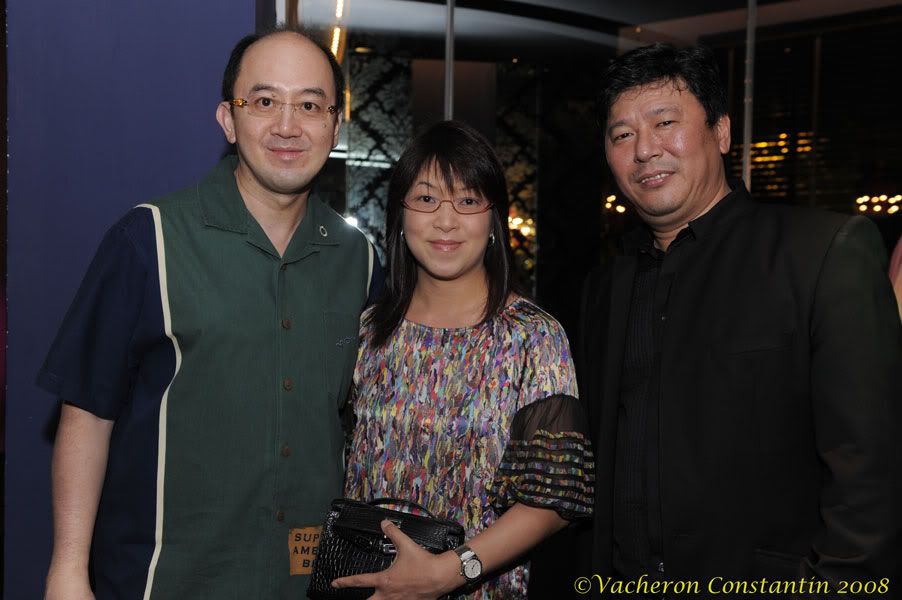 Noted collectors and a very nice couple CH and Linda Liauw with David Heng (Managing Director, SE Asia)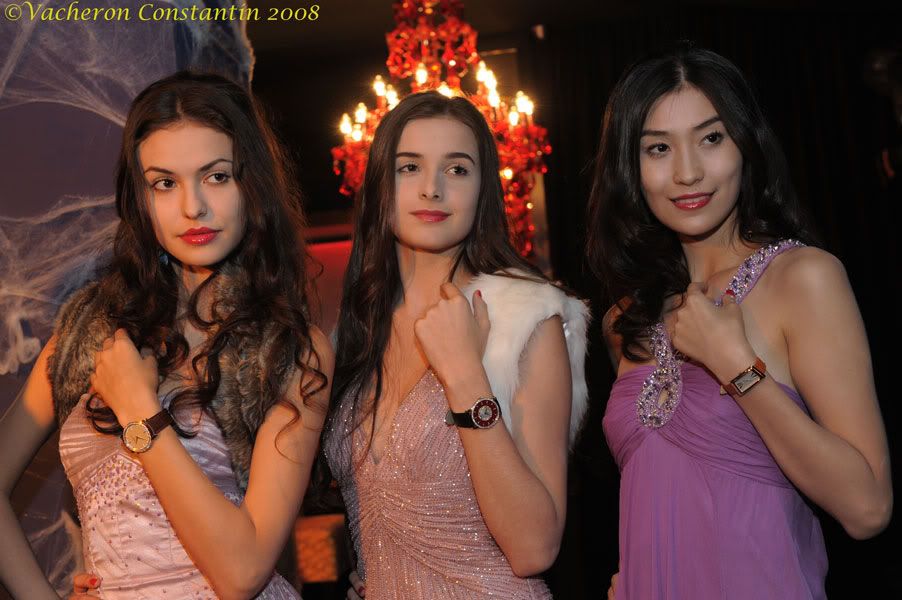 3 beautiful models with some eye-catching ladies' timepieces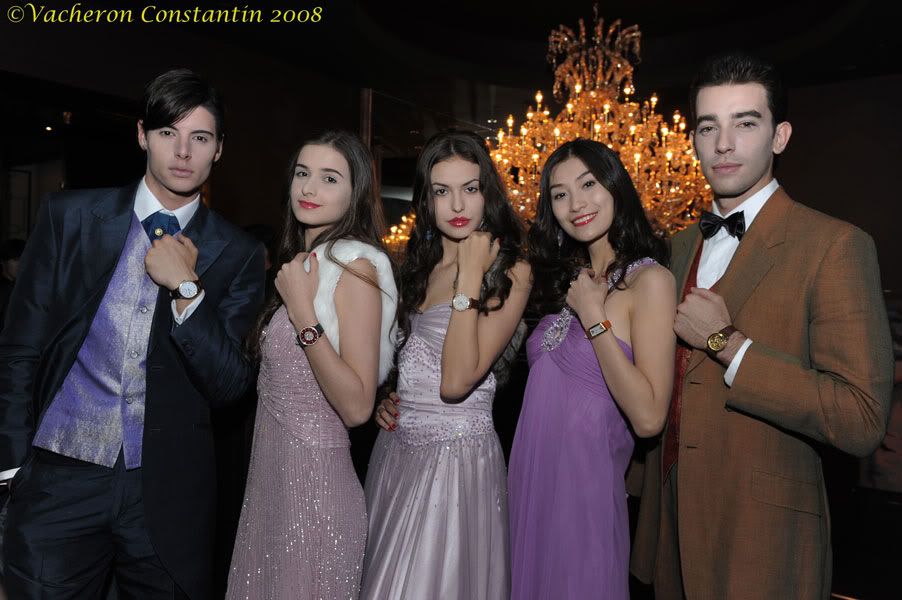 All 5 models from the evening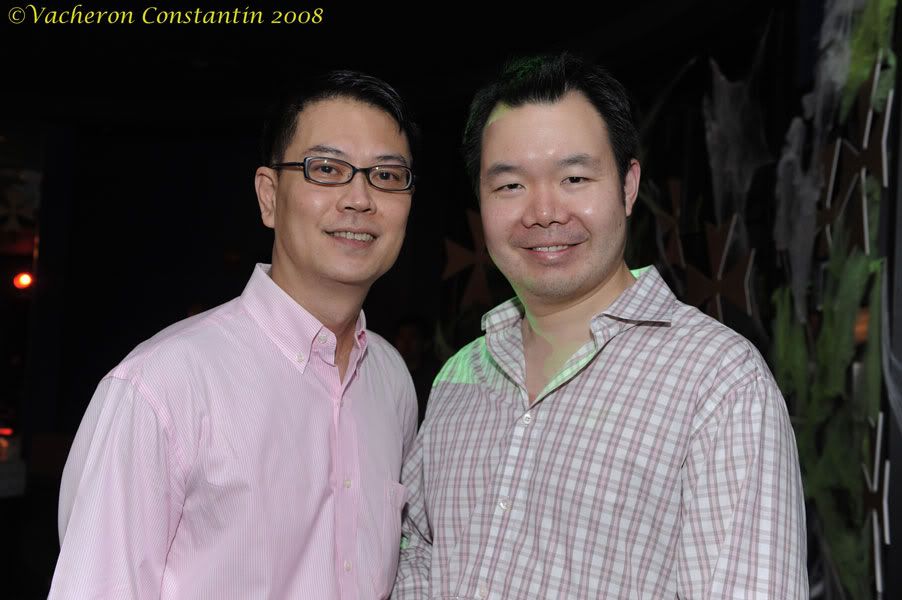 Zach with Teng, who was visiting from Australia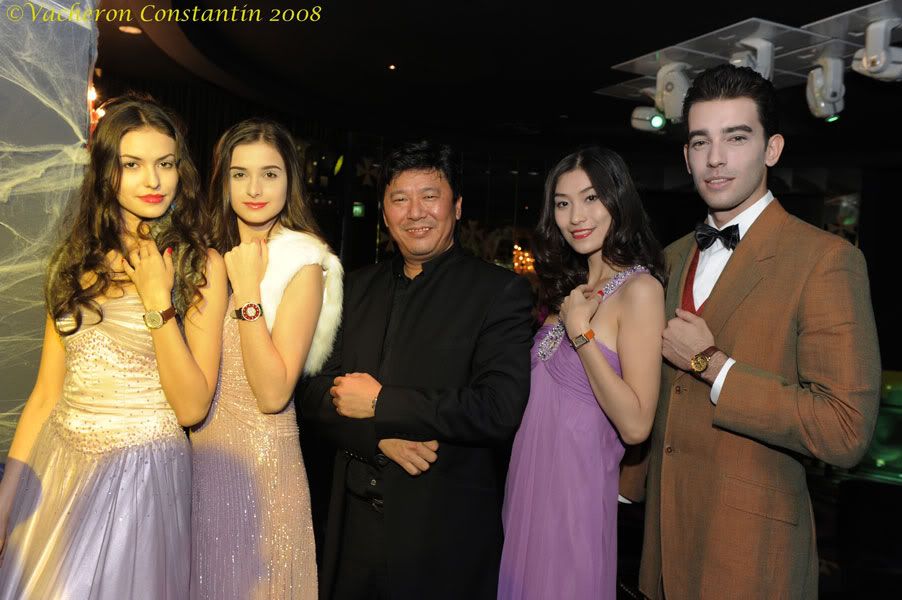 David fitting in quite nicely with the models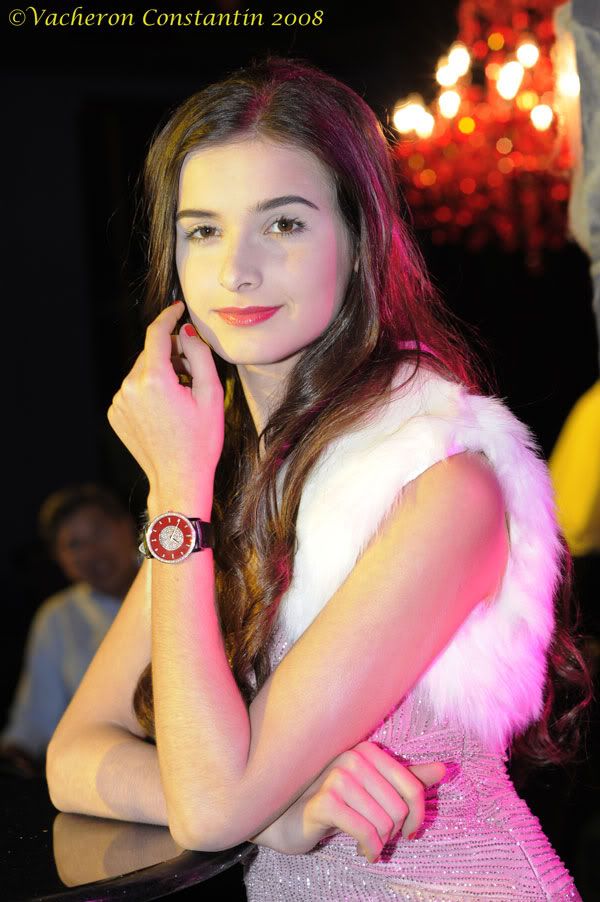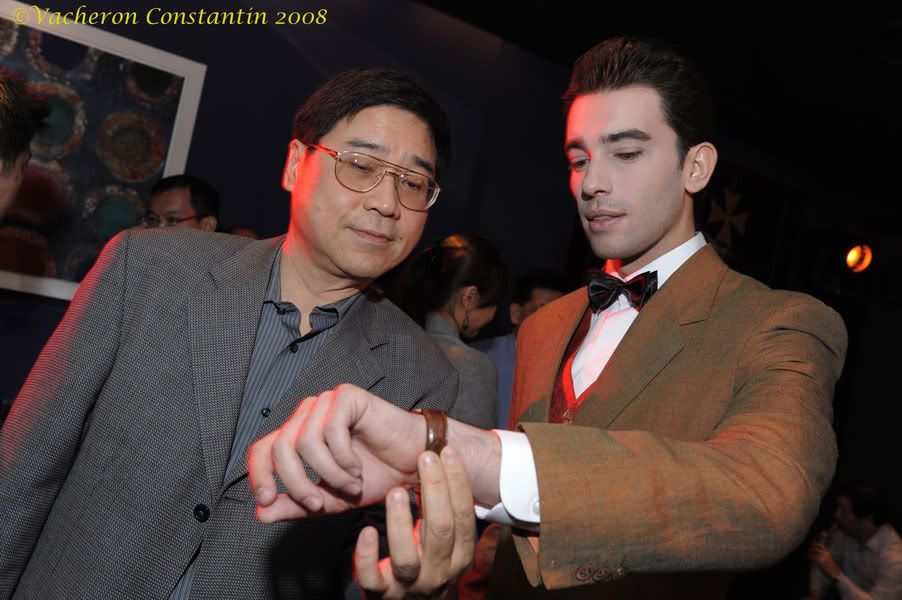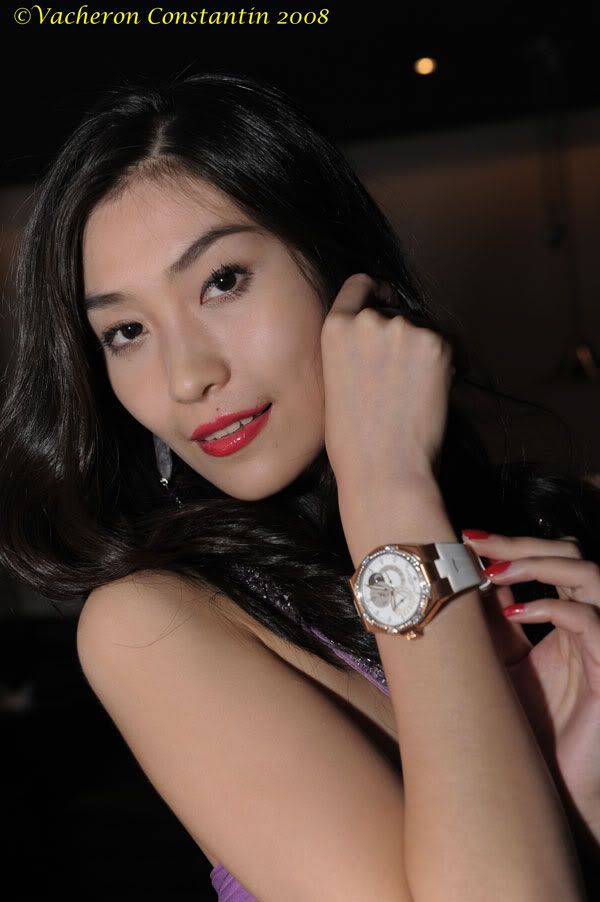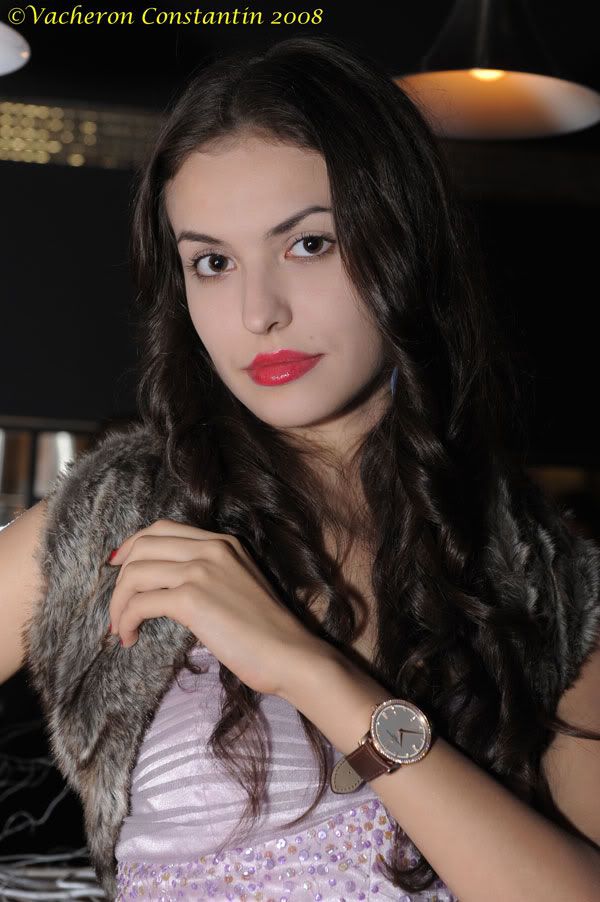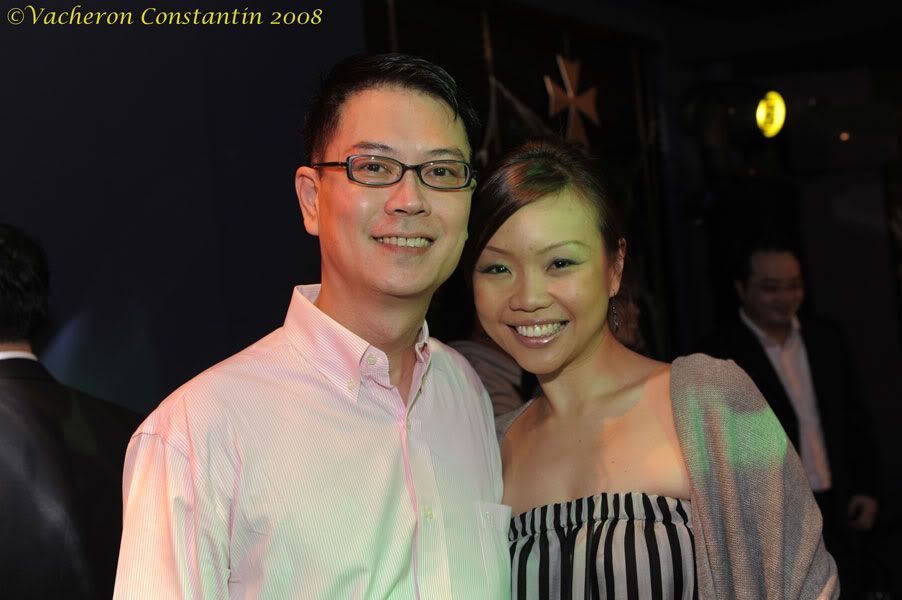 Zach (unlike many of us, he is not camera shy
) and Jenny Hui (former Marketing Manager, SE Asia)
Note: Zach is a really great guy with a great passion for both watches and photography.
After a congenial cocktail hour, the guests were ushered into the dining room.  Before  embarking on our gastronomical journey, David gave a brief welcome speech.  He outlined what the aims were for the evening and they included reconnecting with VC's friends and fans in Singapore, along with also introducing some of the brand's products to the eager audience.  Speaking of new products, David also announced that there will be a Quai de l'Ile workshop later this month and that promises to be of great interest to aficionados of the brand.  Unfortunately, there was only one Quai de l'Ile piece at the event and I do not think that everyone had the opportunity to see the highlight of the 2008 novelties from the manufacture.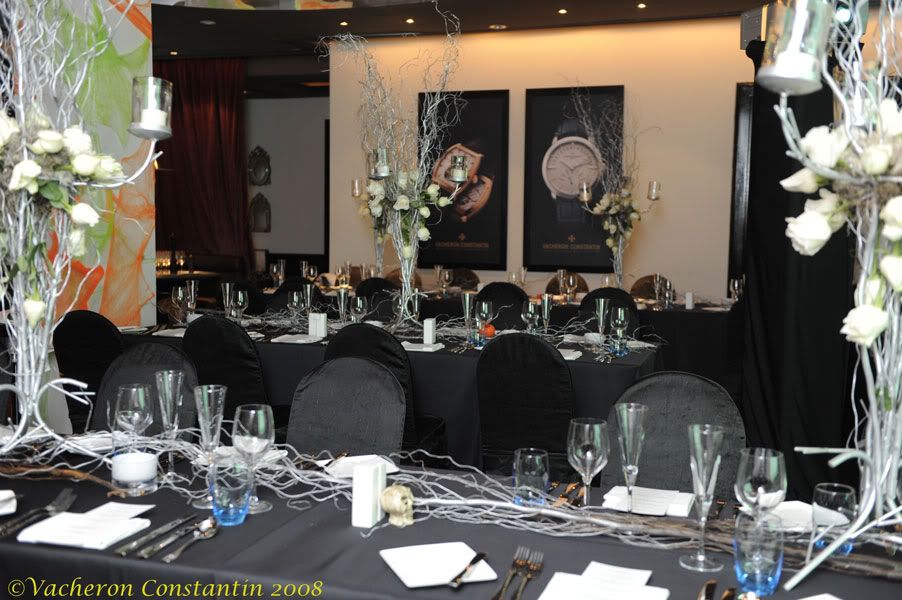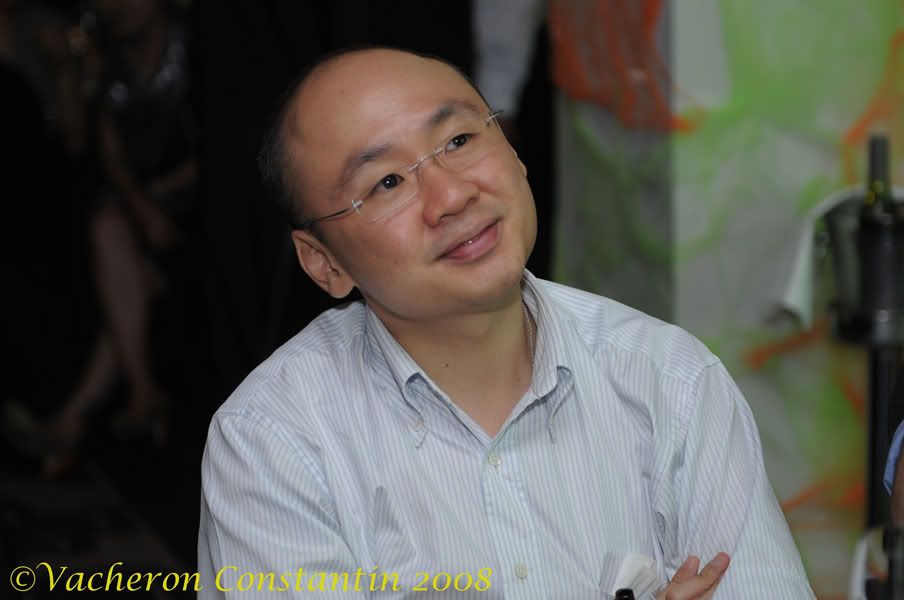 Vernon Lim
One final objective of the evening was to pay tribute to Jenny Hui (former Marketing Manager, Southeast Asia) as she joins VC in Shanghai and also to introduce to the community the new members of the team, Felicia Wang (Marketing Manager) and Chion May Yee (Assistant Communications Manager).  I had the honor of saying a few words about Jenny and we all wish her well as she embarks on this new chapter in her life.  The speeches ended with Jenny offering her thanks for the support that she enjoyed in Singapore and for the friends that she had made during her tenure at VC.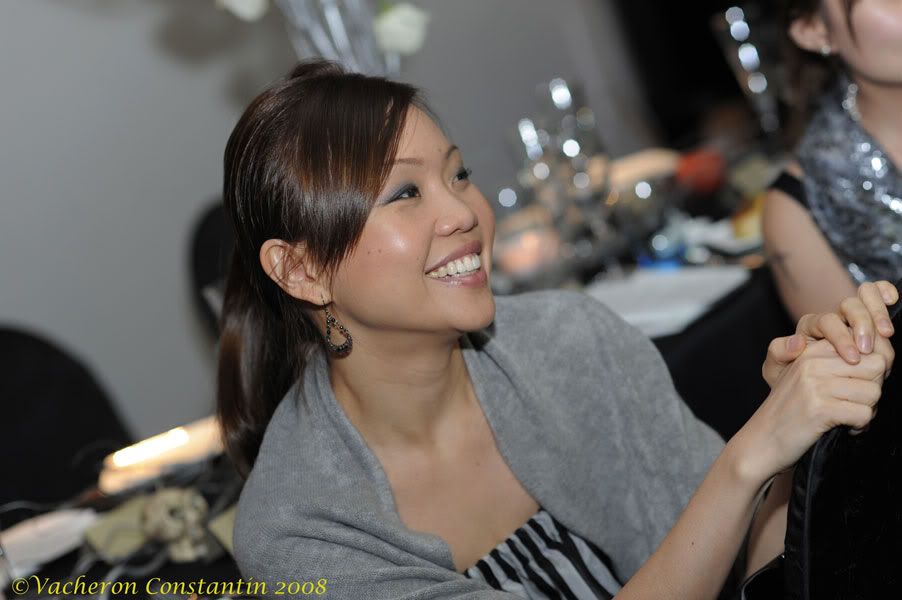 The always glamourous Jenny, who was looking radiant despite fighting the flu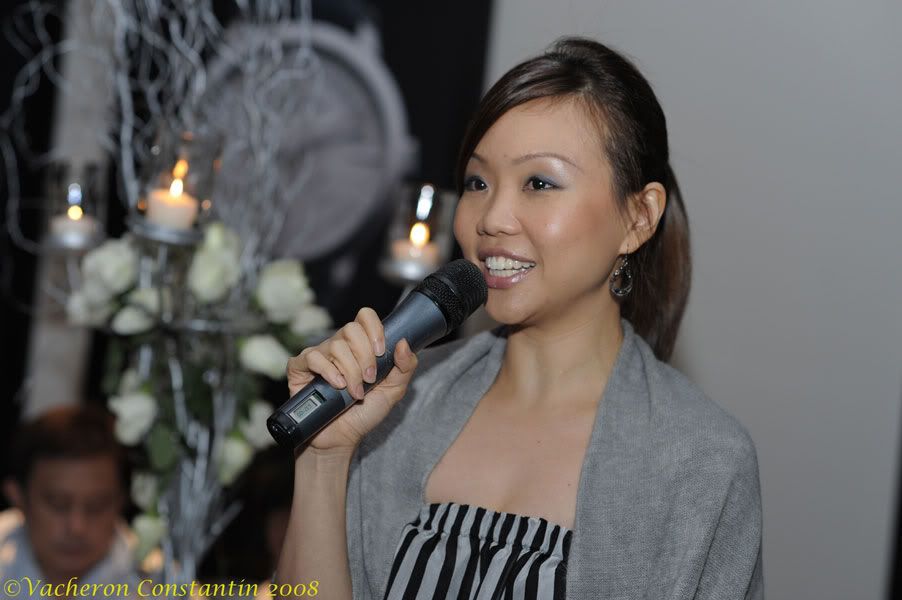 Jenny acknowledging her friends and the good times that she has had in Singapore.  We know that Jenny is now continuing her successful VC career in Shanghai and we are already looking forward to meeting her at the Twin Villas!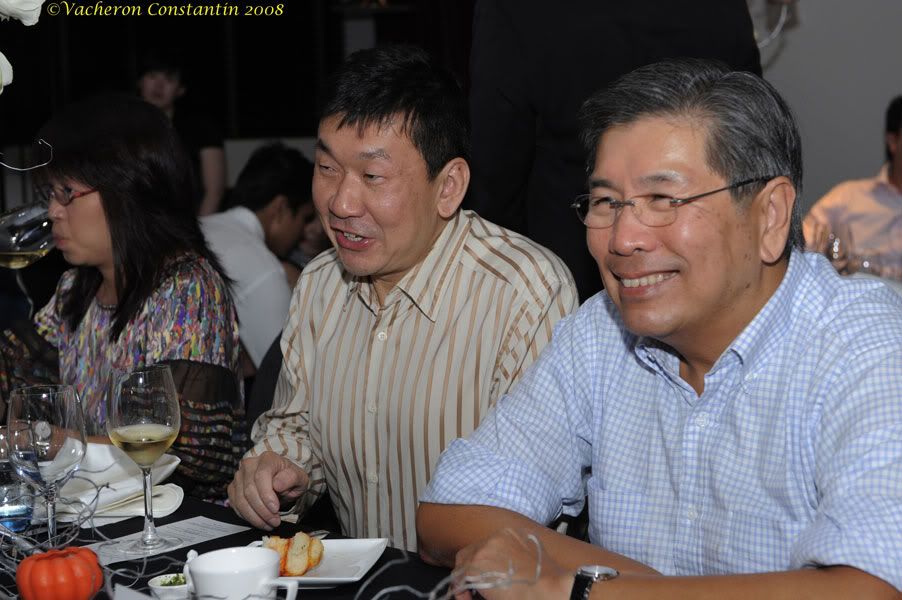 Darren Cheong and Larry Wee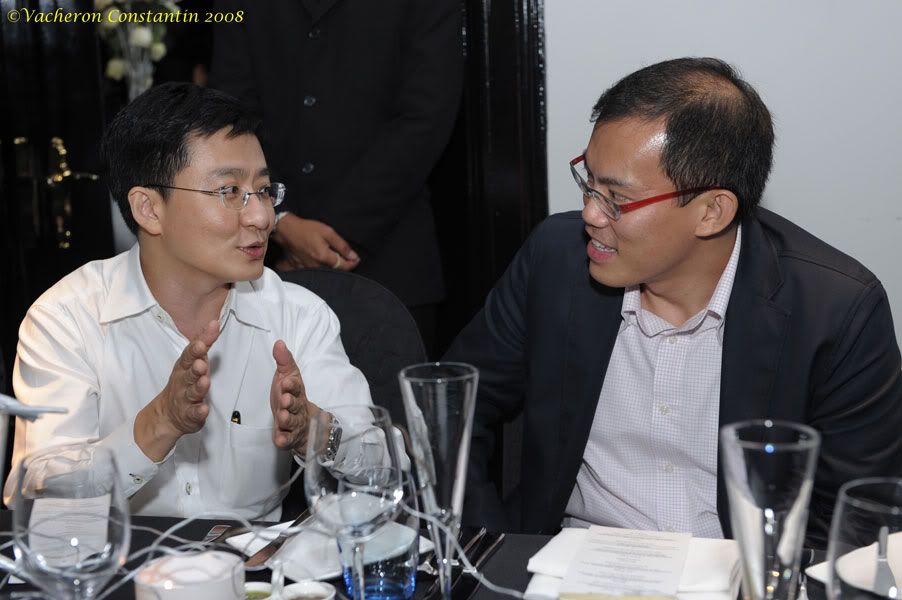 Well-known and highly respected watch journalist Timmy Tan and Jeffrey Sim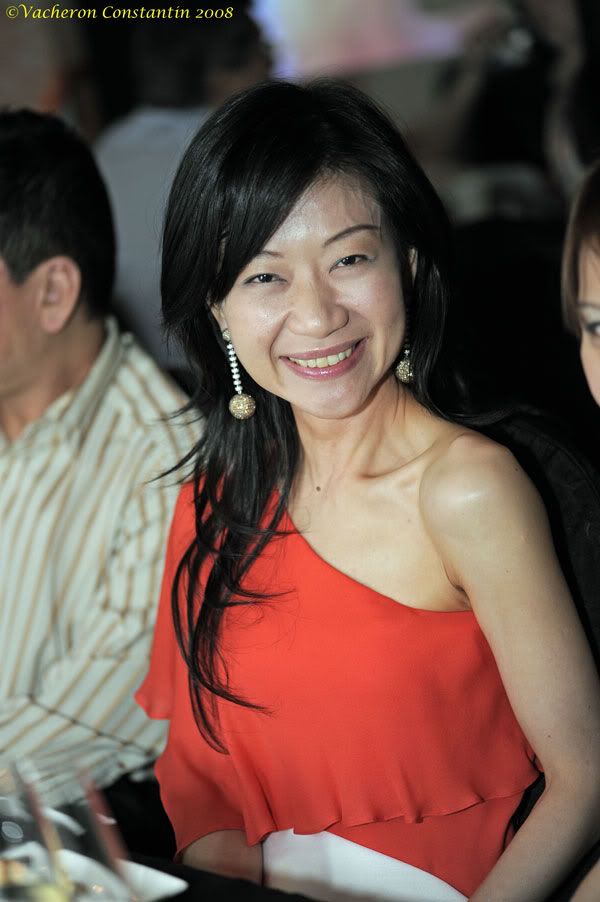 The always lovely Dana Cheong
The dinner was a specially prepared menu paired with a fine selection of wines.  I am no oenophile and in fact, I have abstained from alcohol for many years now but I was told that the wines were quite good and partnered well with the food.  I was just quite pleased that I was able to enjoy my favorite dessert of pear sorbet.  This was particularly special since I am highly allergic to the planned mango sorbet and the chef graciously accommodated my mango "issues".  Of course, perhaps he thought that a dinner guest gasping for air would not be good publicity…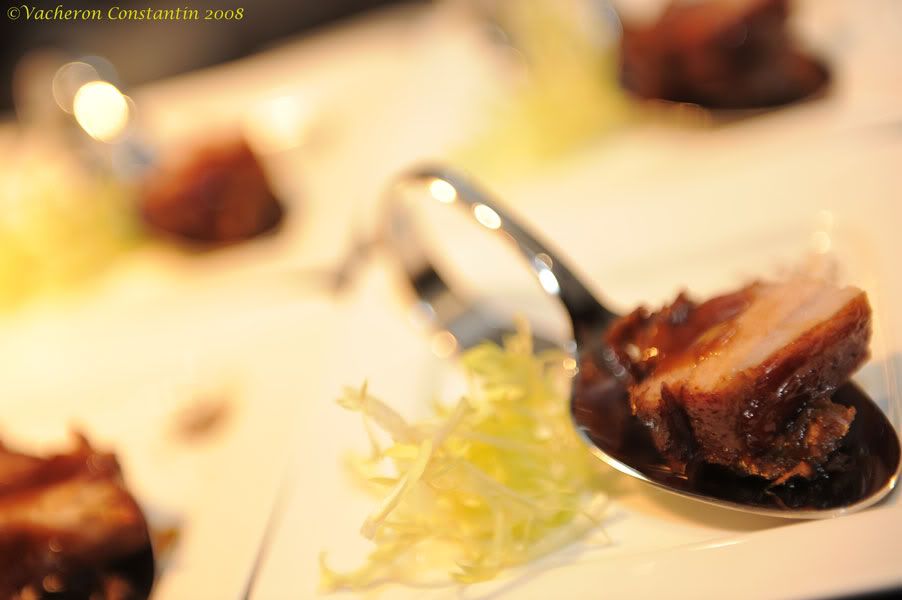 Amuse Bouche
Braised Korubuta pork with sake and star anise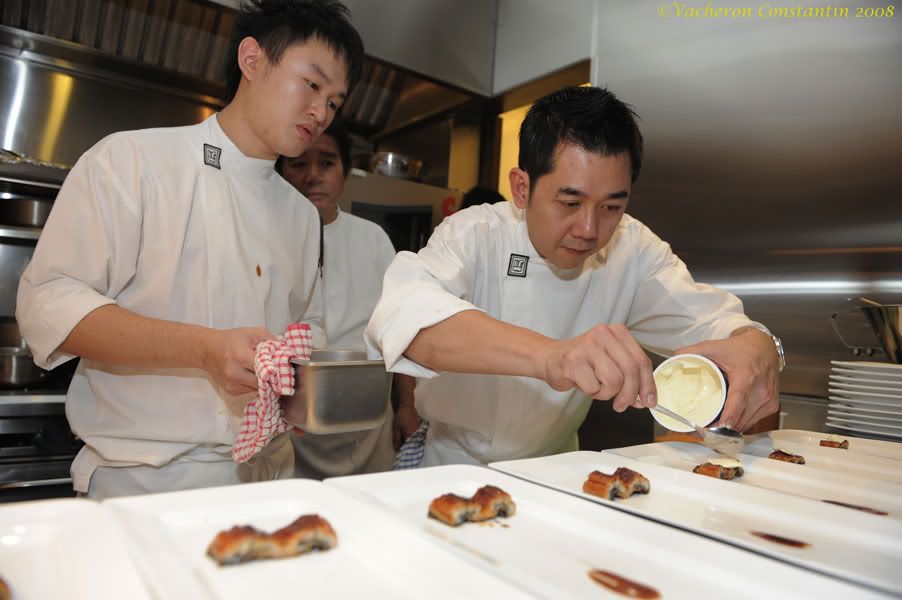 The chefs preparing the appetizers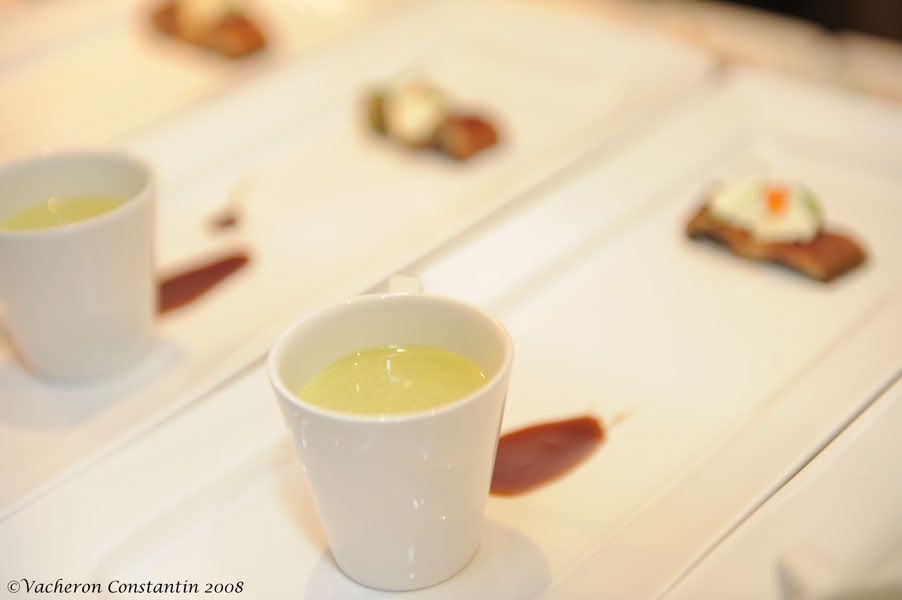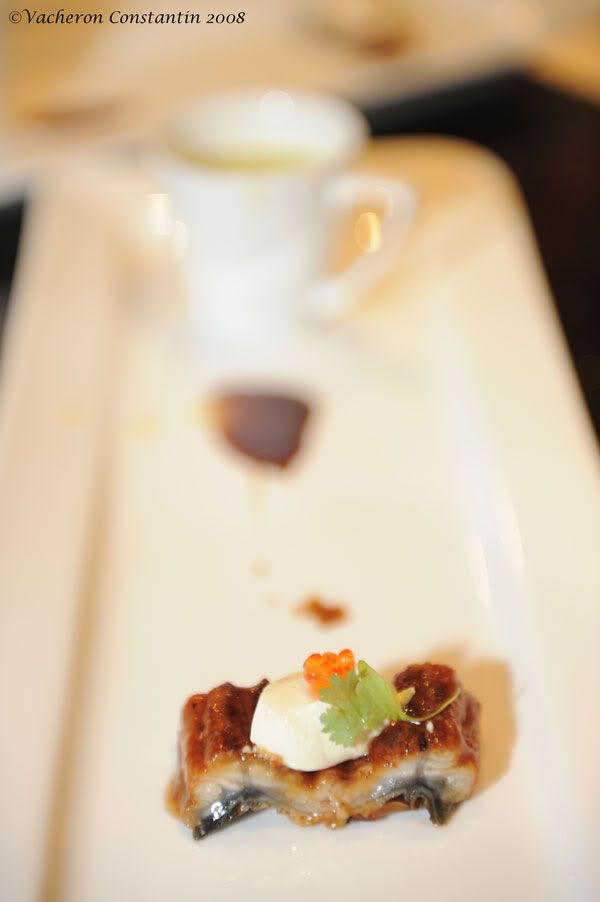 Appetizer
Pea espresso, barbecue fresh water eel and tomato espuna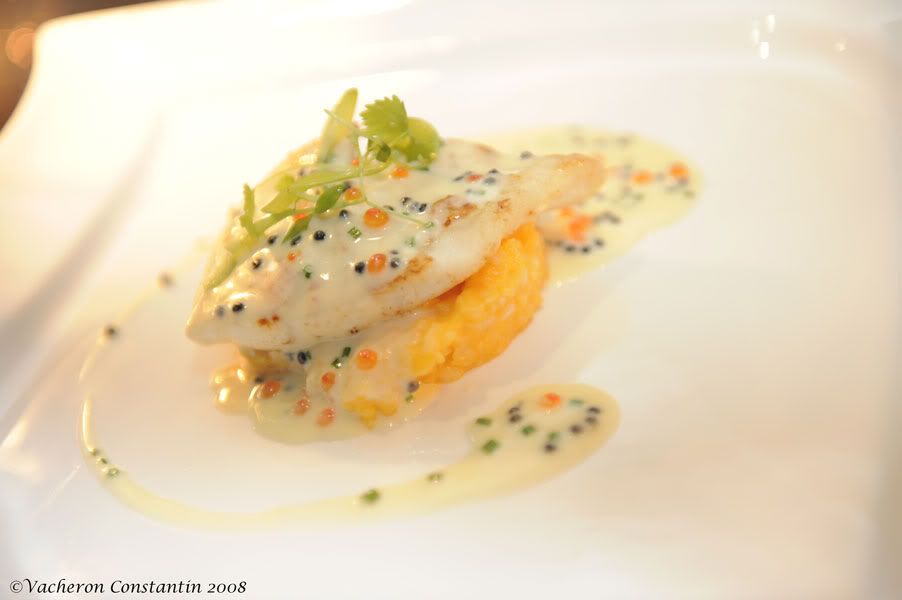 Fish Entree
Roasted fillet of Turbot, pumpkin risotto and Caspian sea butter veloute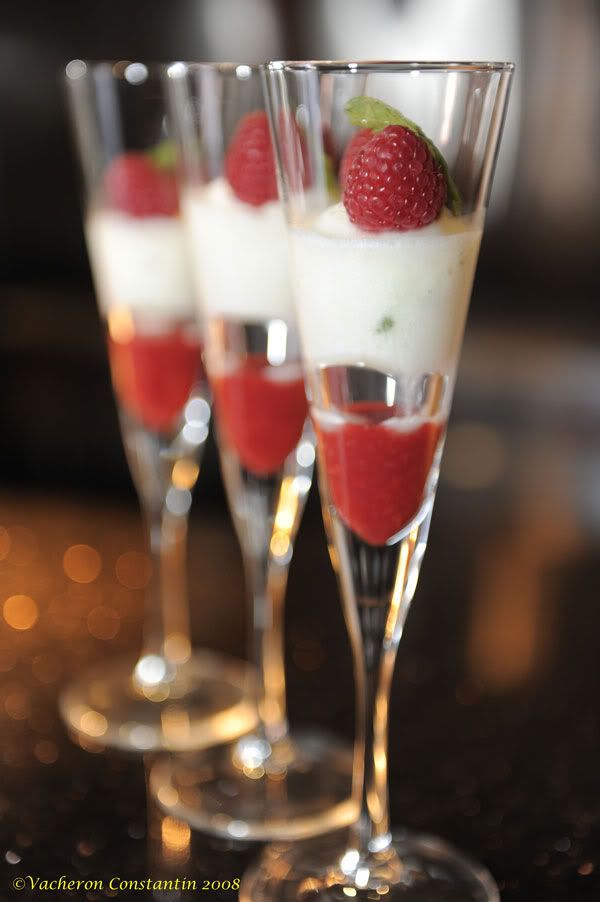 intermezzo
Honey-lime granite
Choice of main courses...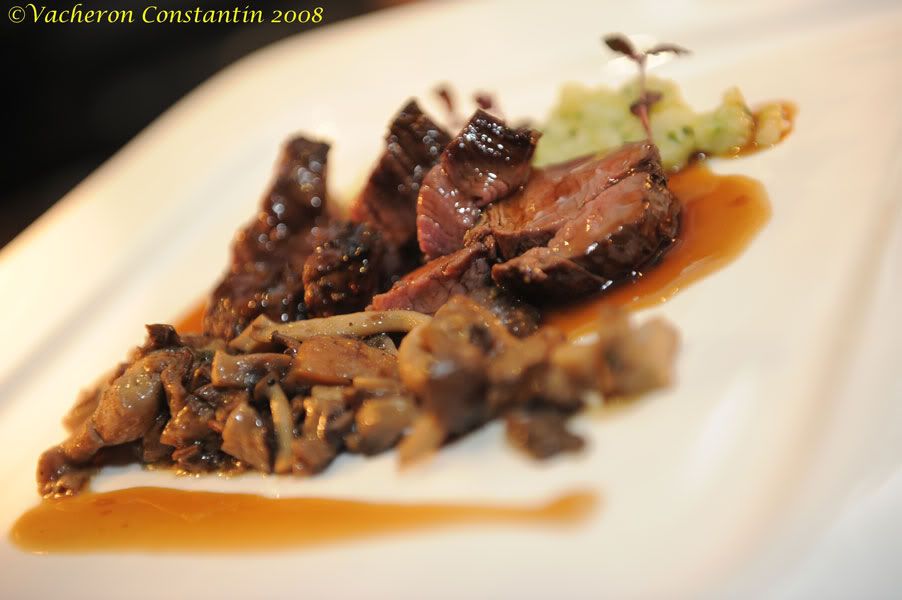 Roasted Angus beef tenderloin, asparagus risotto and porcini sauce
or...
Oven roasted herb crusted Norwegian salmon fillet with pomme puree, ratatouille and truffle sauce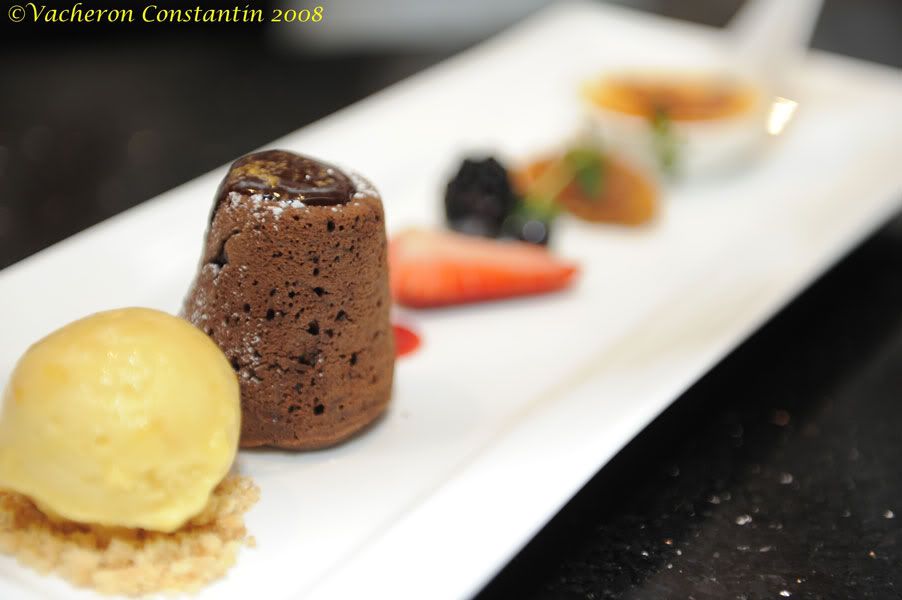 Dessert
Chocolate coulant, marinated berries passion fruit-mango sorbet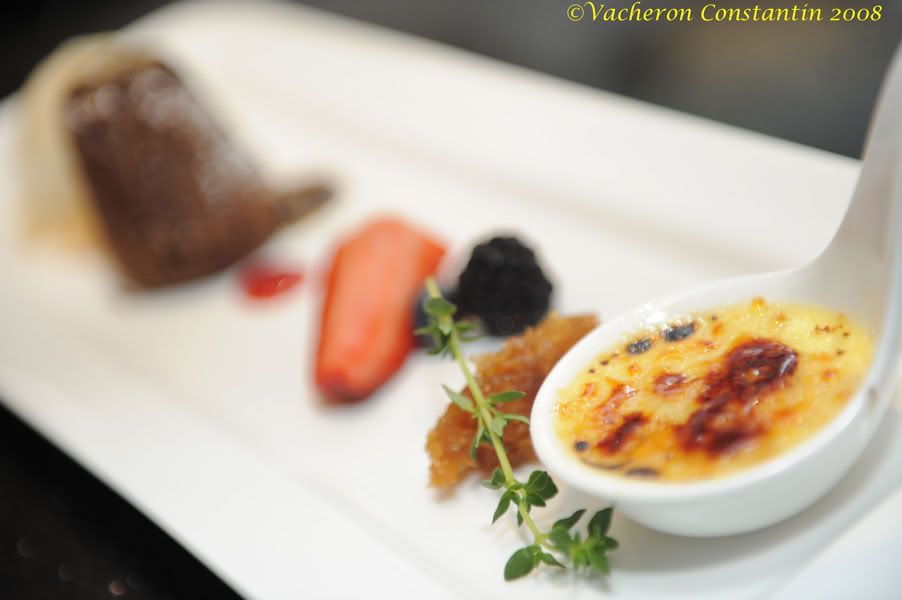 Bonus Dessert
Creme brulee
Following dinner, guests had the opportunity to spend more time with the watches and just enjoy a relaxing evening of conversation and camaraderie.  It was a wonderful event and I believe that everyone enjoyed themselves.  Many thanks to David and his team (both old and new) for hosting us and providing us with an excellent way to spend Halloween.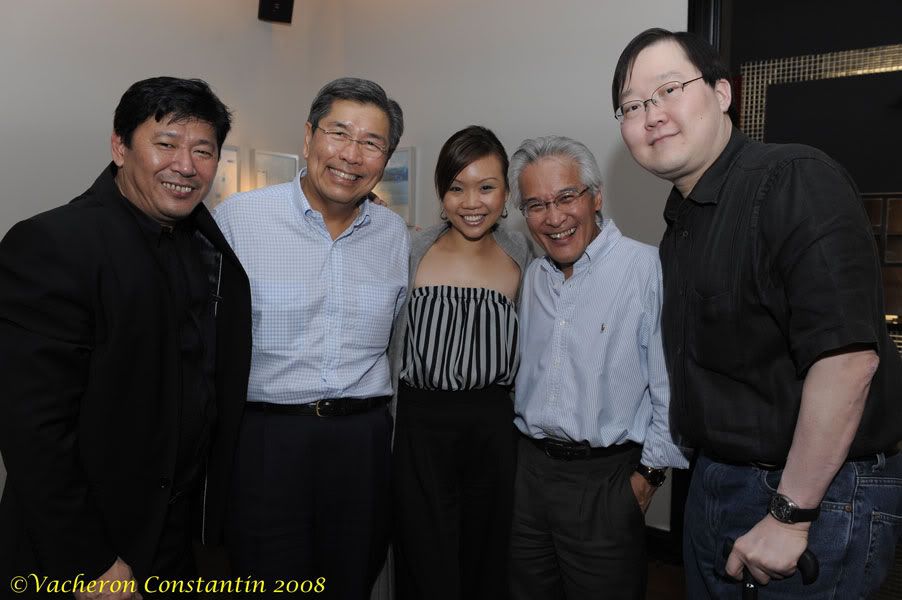 5 good friends enjoying the evening together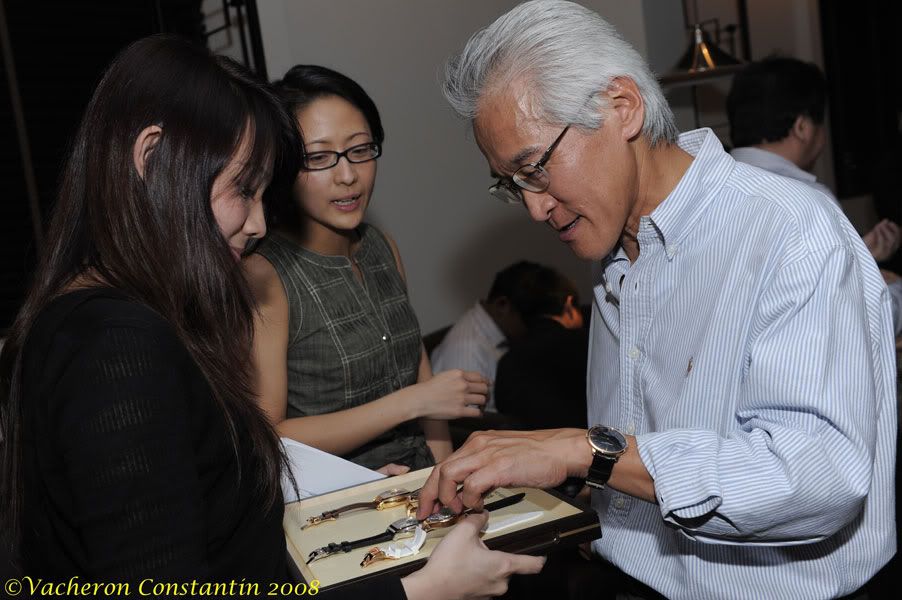 Chiew Choon Seng examining the latest products from VC.  Choon Seng is one of the most astute collectors that I know and is great fun to talk with as he is not pretentious at all.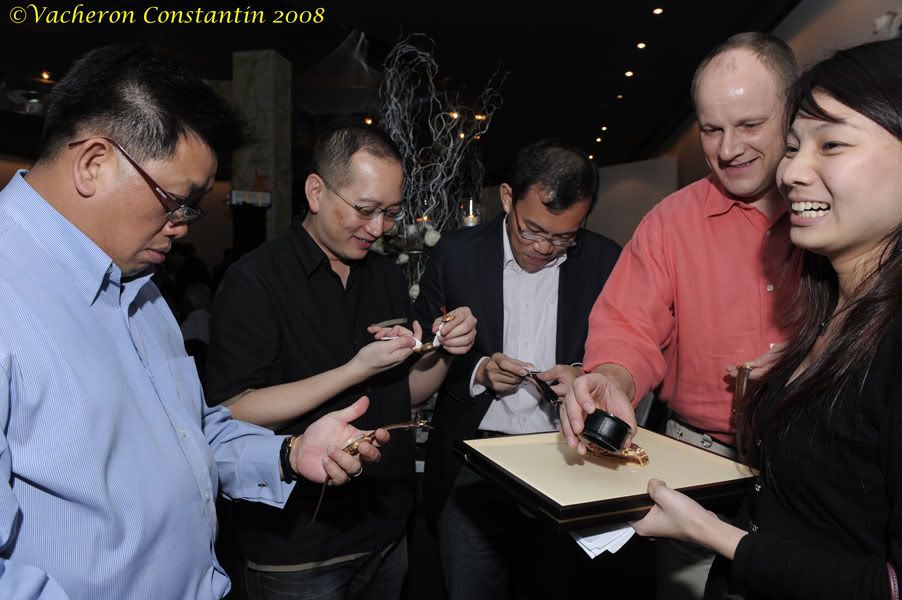 These collectors must have been completely capivated by the watches as they are ignoring Pei Yu's wonderful smile.  It takes some pretty special timepieces for that to happen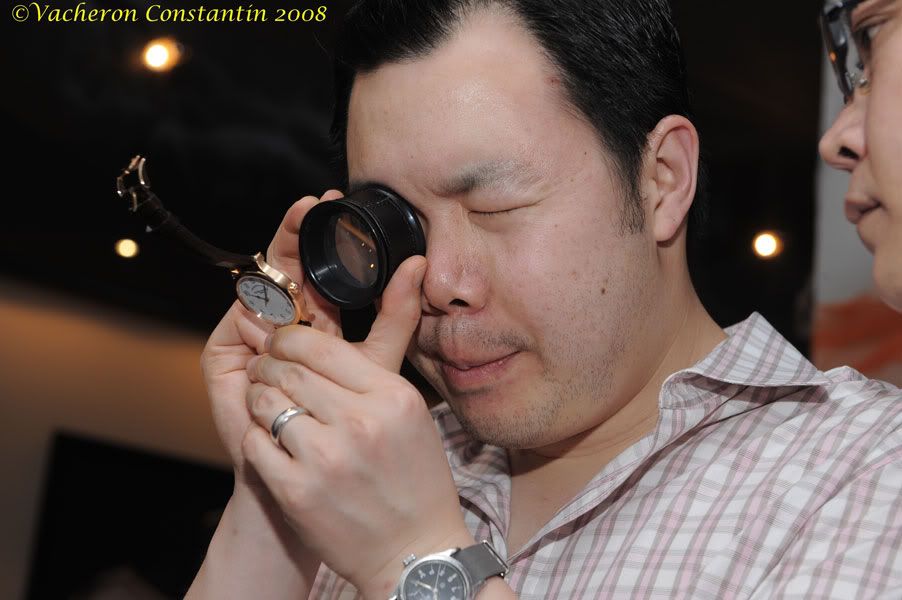 Teng having a close look at the Chronometre Royal.  This piece was a crowd favorite with its lovely finishing and beautiful enamel dial.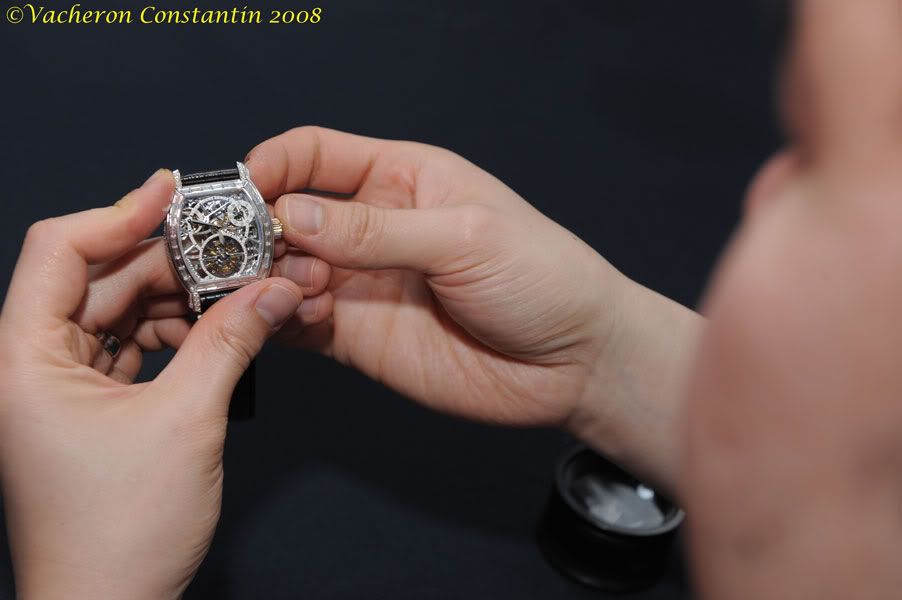 Diamonds or a tourbillon?  Why not both???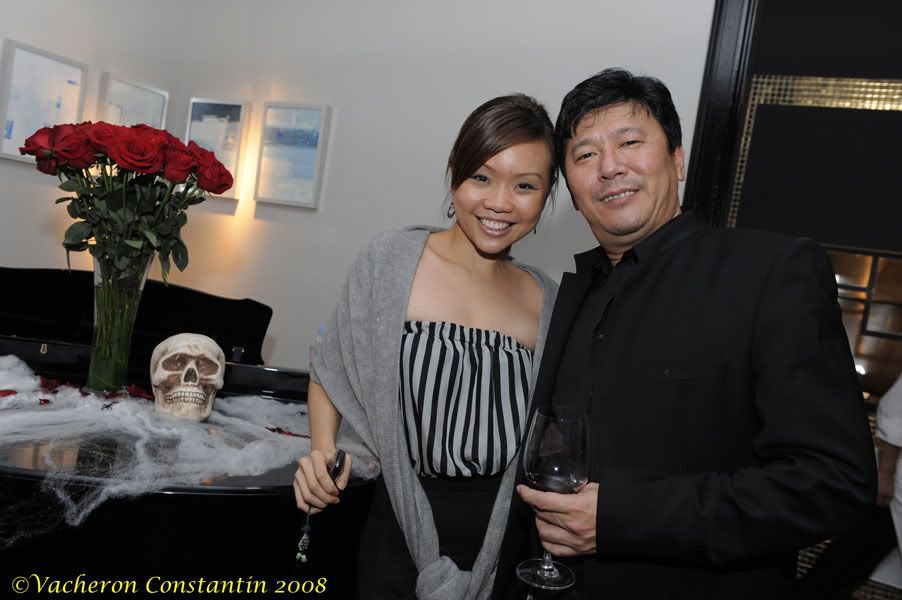 Jenny and David.  They formed a terrific partnership over the last 4+ years at VC and as a result, the brand, their authorized retailers and the collectors all benefited.  We wish Jenny all of the best and look forward to many more good things to come from David and his new team.
I hope that you enjoyed this report of how some of us spent our Halloween.  Now, let's see what is in store for Thanksgiving... 
Cheers,
Duncan