Singapore QDI Launch Event (Warning: Massive Major Modem Destroyer!)
December 5, 08 11:16
Last week, Singapore welcomed Christian Selmoni (VC's Product Director) and Vincent Kauffmann (VC's Design Director) for the launch of the Quai de l'Ile collection.  Several days ago, I posted about the
QDI presentation
that they gave to the eager audience and promised to provide an event report on the other happenings from the evening.  Well, as promised, here it is, complete with requisite food "porn" shots… 
Anyone who has attended previous VC events and especially in Southeast Asia, knows that the brand consistently hosts events that are interesting, entertaining and of the highest quality.  The Quai de l'Ile launch event would prove not to be an exception.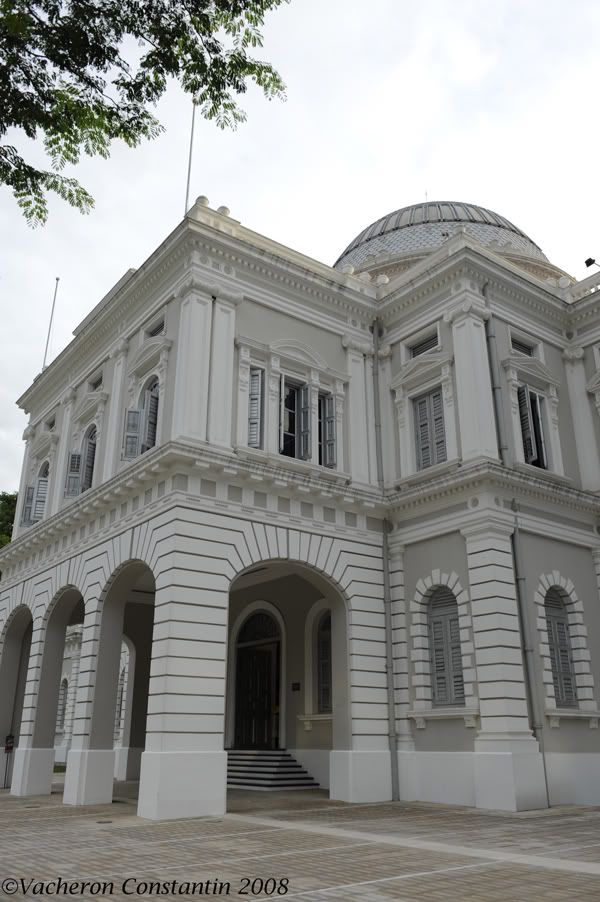 National Museum of Singapore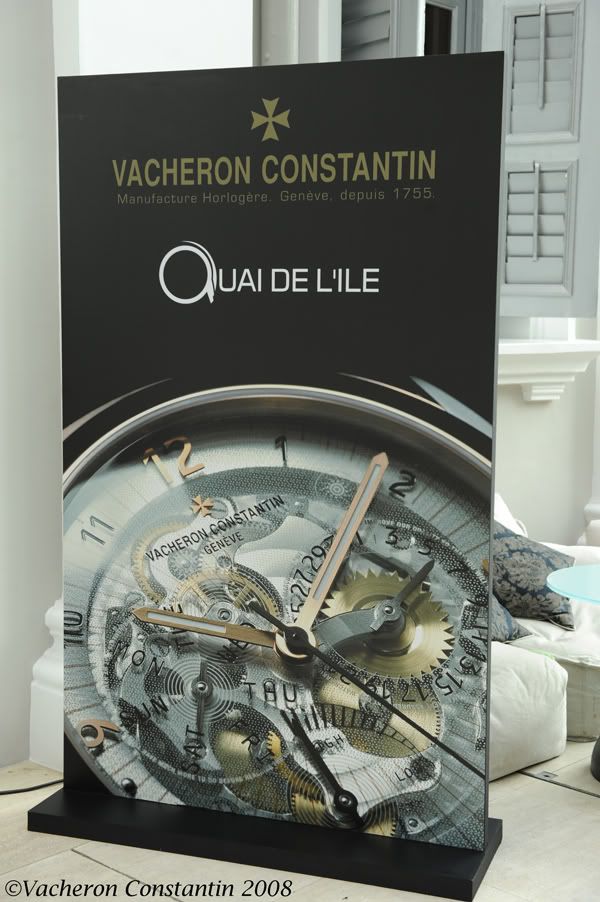 The recently renovated National Museum of Singapore is a true landmark in this country and is a frequent destination for both locals and tourists alike.  While it has maintained a beautiful historical exterior and appears quite traditional from the outside, it hosts many contemporary features in its interior.  Perhaps this makes it an ideal venue for the Quai de l'Ile launch, which is a timepiece that perfectly marries the tradional with the modern.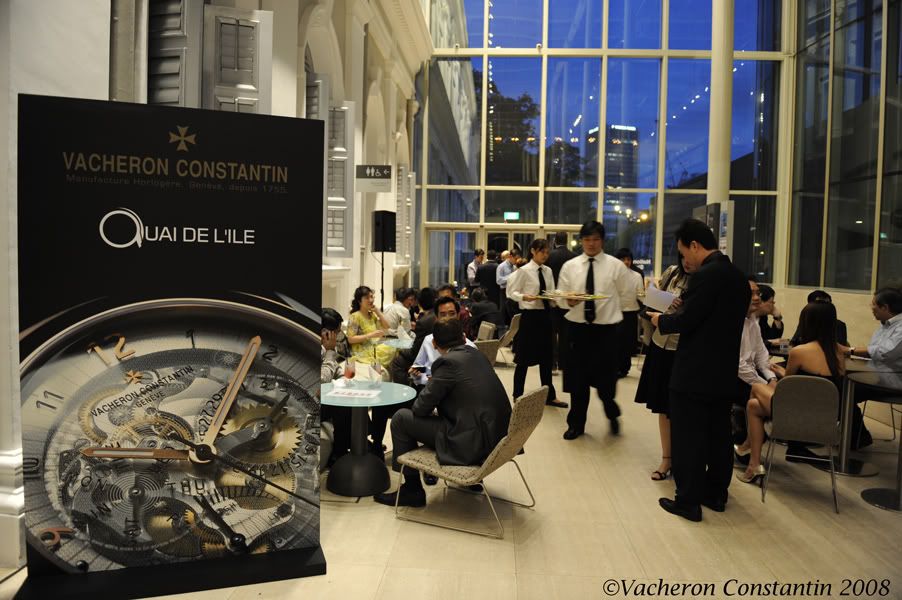 Cocktail Reception Area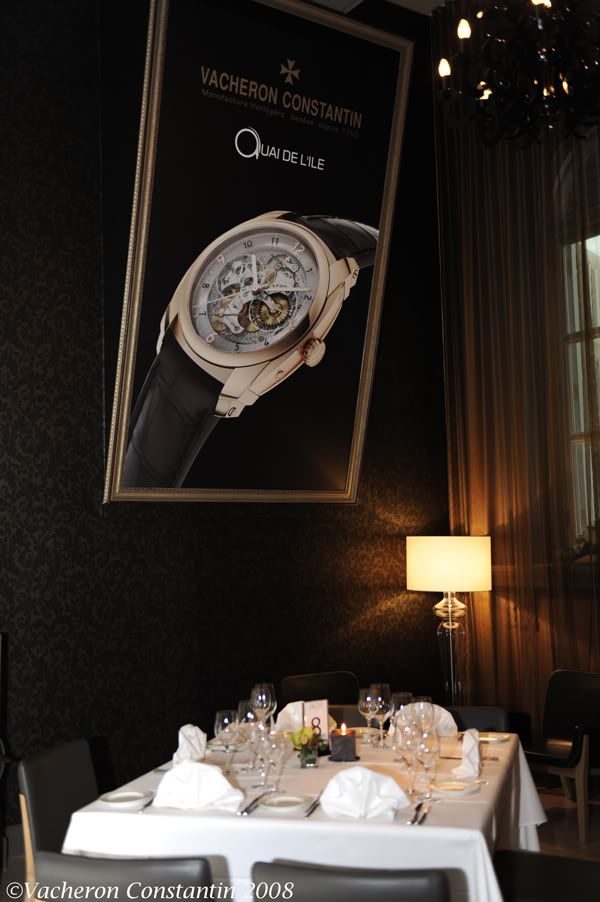 The dinner setting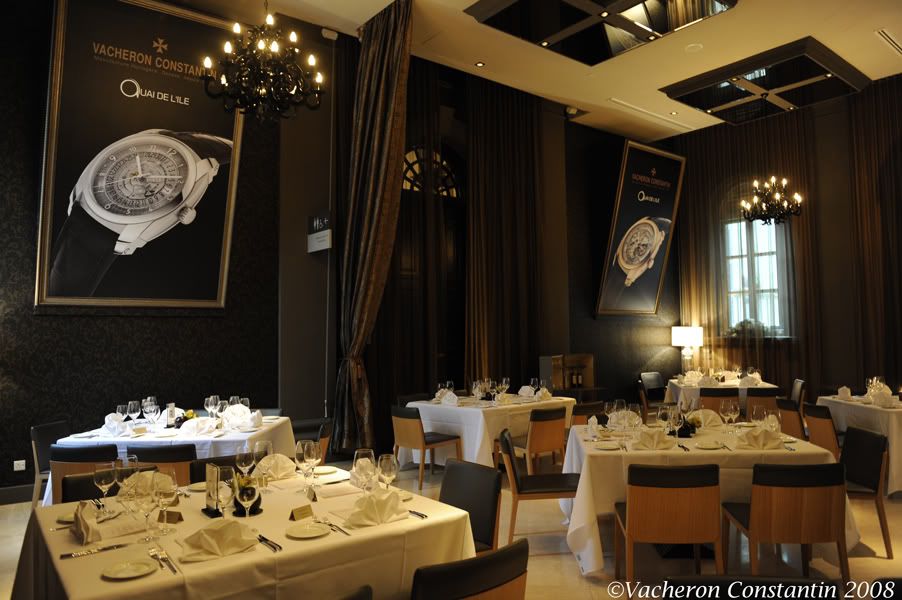 The Dining Room
Within the National Museum, there are a couple of dining outlets and a highly regarded one is Novus.  While it has previously been the location for other events, VC chose to utilize a different section that, at least for me, had been undiscovered.  There is a private dining room that is attached to a small café and this was suitable as there were requirements for 3 separate spaces.  First, there was space for a cocktail reception and then a second was needed for the presentation portion of the event.  Finally, a third room was needed for the actual sit-down dinner.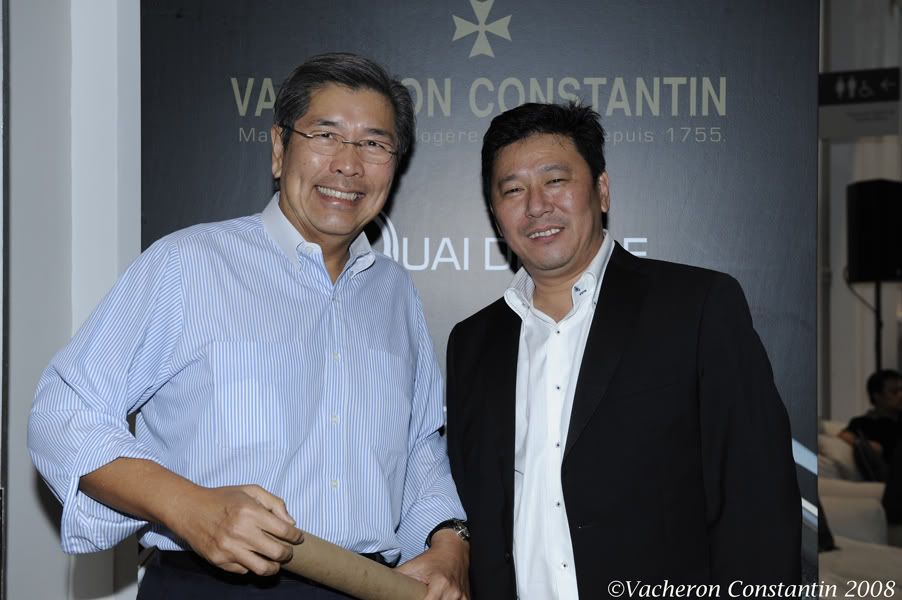 David Heng (Managing Director, VC Southeast Asia) and good friend, Larry Wee (Columnist and Editor of the highly coveted Watch Supplement in The Business Times)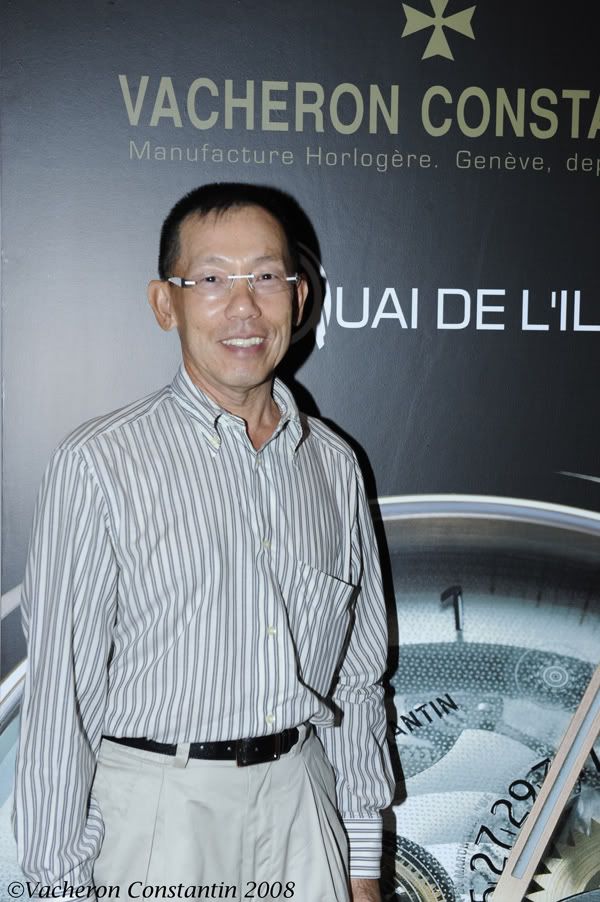 Jim Seah, noted watch collector
Vincent Kauffmann, David Heng and Christian Selmoni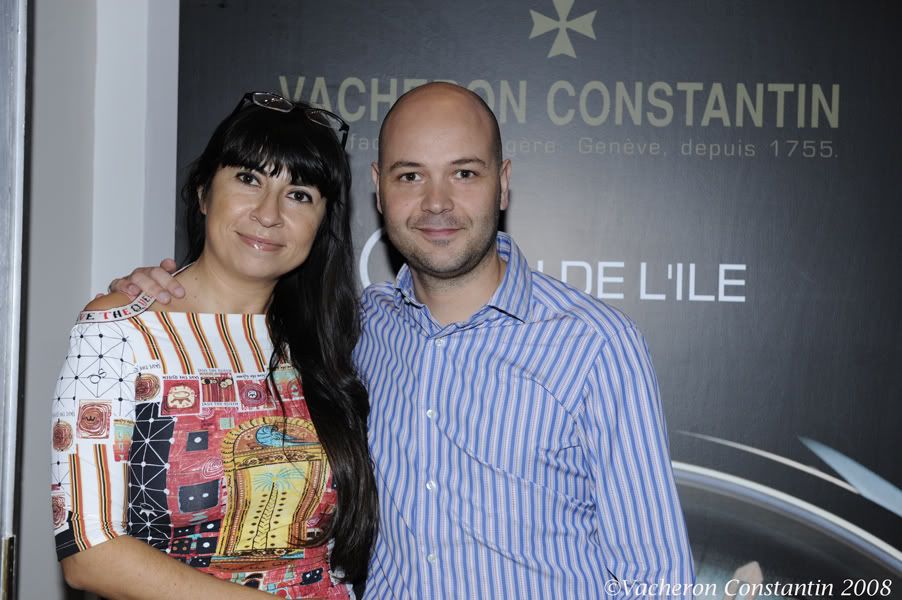 Mr. and Mrs. Massimiliano Landi
Cocktail Reception
Guests were welcomed to an atrium area for the cocktail reception.  Here, good friends both old and new, enjoyed a relaxed environment complete with cocktails and hors d'oeuvres and the sweet tunes from the trio playing in the background.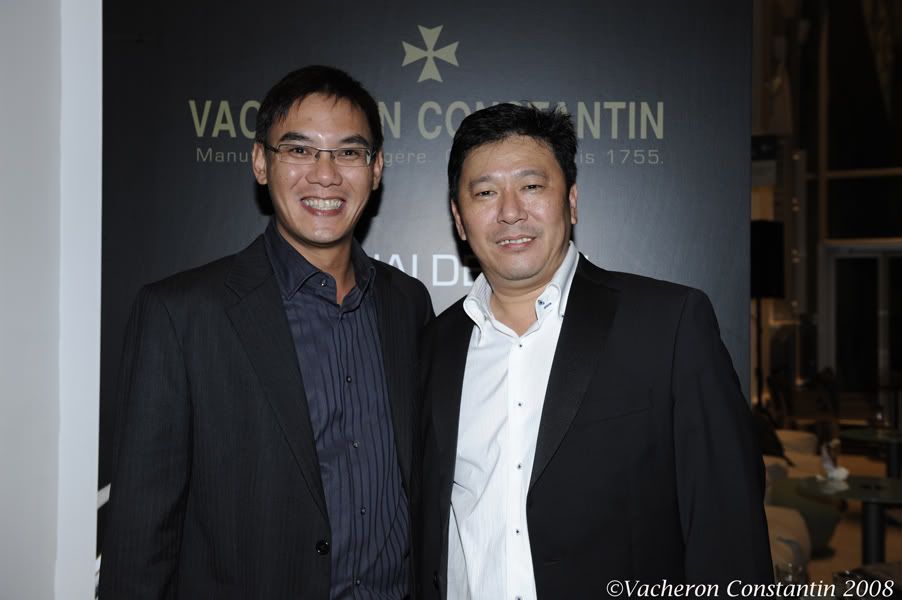 David and Jeremy Lim (Regional General Manager, Cortina Watch)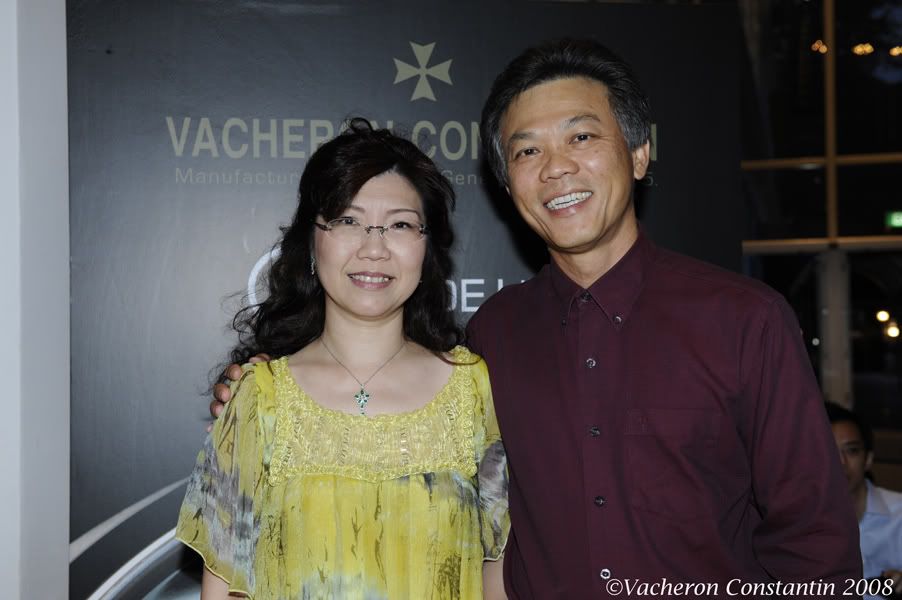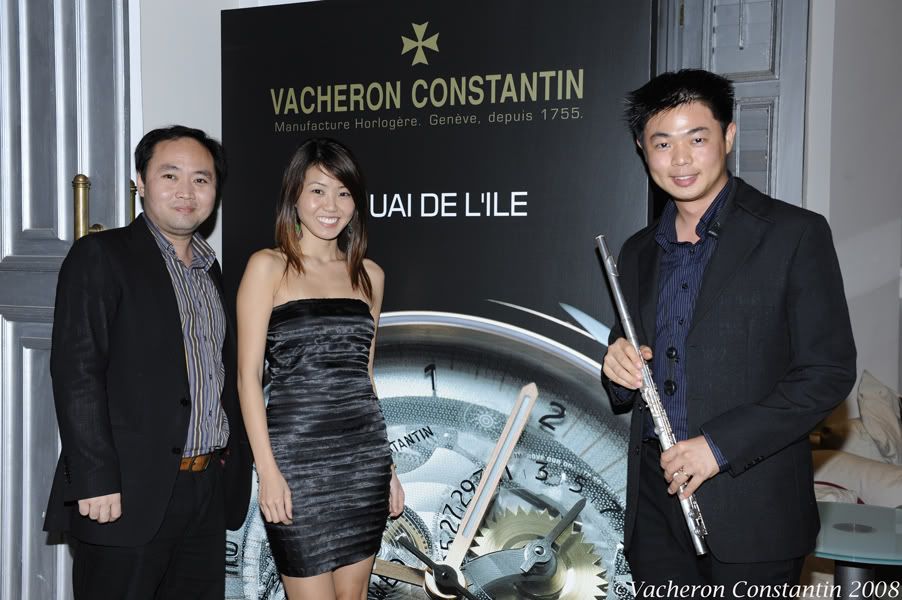 Kewei and the musicians who provided musical entertainment for us throughout the evening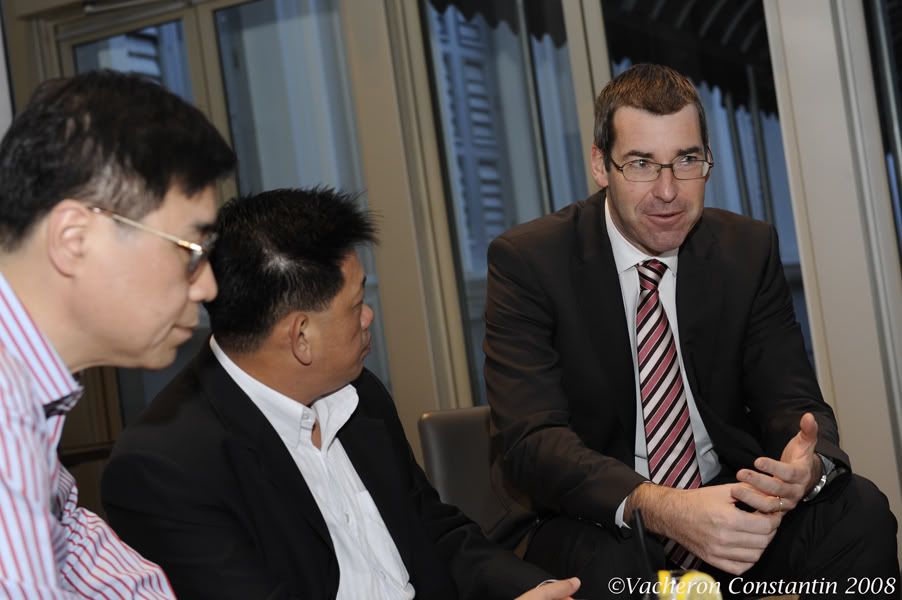 Christian chatting with Wong Yew Wah and Eddie Sng during the cocktail reception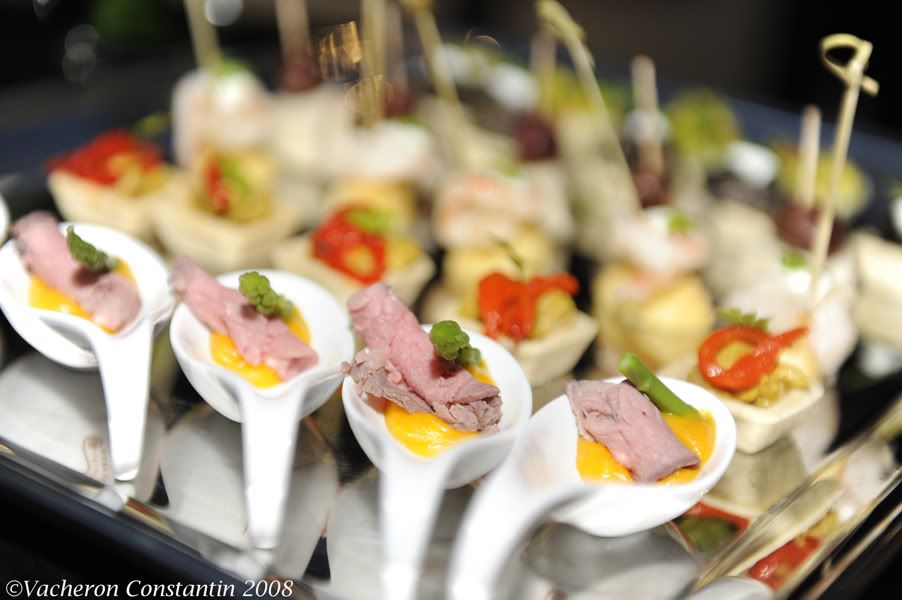 Some of the delicious hors d'oeuvres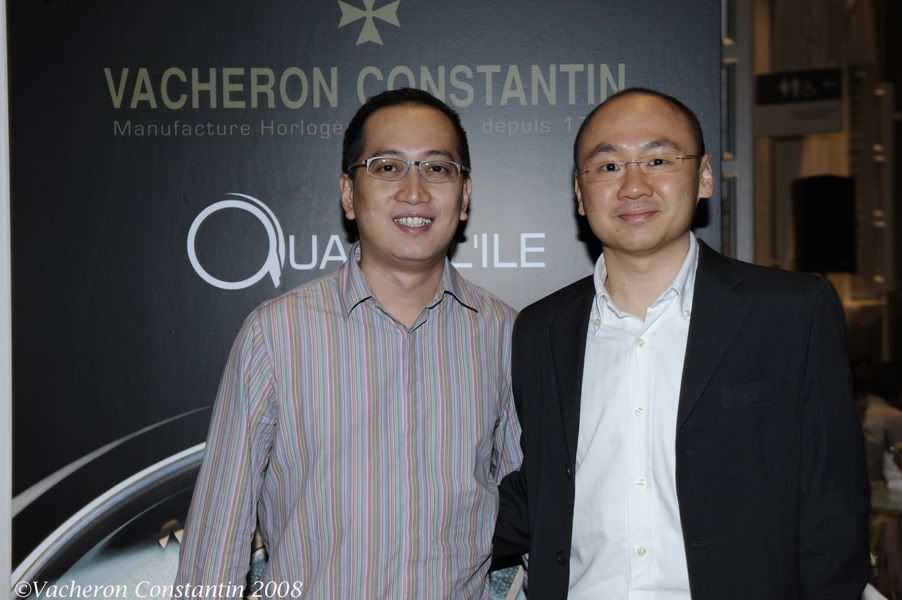 Wong Chee Hoong and Vernon Lim
David with the lovely and talented Kewei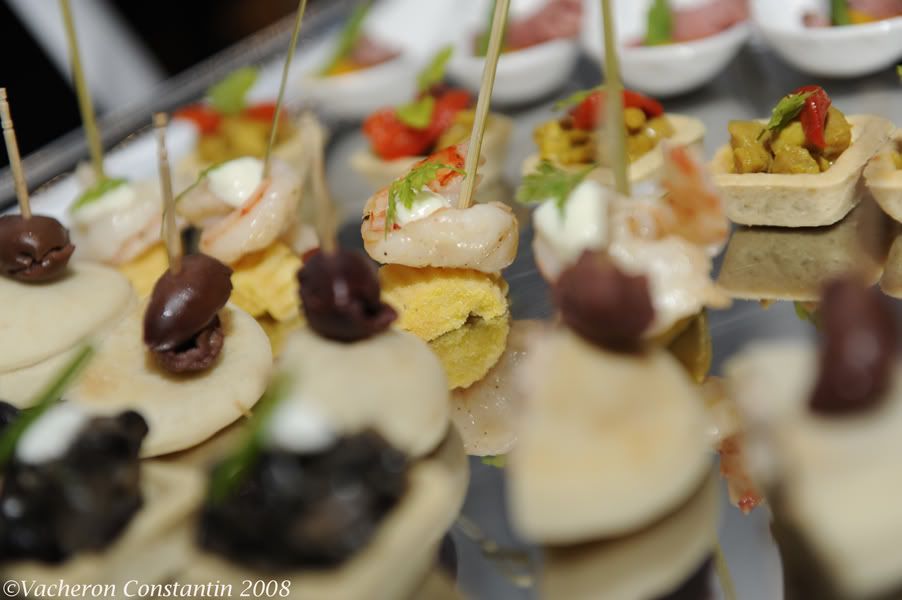 More of the hors d'oeuvres, which some guests could not stop enjoying.  You know who you are...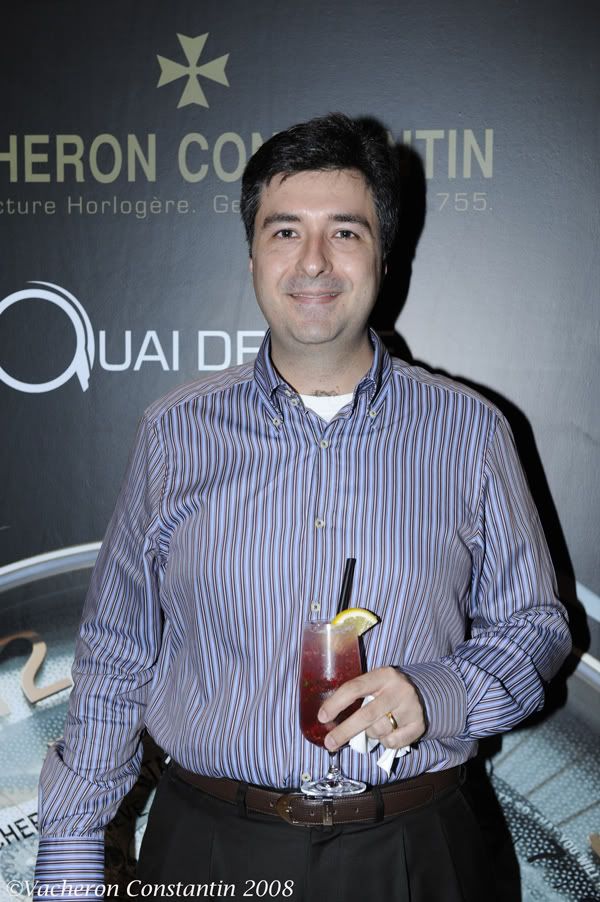 Stefano DiDomenico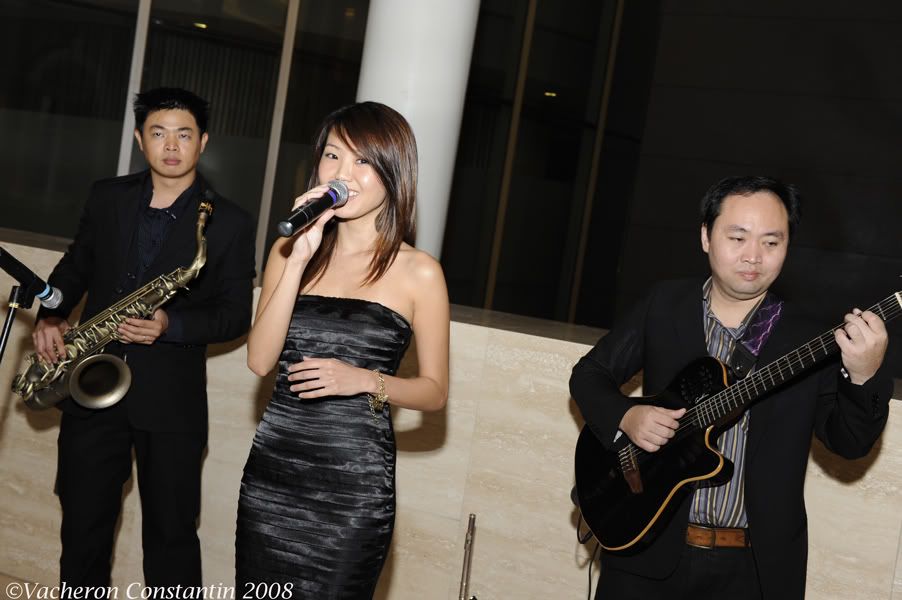 Kewei and the musicians performing for our enjoyment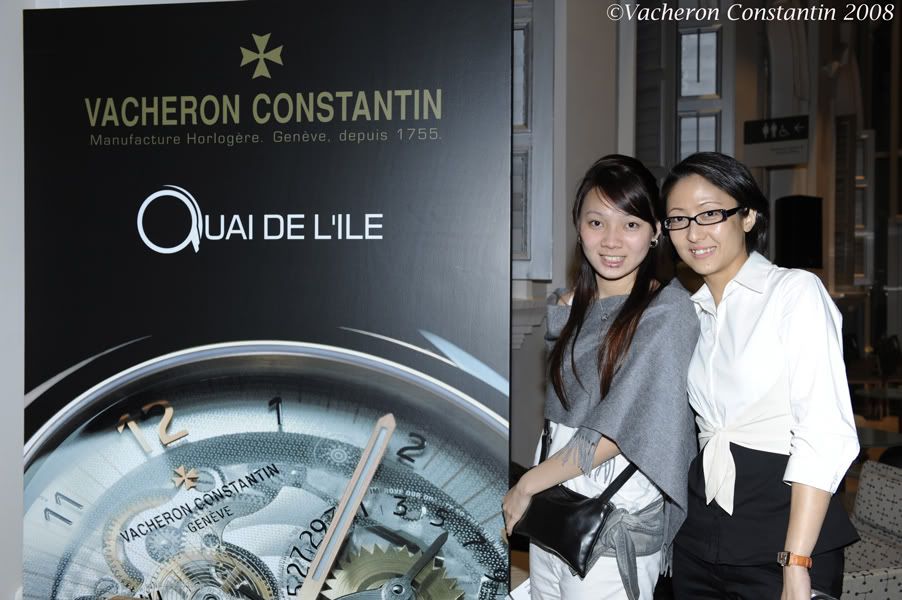 The beautiful and always helpful ladies of VC: Juay Pei Yu and Chion May Yee
Presentation
After having the opportunity to unwind from yet another hectic day, the guests were ushered into the room for the presentation by Christian and Vincent.  While there has been great publicity surrounding the launch of the Quai de l'Ile collection this year, many of the attendees had not gotten the opportunity to learn about the fascinating details to be found in these timepieces.  Between Christian and Vincent, there is probably no aspect of the watches that they cannot discuss in complete detail and those in attendance were given this opportunity to hear from these experts.  For more information about the actual presentation, please look
here
.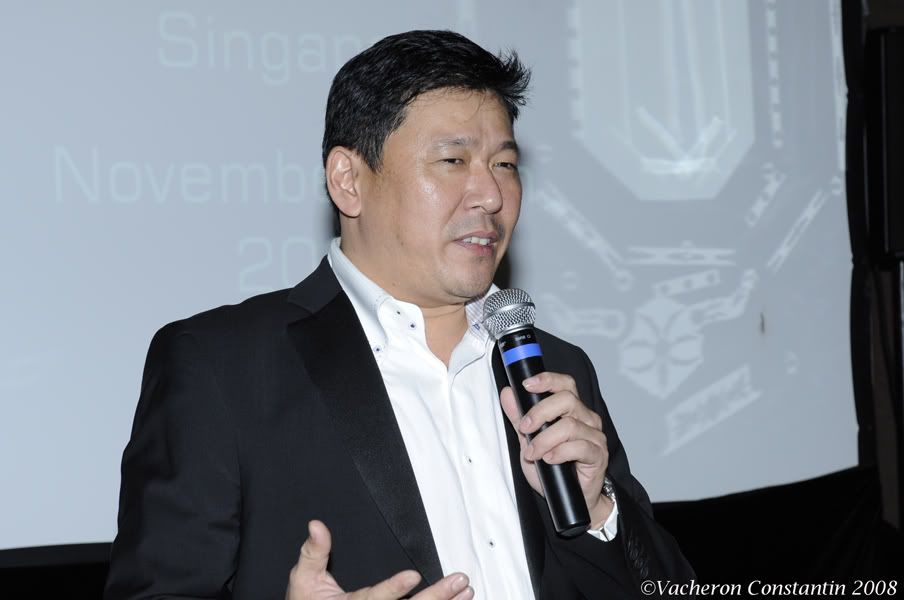 David welcoming the guests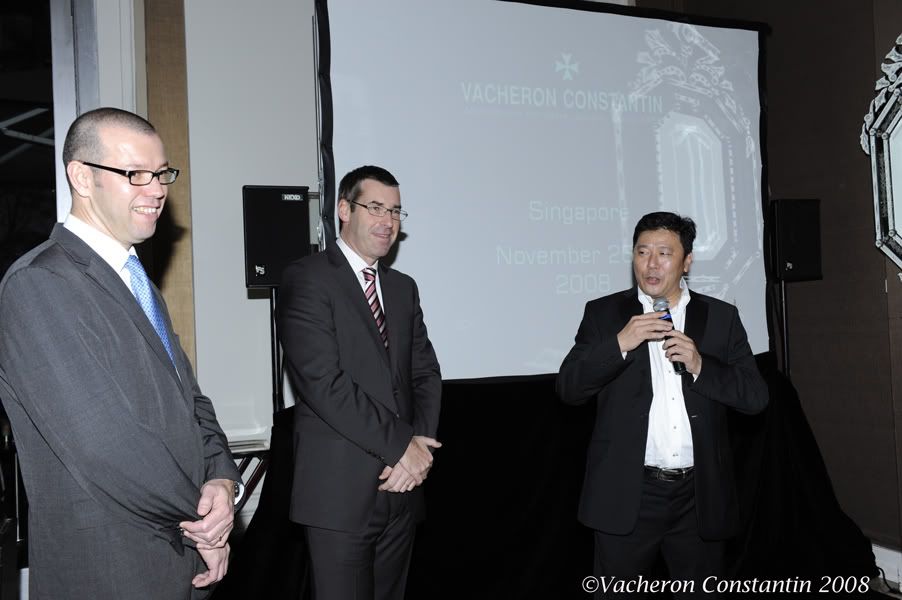 David introducing our esteemed speakers from Geneva, Vincent and Christian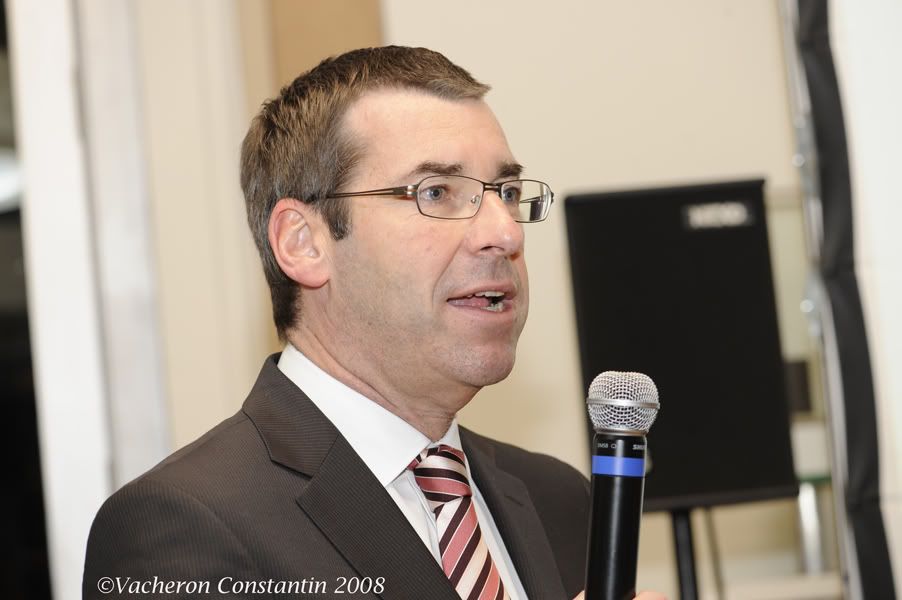 Christian discussing some of the background of the Quai de l'Ile collection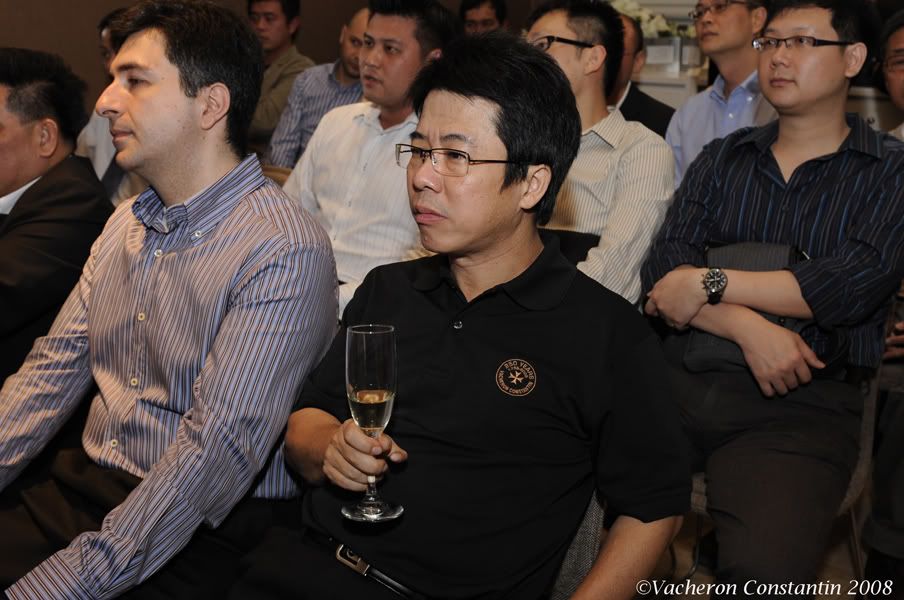 Stefano and Ang Teck Meng listening intently during the presentation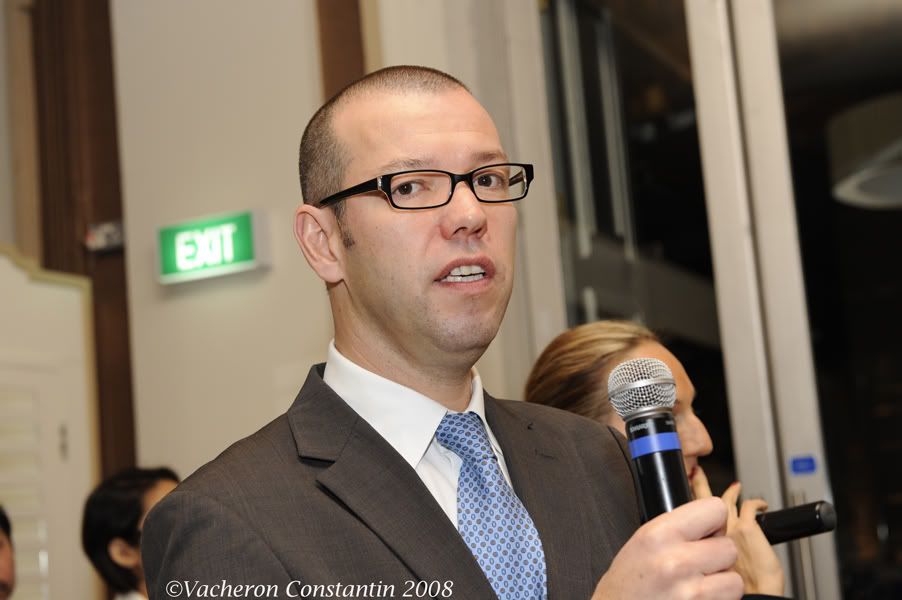 Vincent explaining some of the design details incorporated in the Quai de l'Ile timepieces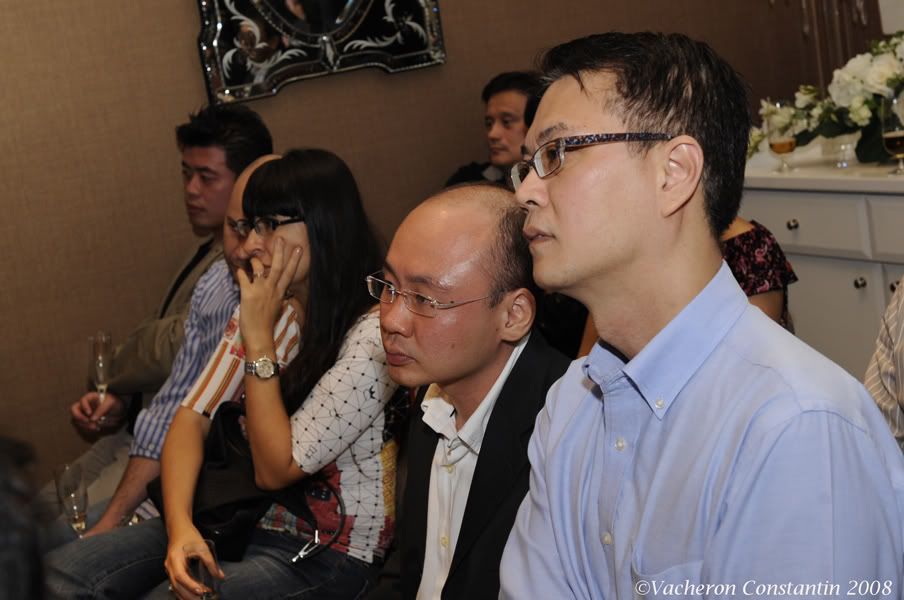 Vernon and Zach Toh, literally on the edge of their seats…
Following the presentation by Christian and Vincent, yours truly was given an opportunity to briefly talk about The Hour Lounge.  Perhaps we might see some new visitors to this site and I look forward to their contributions.  I also am appreciative of David giving me the chance to talk about my favorite internet watch forum.
Dinner
After being briefly held back from dinner by my comments, the guests eagerly moved into the private dining room for our meal.  With the room having been set with small tables to accommodate 6 people, everyone was able to sit with their good friends and enjoy a fine meal.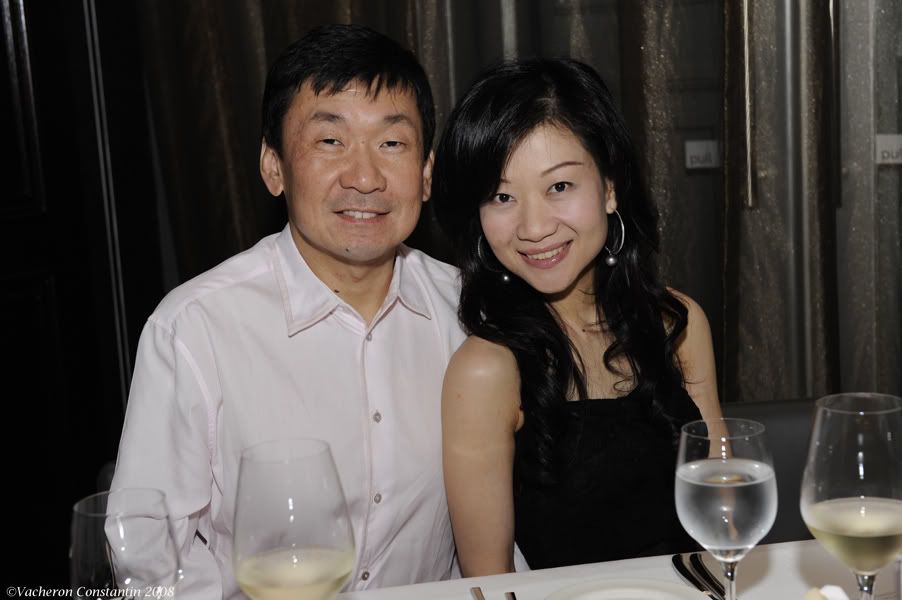 Darren and Dana Cheong
Dirk Janssen
Timmy Tan (Editor of the highly regarded TimeWerke magazine) and Christian
Zach Toh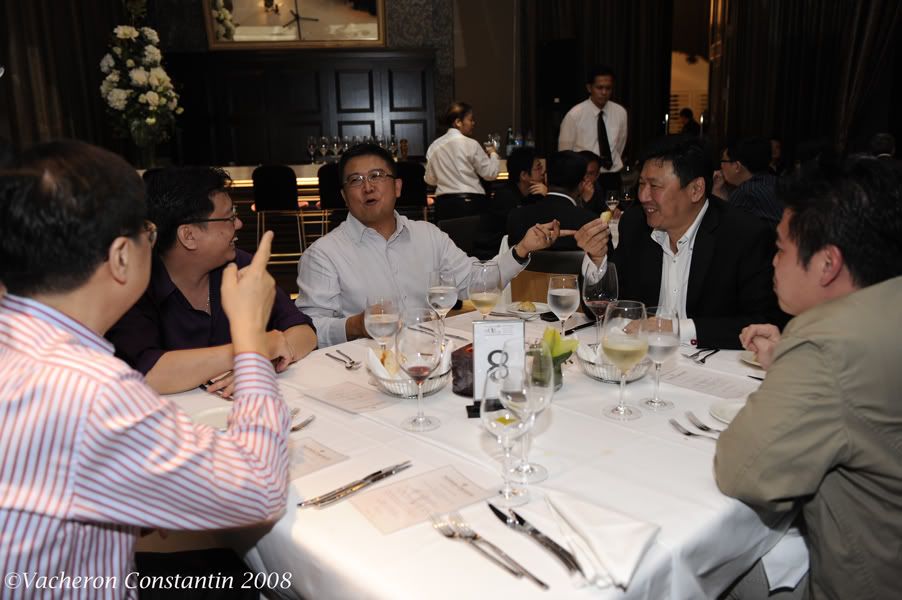 Friends enjoying themselves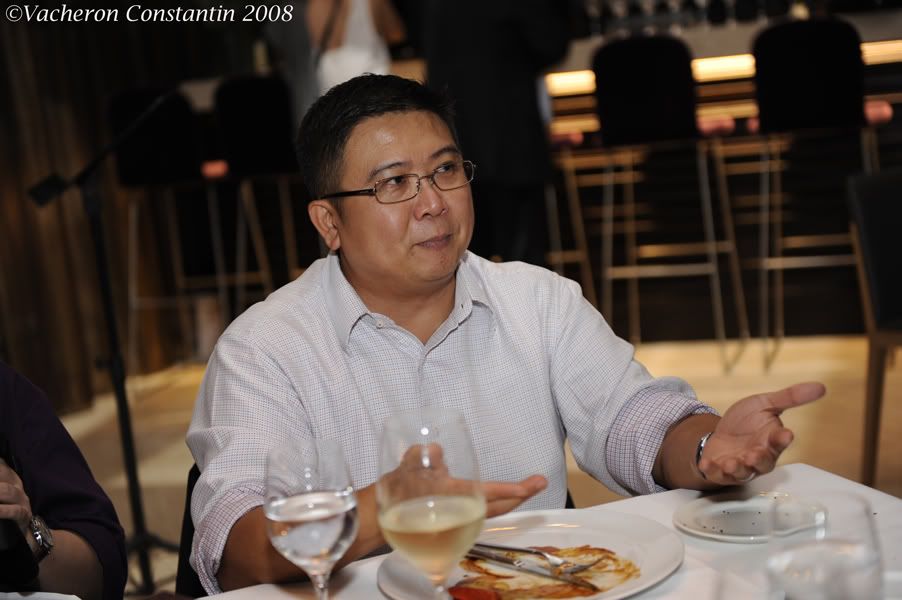 Good friend Tay Kok Choon
Of course, what would one of these event reports be without some food photos.  It has become de rigueur for there to be delicious gourmet food at VC events.  The VC team, being led by David who is a true gourmand, was refining the menu and conducting a menu tasting just a couple of days prior to the event.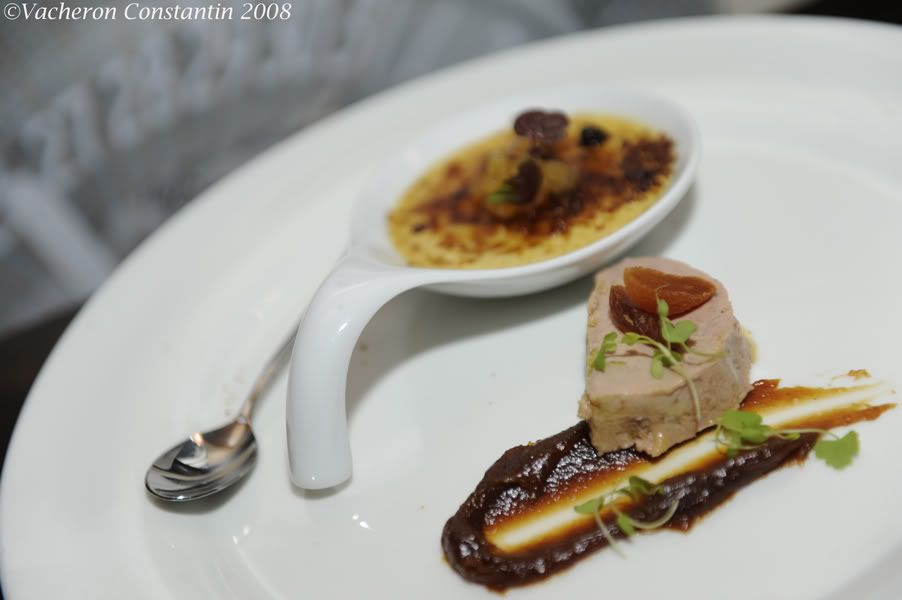 Duo of Foie Gras: Crème Brûlée and Terrine with Apricot Chutney and Apple Ragout
Cappuccino of Chestnuts with Trumpet Mushrooms and Black Truffle Oil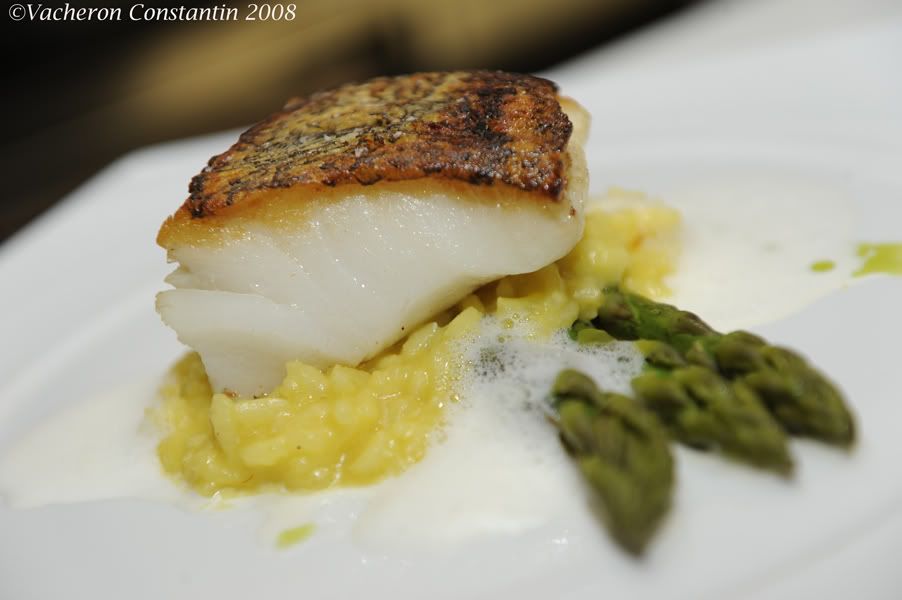 Crisp Skinned Snow Cod on Saffron Risotto, Green Asparagus and White Tomato Foam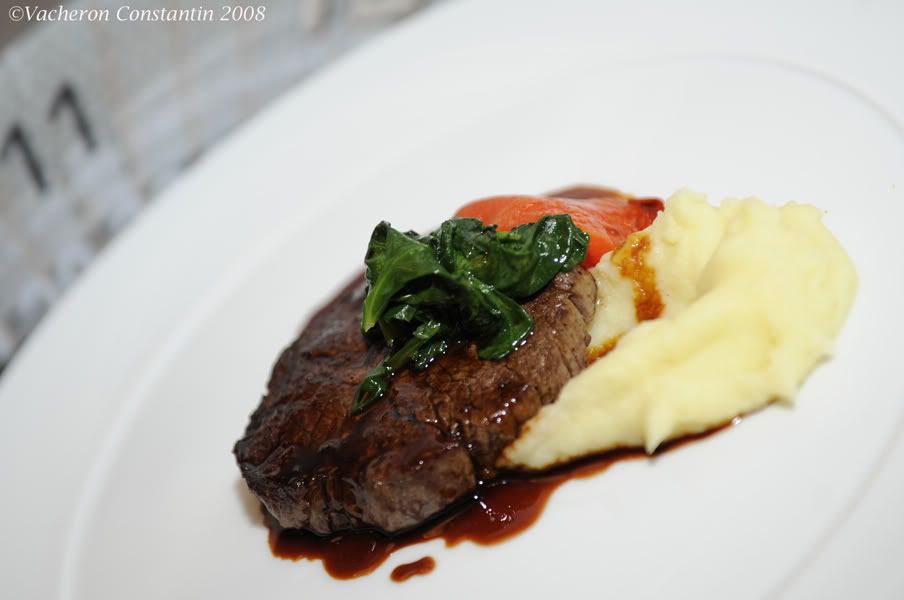 Black Angus Beef Tenderloin with Potato Puree, Braised Capsicum, Baby Spinach and Brown Jus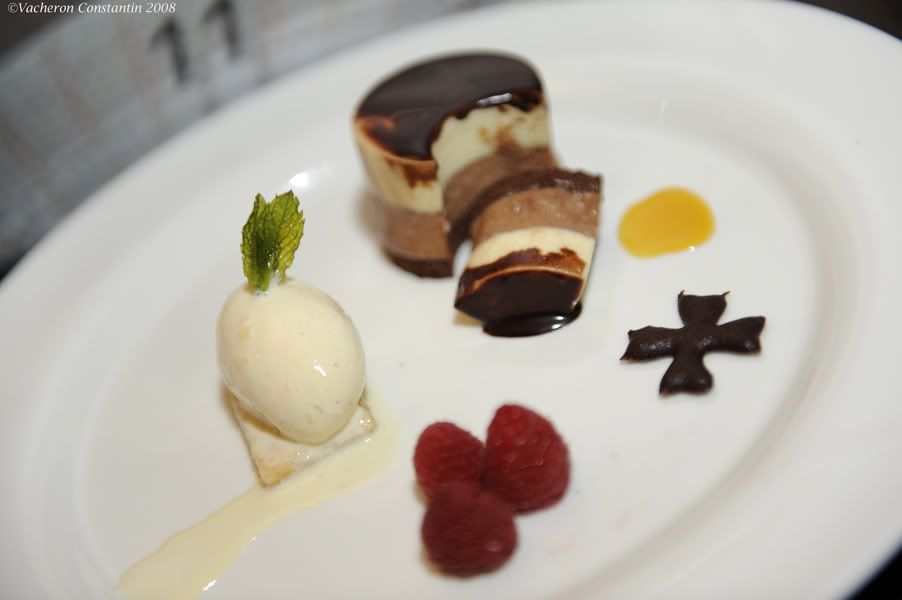 Mosaic of Valrhona with Vanilla ice Cream and Raspberries.  For an example of the attention to detail demonstrated by VC, check out the chocolate Maltese Cross on the plate. 
Once everyone had their fill of the delicious food, it was time for them to get their fill of the watches.  For the event, VC brought in a complete set of the six basic models, both the Self-Winding with Date and the Day-Date with Power Reserve in all three metals (Titanium, Rose Gold and Palladium).  As an added treat, there were also a number of different pieces that combined the metals so that the attendees could see what various combinations would look like in the metal.  If that was not enough to enthrall the guests, one of the Quai de l'Ile tablet configurators was brought out for the event.  It was a great opportunity for everyone to "build" their dream watch and it certainly seemed like plenty of folks were having fun doing so.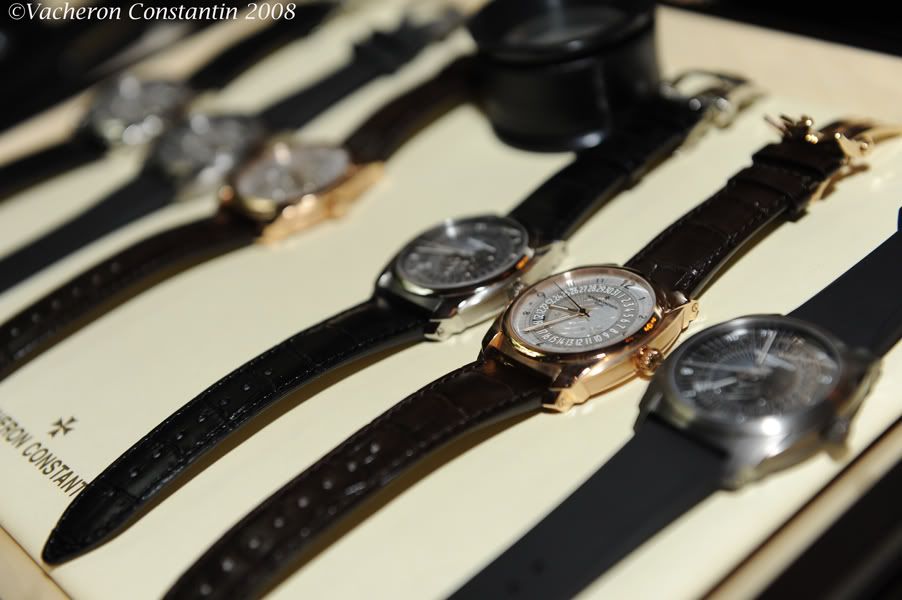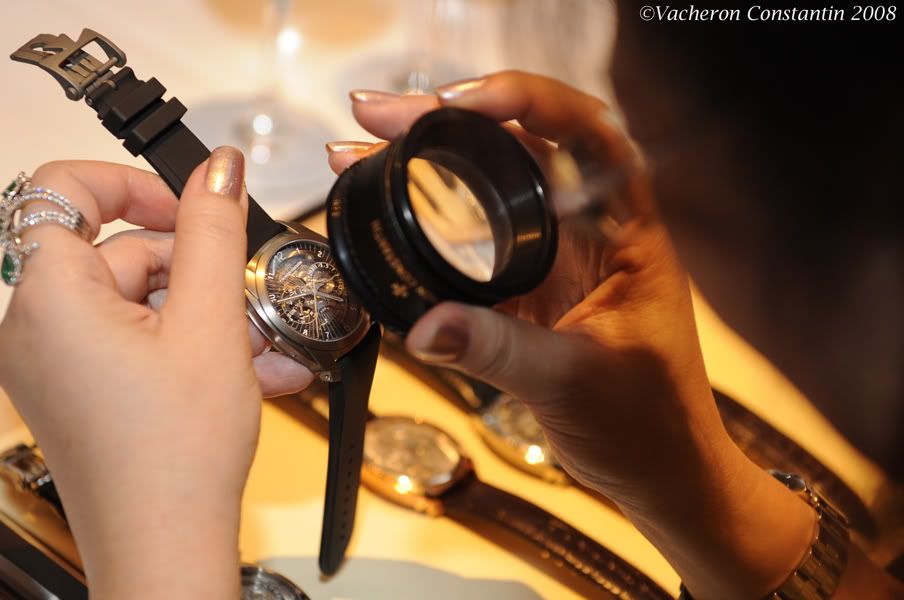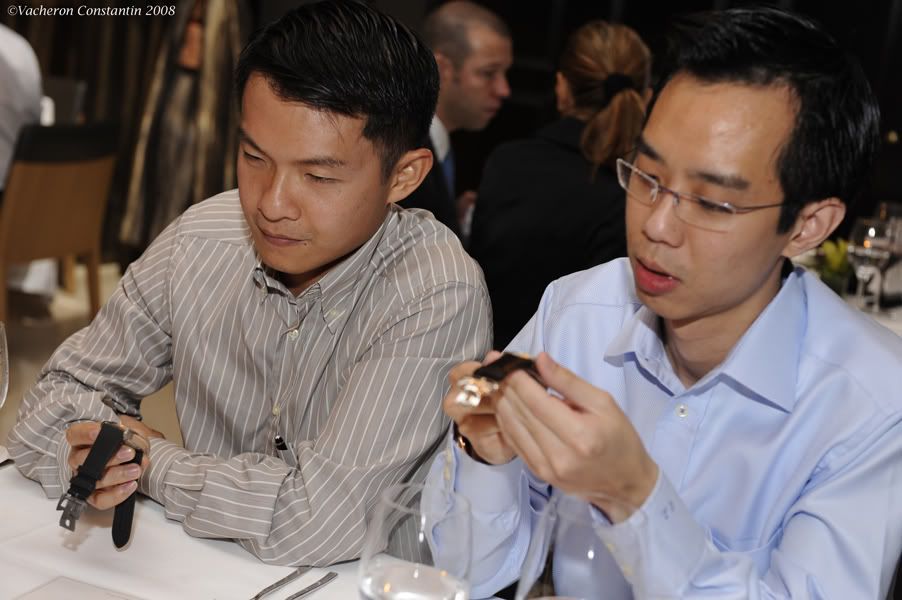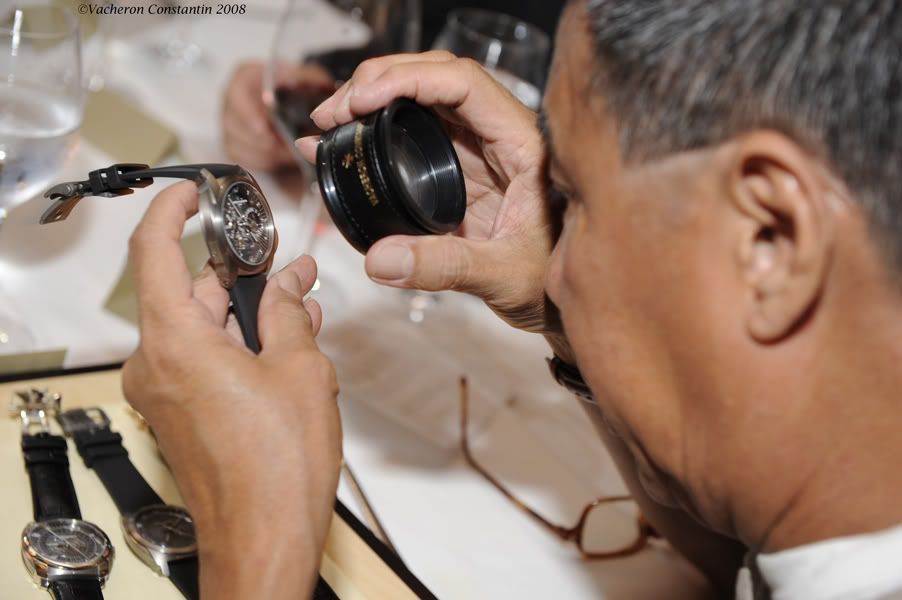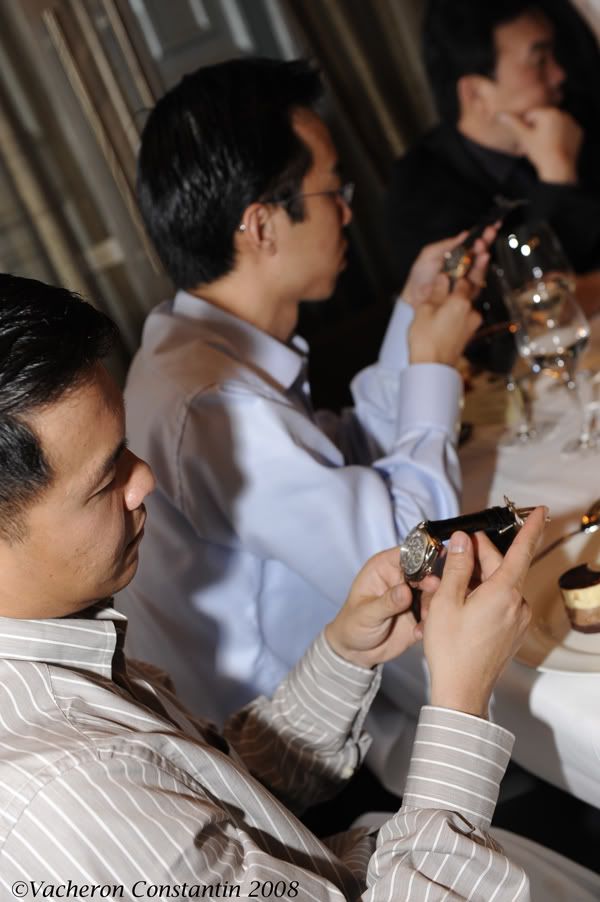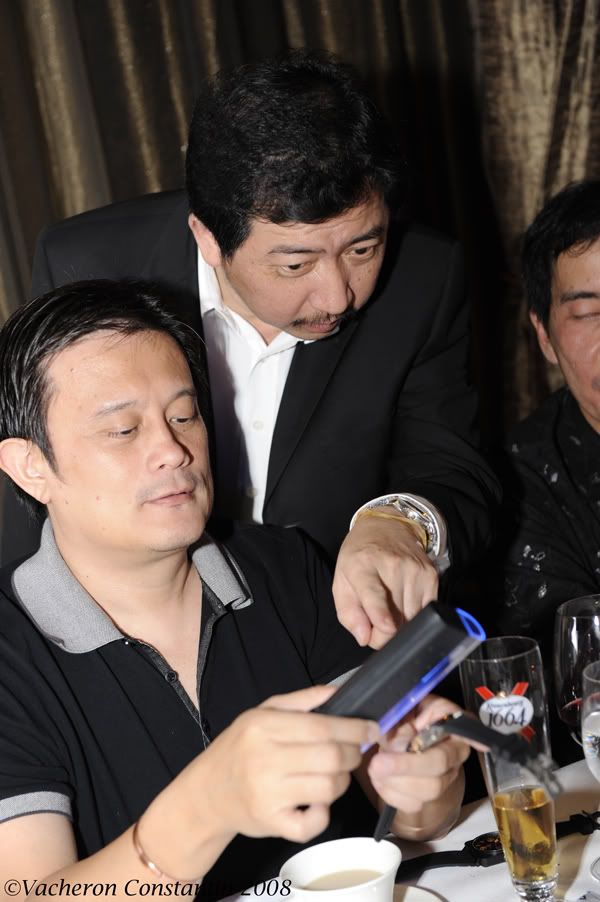 Examing some of the security features with an ultraviolet light.  Very cool…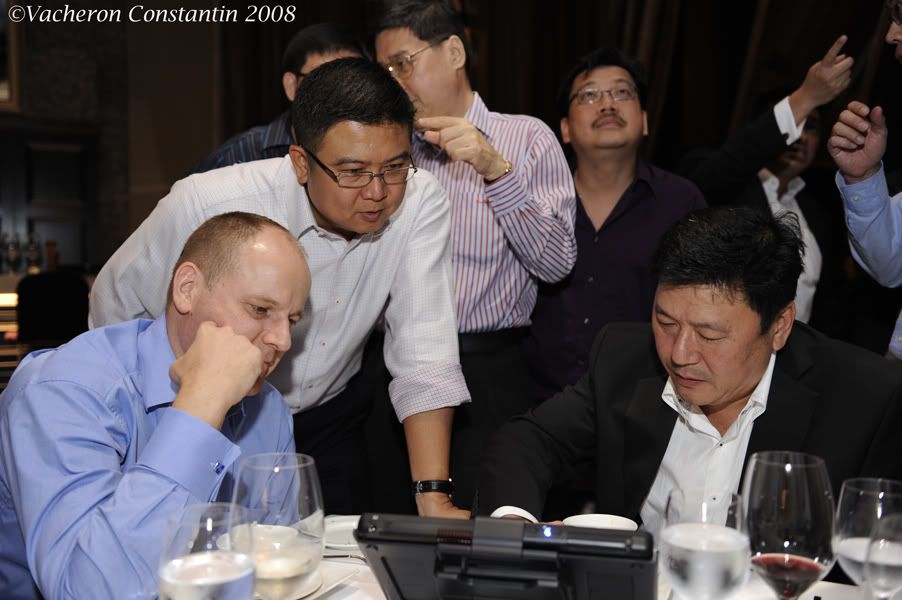 David demonstrating how customers can design their customized Quai de l'Ile on the Configurator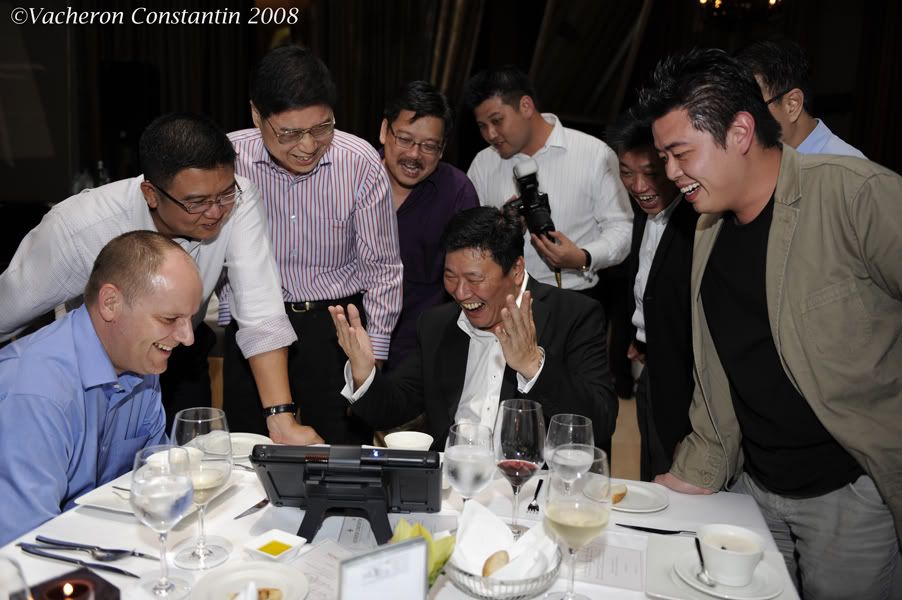 Voila!  Your customized Quai de l'Ile is now ready for ordering...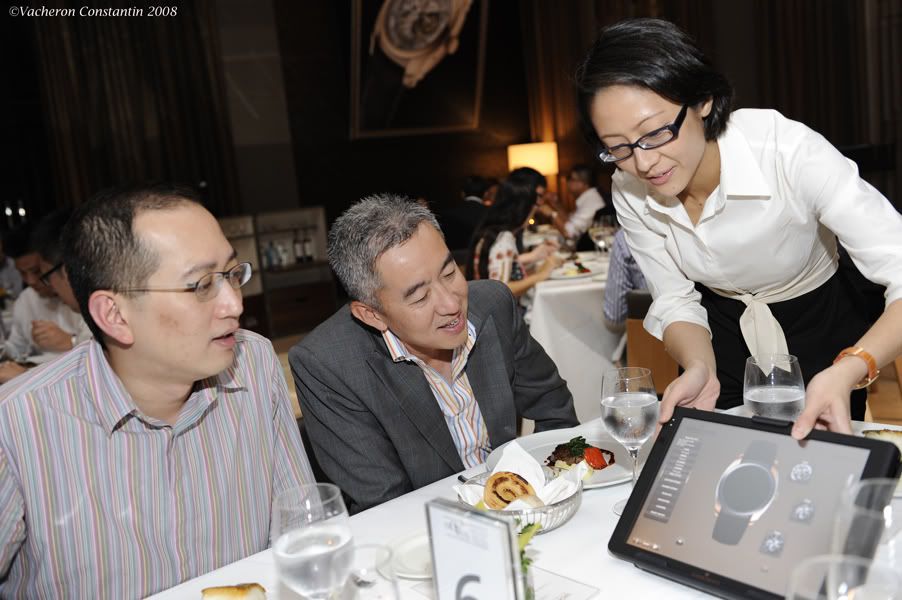 May Yee showing other guests the Configurator
Of course, the evening would not be complete without the guests having a souvenir to bring home.  While we all hoped for a QDI watch, I think that would have been too much to ask for but VC was generous and presented everyone with a gift bag, including an elegant necktie .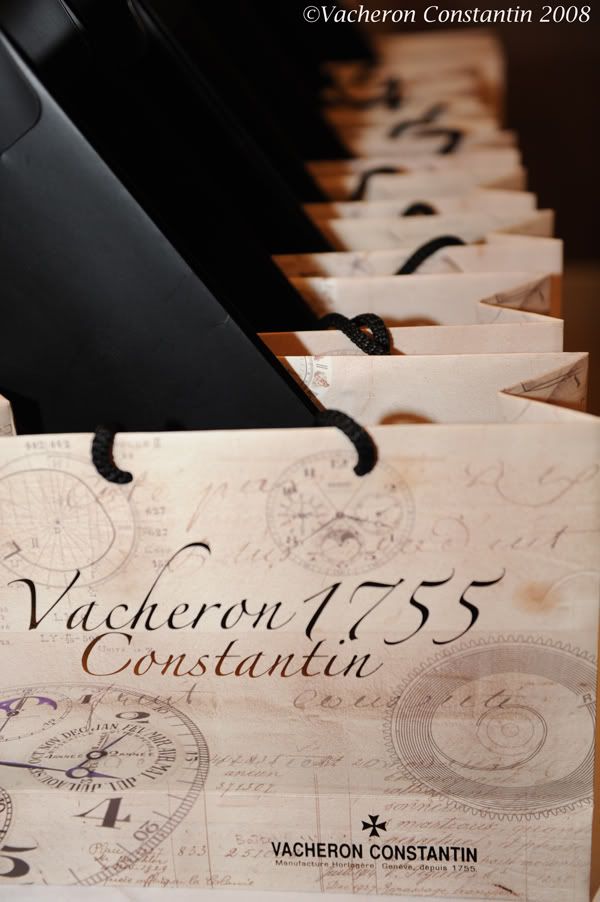 As some of you may recall, I had originally mentioned that VC would be hosting a similar event in Bangkok.  Everyone was looking forward to it, especially Christian who had mentioned that he had a long-standing interest in visiting the City of Angels in the Land of Smiles.  VC had also been gracious enough to extend an invitation to both Kok Choon and myself to join in the Thailand event.  It was going to be a great trip but due to the difficulties there, we were forced to cancel the event and the trip.  However, we are already looking towards 2009 for our great Thai adventure.
Thank you for taking the time to scroll and read through this report and I hope that it was as enjoyable for all of you as the actual event was for all of us in Singapore.
Cheers,
Duncan