A small gathering in Singapore... (modem burner)
October 2, 08 13:19
I was just posting responses in various threads and noticed that I have made 252 posts.  Well, since VC is celebrating its 253rd anniversary this year, I thought my 253rd post should be something a little special.  Following is a report on a get-together in Singapore last week.
As those, who know me well are aware, I believe that people and friends are an integral component to the whole watch collecting experience.  Over the years, I have met the proverbial "The Good, The Bad and The Ugly".  Without any doubt some of the good, if not the best, are many of the folks from Vacheron Constantin.
For this reason, when I heard that Mr. Juan-Carlos Torres would be visiting Singapore, I asked if I could have the honor of his company for a small private dinner that I was hosting.  Charly and some of the senior management from VC were going to be in Asia for various meetings and functions and luckily for us, Singapore was one of their stops.
My intention was to bring together a small group of friends for an evening of great food and fun conversation.  During the course of the evening, a few nice watches also appeared.  Though, for reasons of discretion, close-ups were not taken.  I can report that there was a Saint Gervais sighting, along with a number of new Quai de l'Ile pieces in various configurations.
It should be noted that Charly and the entire VC team are people who have a passion for good food.  This is something that is also shared by some of my watch buddies here in Singapore, so dinner was planned for a small Japanese restaurant that we regularly visit.  The restaurant, Rakuichi, brings in fresh fish from Japan four times every week, so we are always assured of having the highest quality food there.
Without further ado, here are some pictures from the evening, which became a glorious 5 hours of amazing food, the finest watches and most importantly, great friends.  I wish to thank my good friend, Tay Kok Choon, for taking these pictures.  I hated to tear him away from his dinner, but I thought it would be nice to share with my fellow Loungers some memories of a truly special evening.
For this dinner, we opted to book the entire restaurant so as to ensure our privacy and a comfortable environment for our gathering.  As VC has a tradition of organizing the absolute best events, I knew that we needed to meet certain standards.  However, given a choice, I will always choose food quality over a fancy venue.  Rakuichi provided a nice intimate setting and as you will see, the absolute best in food.
The front portion of the restaurant is where the sushi bar is located.  The restaurant removed the chairs and the sushi bar became an appetizer bar with a stunning array of tasty morsels and delicious finger food.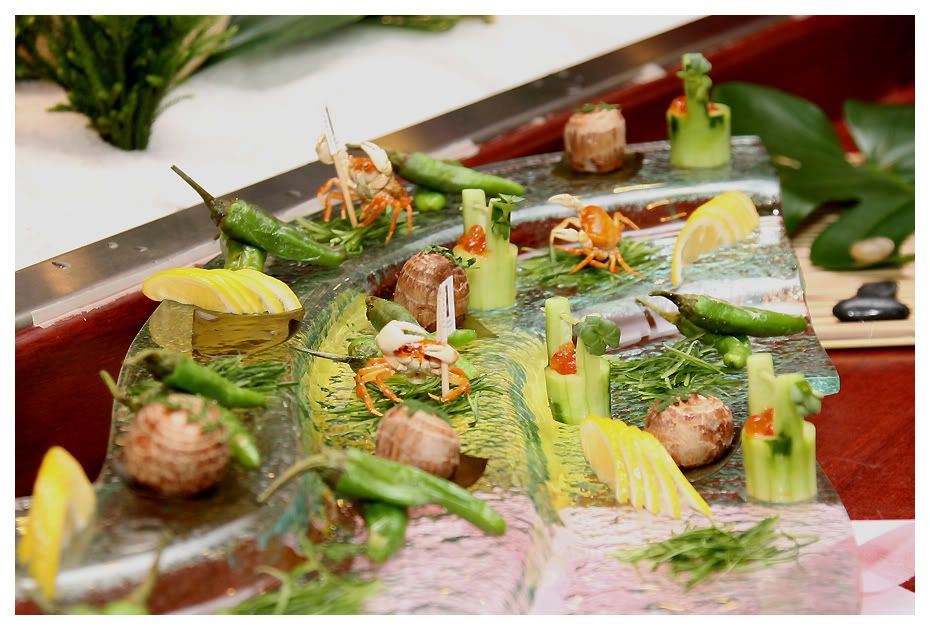 A wonderful platter of different appetizers including grilled green chili peppers (Singaporeans love their chilies), boiled yam balls, fried prawns and freshly grilled puffer fish.  There were also some fresh, luscious oysters served with ponzu sauce.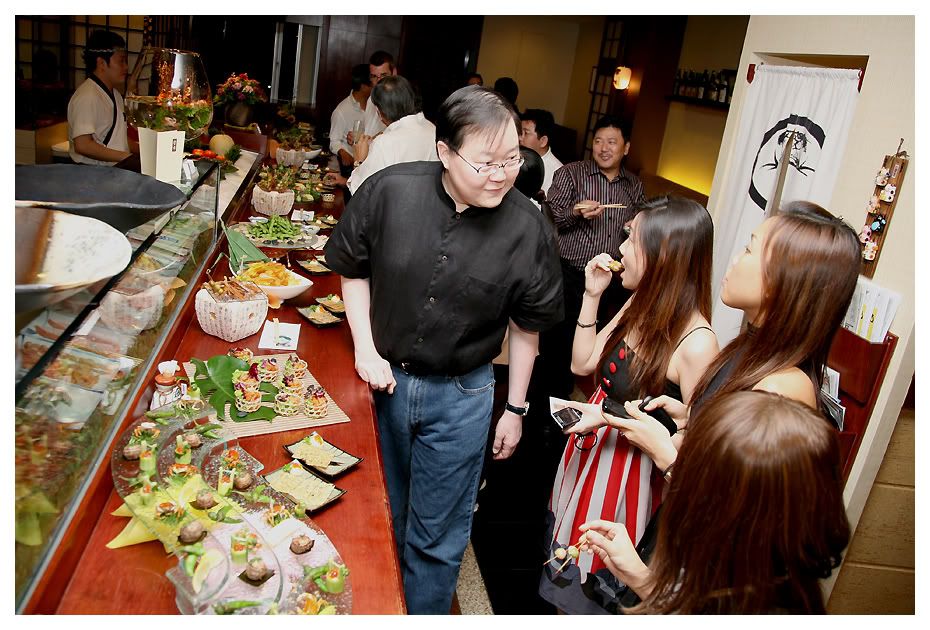 Some big guy (namely me…) making sure that the lovely lady guests were enjoying themselves and trying the different items on the bar.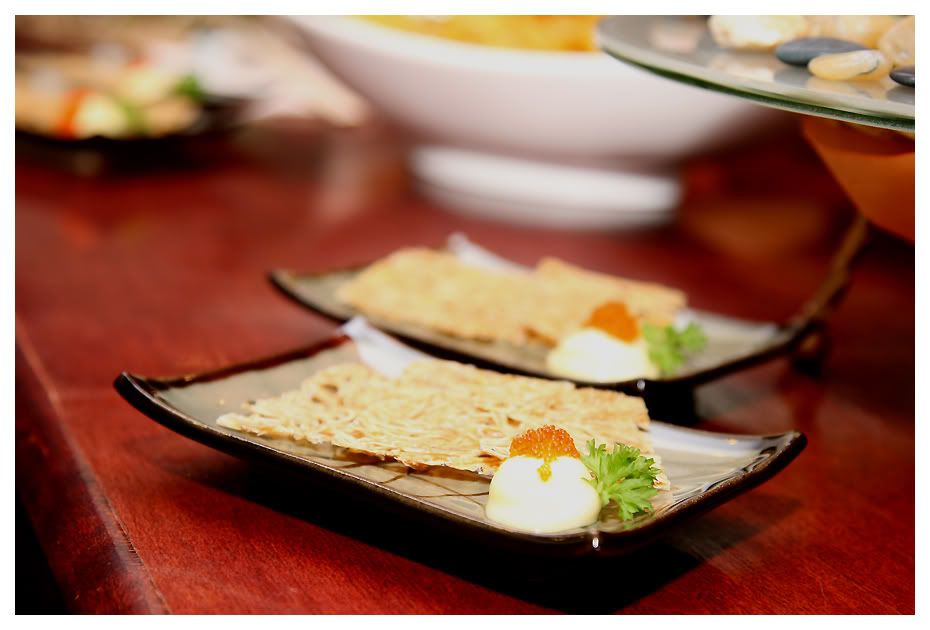 Some crispy fish crackers with a nice Japanese mayonnaise dip.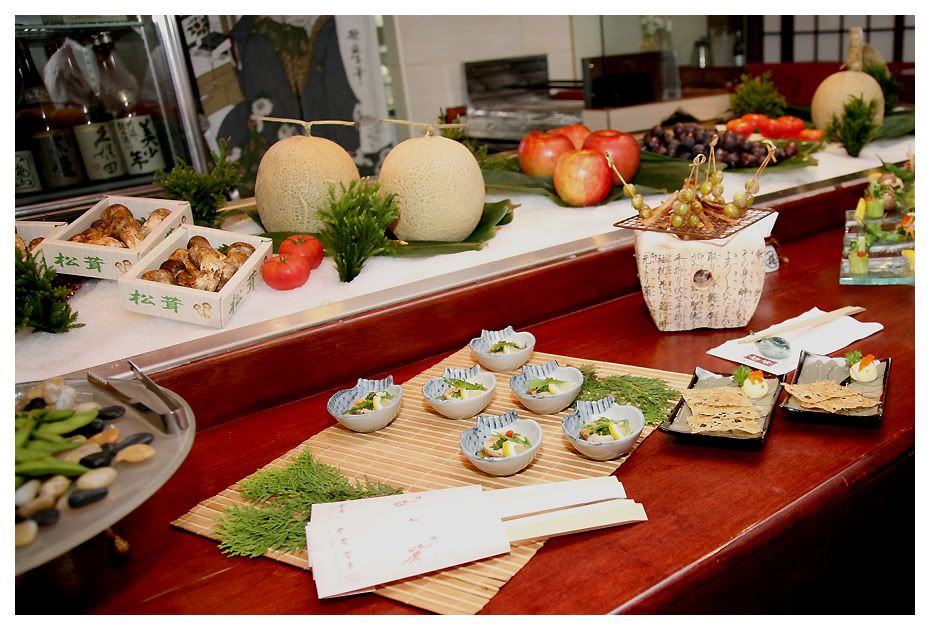 One of the really special treats was a delicious fish liver.  Unfortunately, I forgot the name of the original fish, but the chef had it flown in the morning of our dinner and wanted us to enjoy it.  Charly described it as a cross between foie gras and tofu as he savored it.  This was one of the first items to be finished.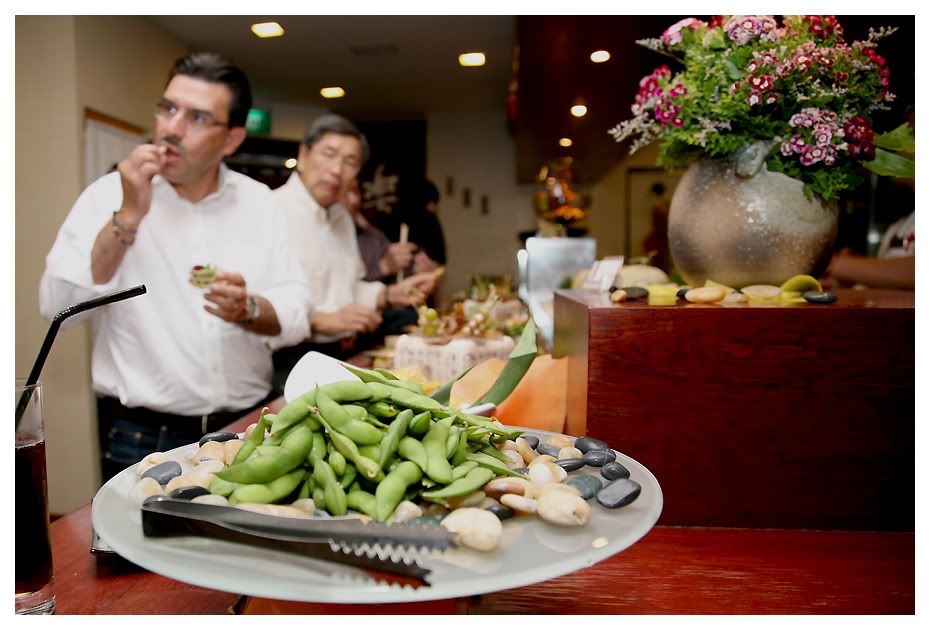 A platter of freshly boiled edamame, which is a typical Japanese snack often enjoyed before meals.  In the background, you can see that Charly is enjoying one of the appetizers.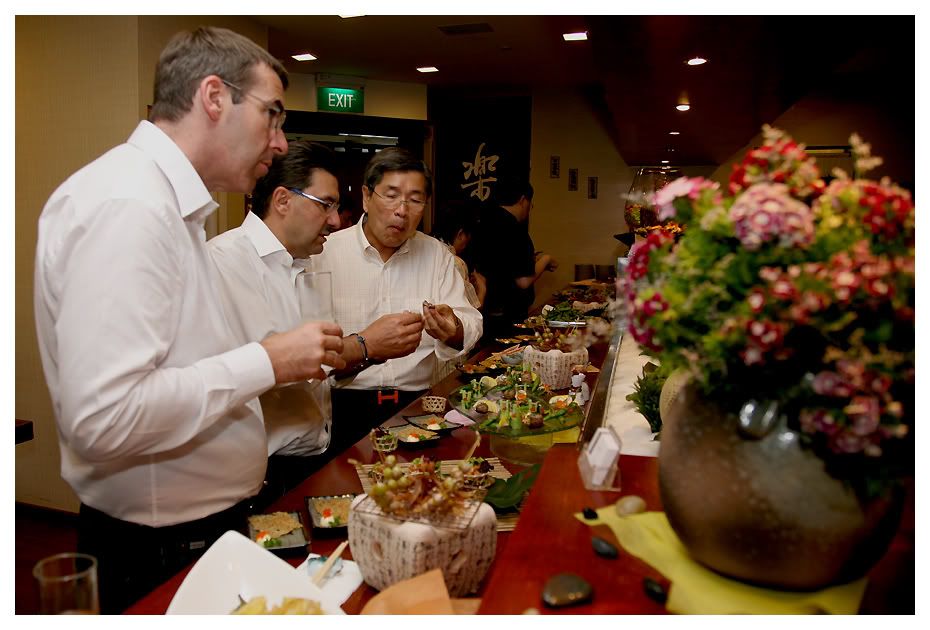 Christian Selmoni (Product Director), Charly and Larry Wee.  Larry is the well-known jornalist, who recently produced his annual Watch Supplement for the Business Times.  Besides writing about watches, Larry is a highly respected columnist, who writes about the financial markets and currencies.  These three gentlemen are enjoying their food while engaging in an interesting discussion about the current global economic situation and its impact on the watch industry.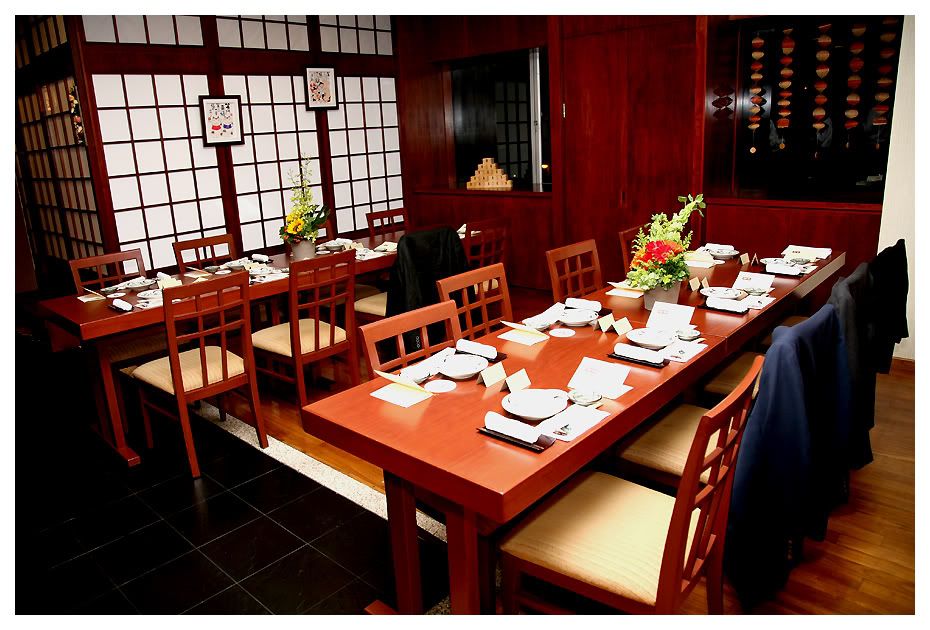 While the front portion of the restaurant was setup for our drinks and appetizers, the other section was going to be used for the sit down portion of our dinner.  As we were a small group of 15, the guests were divided between 2 tables.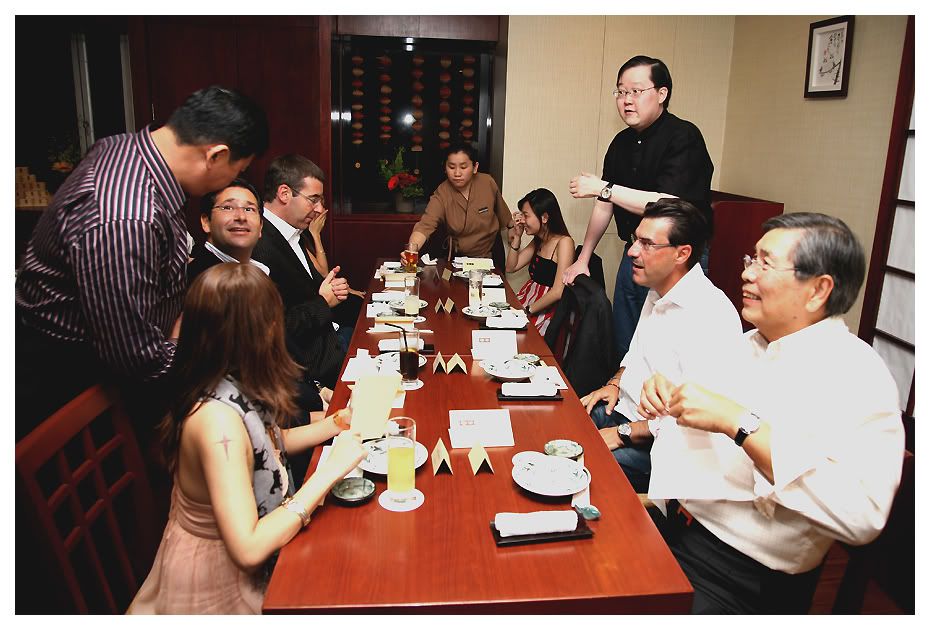 Okay, time for everyone to be seated and to begin some very serious eating.  Bring on the food!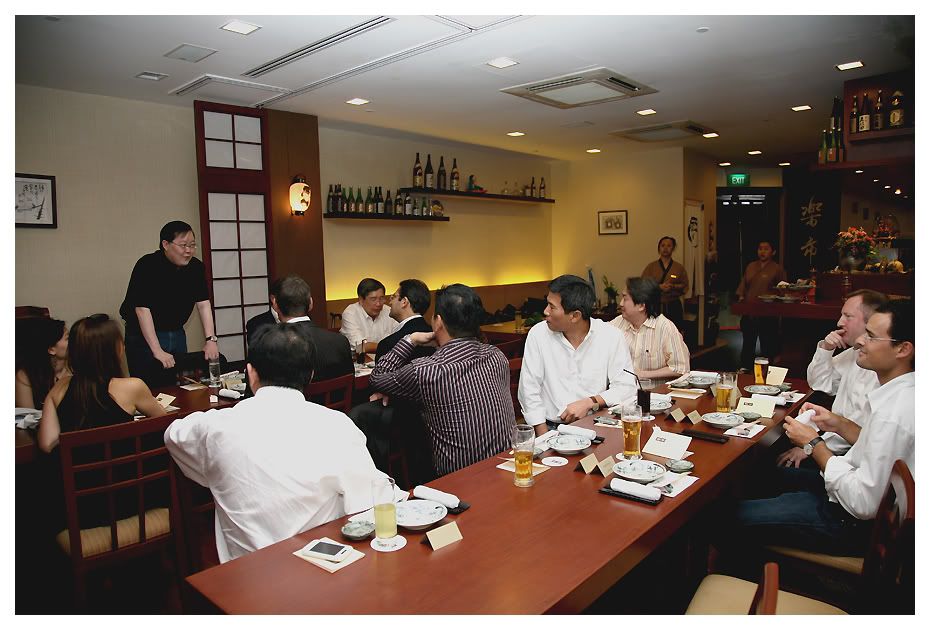 Well, before we start, I try to offer a few welcoming comments and not sound like a fool…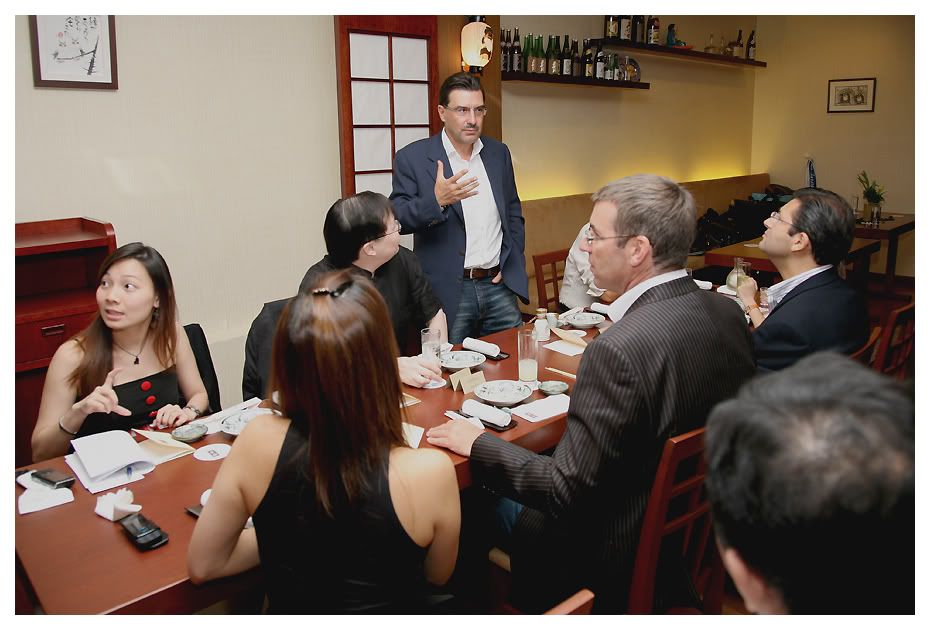 Following my welcome, Charly graced us with a few words, which were far more eloquent than mine.  Now, it is time to eat!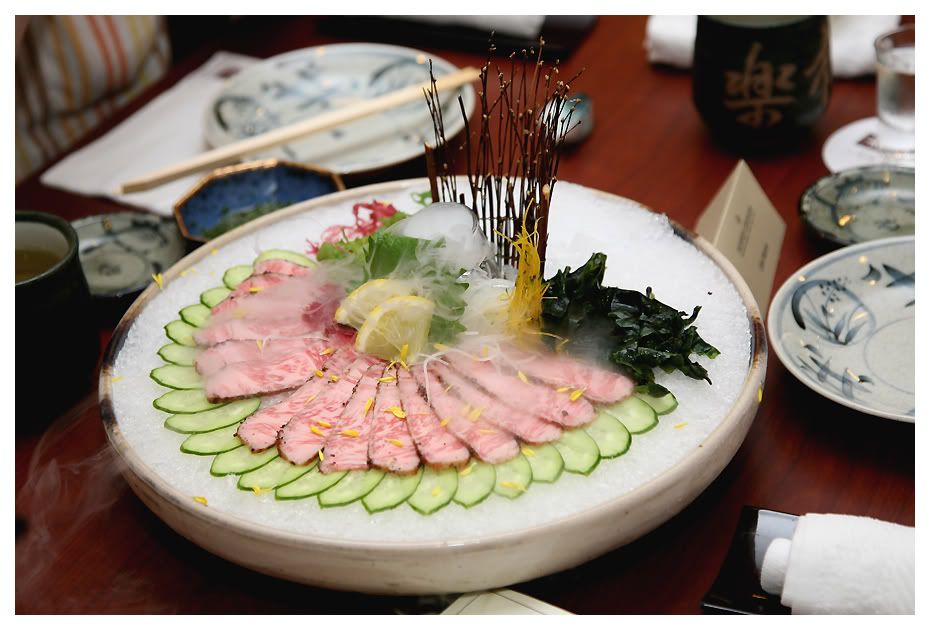 Matsusaka beef tataki (thinly sliced semi-grilled beef served with a light ponzu sauce).  This meat was simply spectacular and so well marbled that it literally melted in your mouth.  The quality of the beef rivaled any other Wagyu or Kobe beef that I have previously had and the marbling grade was probably a 9.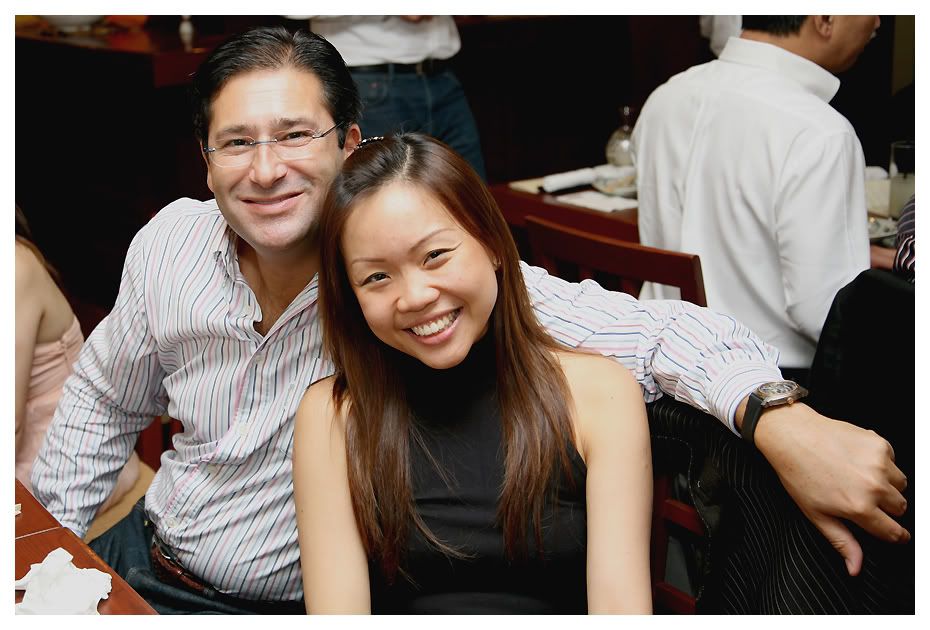 Marc Guten (International Director) and Jenny Hui (Marketing Manager, SE Asia).  Jenny is a well-known face in the Singapore watch community and it is with a touch of sadness that she is leaving our little red dot.  However, our loss is China's gain as she will be moving to Shanghai and joining VC there.  Good luck Jenny, you will be missed…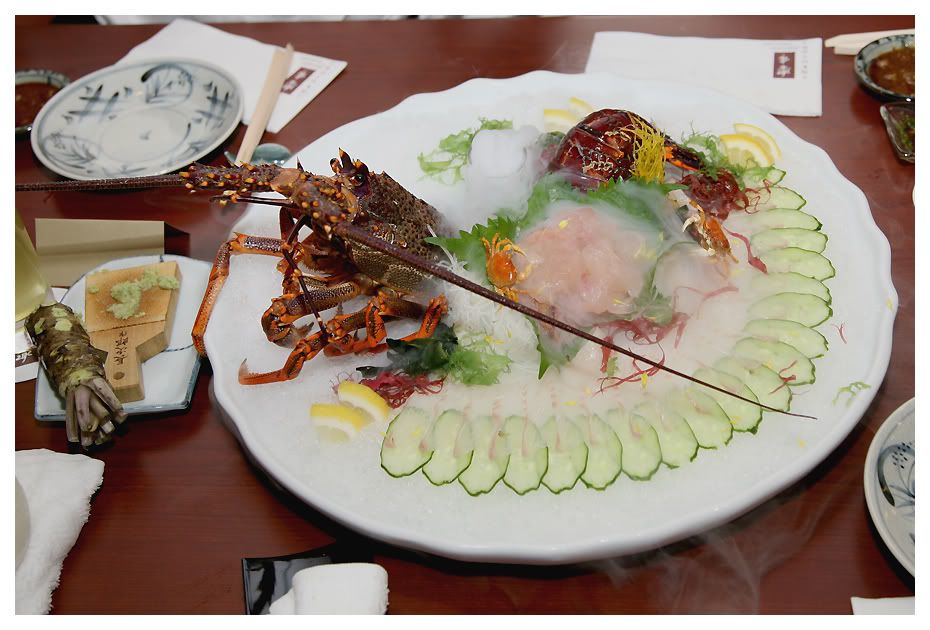 Fresh Australian lobster and Japanese Kyushu flounder sashimi.  The lobsters were alive just prior to their presentation to us.  As an indication of the freshness of these shellfish, the head and antennae were still moving when it was served at the table.  I am no expert and would guess that the nerves and muscles were still reacting.  Slightly unnerving to a few but it was quite delicious.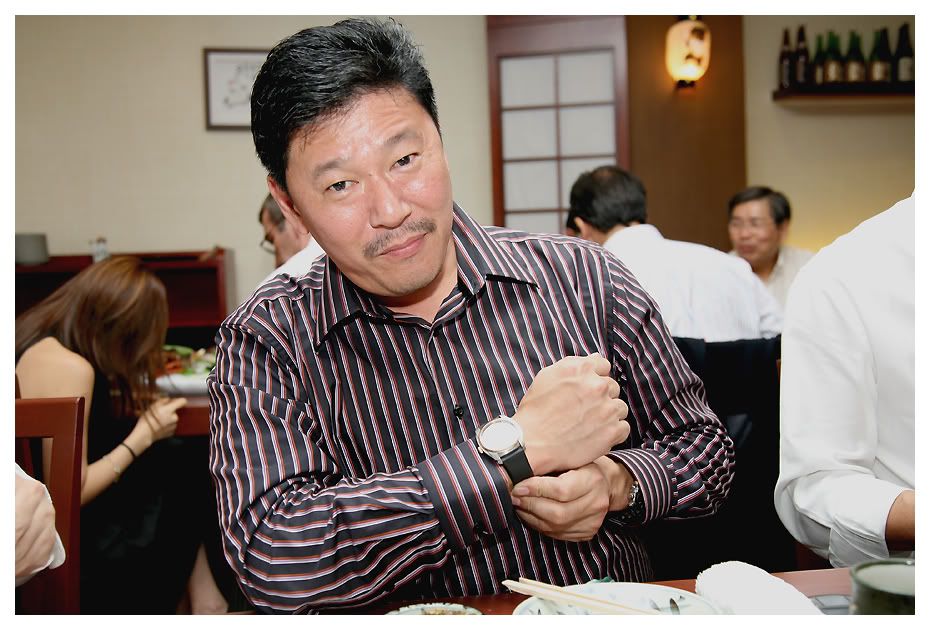 David Heng (Managing Director, SE Asia) taking a momentary break from the food to check out and admire another fine VC timepiece.  Credit must be given to David as he was the person who introduced me to Rakuichi.  It has now become a regular luncheon destination for us.  Whenever we are having lunch and trying to decide where to dine, one of us can just say the word "fish" and we immediately know where we are going.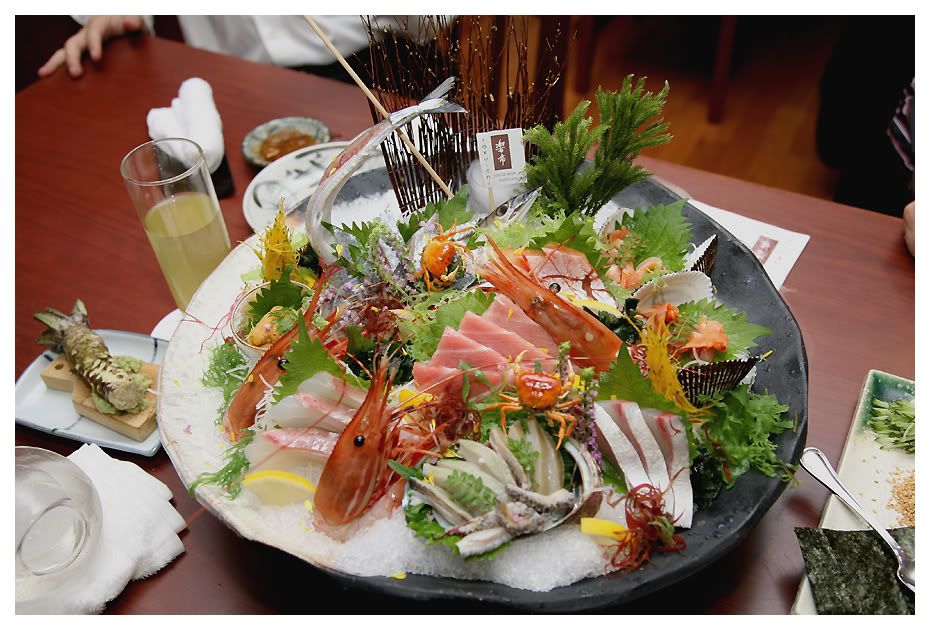 A truly luxurious platter of fresh sashimi including abalone, bluefin tuna belly, amberjack, snapper, sea urchin, pan shell, ark shell and botan prawn.  Not only was this an incredible array of delicious seafood, but it was so artfully presented that it almost looked too good to eat.  However, I said "almost" and we ultimately finished each and every last bit of fish.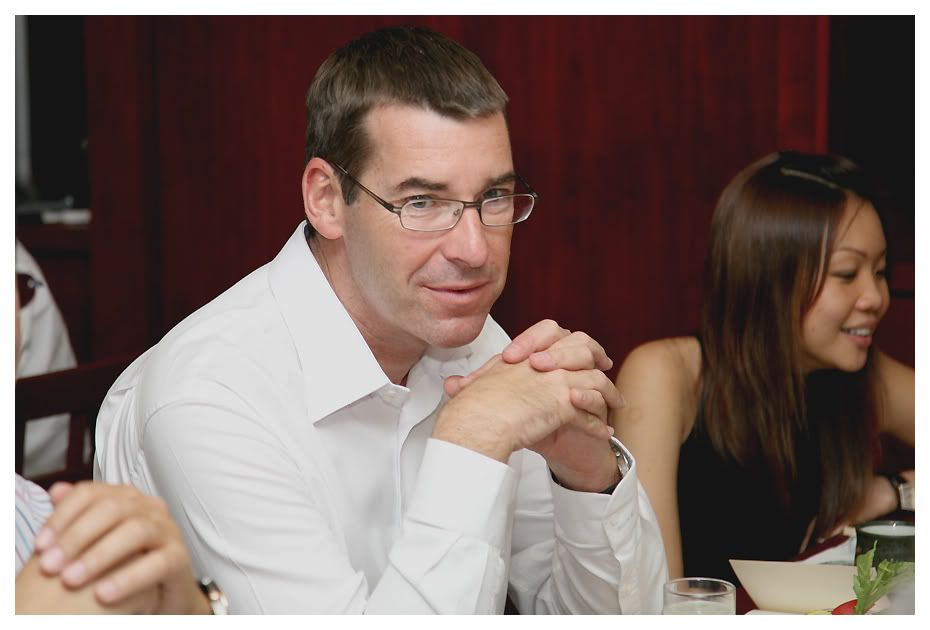 Christian Selmoni (Product Director) is one of the creative geniuses at the manufacture.  He is truly passionate about watches and has great respect for not only VC but also other brands.  It is always enjoyable to have a chat with him and discuss all things horological.  Shhh, but there are many more terrific timepieces coming from VC…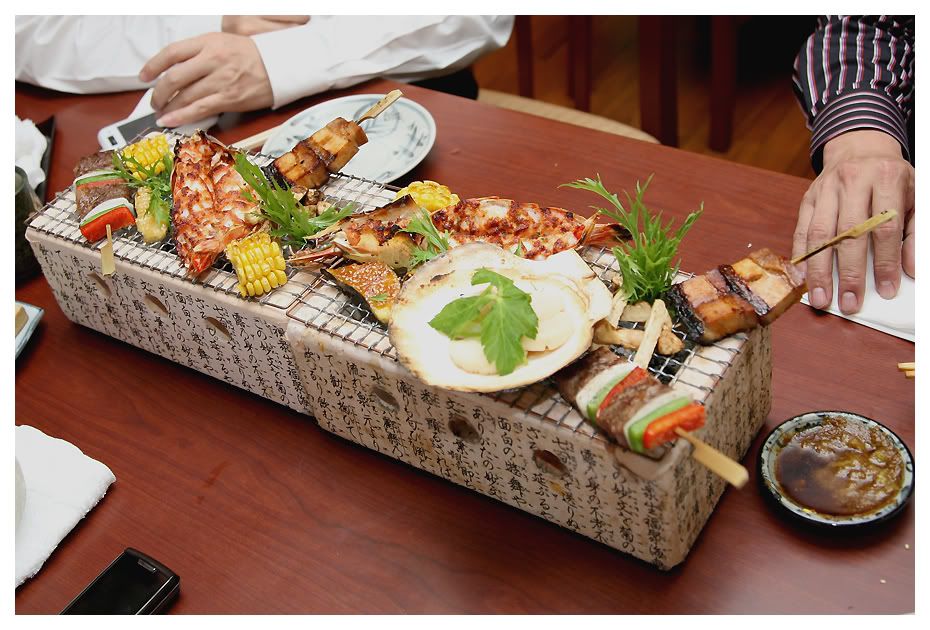 After all of the fresh sashimi, it was now time to have some grilled items.  First, we had the sweetest Hokkaido king crab and then we were presented with this variation on the "mixed grill".  Included were Matsusaka beef, scallops, eggplant with miso, Matsutake mushrooms, 2 styles of pork belly, king prawns and more!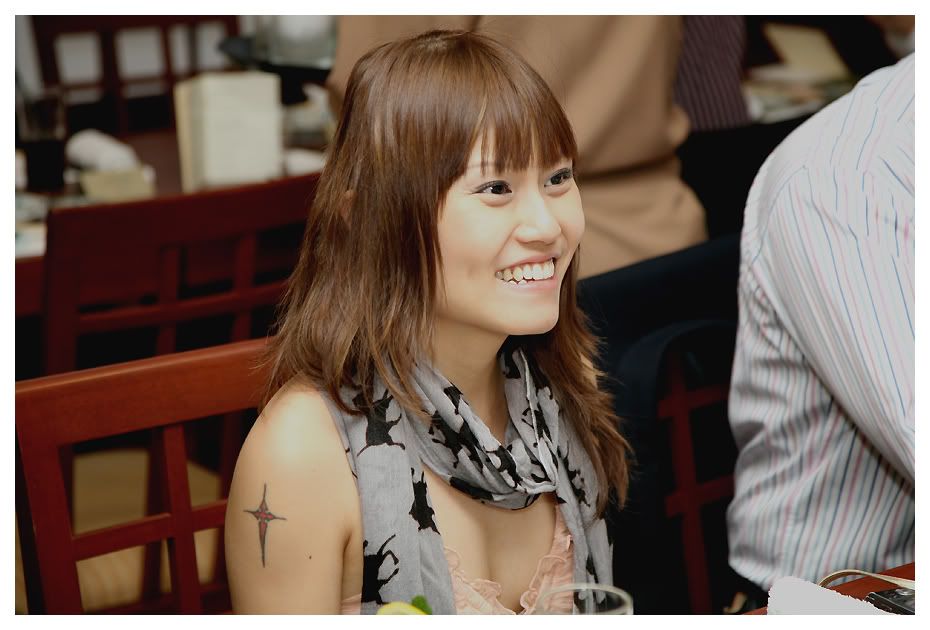 Felicia Wong (New Marketing Manager, SE Asia).  While we are sad to be saying goodbye to Jenny, we are also very happy to welcome Felicia to the Singapore watch community.  She is a great addition to the VC team and I am looking forward to supporting her in the future.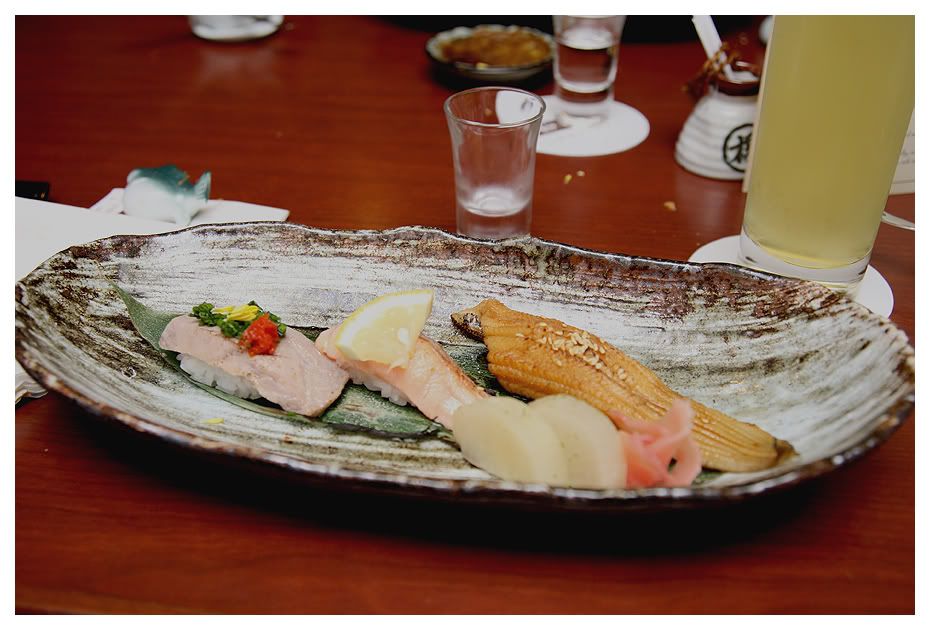 Time for a little more fish!  This is Aburi sushi, which is lightly grilled fish on top of sushi rice.  We were each given three pieces: bluefin tuna belly, salmon belly and sea eel.  The interesting thing about this sushi is that it is grilled by using a small blow torch flame to cook the fish.  After the grilling, either a little sauce is brushed on or some seasoning is grated over the top of the sushi pieces.  I absolutely love this…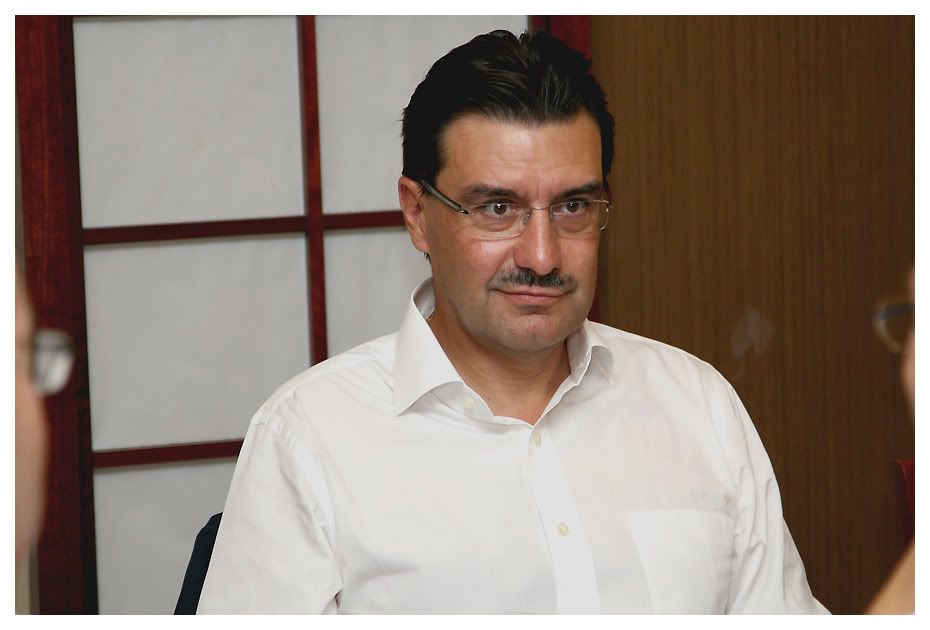 A last photo of Charly as he seems to have reached his capacity.  Like all of us, he was overwhelmed by the food and seemed quite content with his dinner.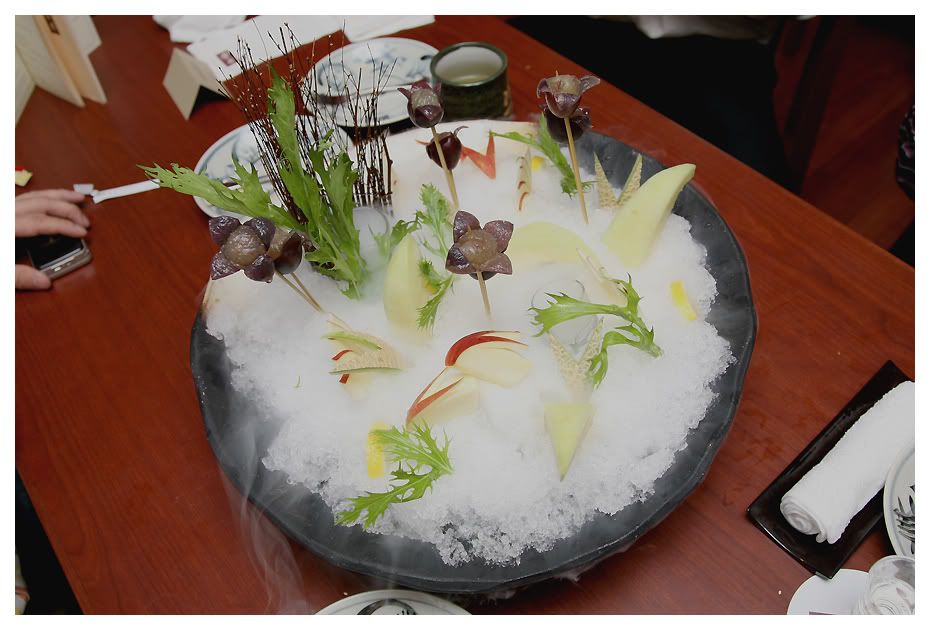 And now we come to the ending of our glorious meal.  The final offering was a platter of fresh fruit, which was probably the only thing that any of us could handle after all that we had already eaten.  However, in keeping with everything being special at this dinner, the fruit was specially imported from Japan.
I hope that you enjoyed this photo essay of a wonderful evening.  I want to once again thank Kok Choon for his excellent photos.
Amazingly, even with all of the food pictured here, there were a couple of other dishes including a lobster head miso soup and a steamed bean curd skin wrapped fish with shark's fin sauce.  To say that we ate to our heart's content would be a massive understatement.  However, while the food was incredibly good, the most memorable aspect of the evening was the time spent with good friends.  I consider myself to be most fortunate that I can call the Vacheron Constantin team, be it those from Geneva, Hong Kong or Singapore, my friends.  Their company made this evening so special and in fact, we are already planning for the next time…
Cheers,
Duncan