you definately know how to treat yourself right :-) Santé as they
say in Geneva
Conspicuous Consumption ;-)
Enjoy your watch and the wine, Miki! Cheers ;-) nt
Re:French Wine and Swiss Watches
Are you selling the wine to pay for the watch or vice-versa??
Enjoy both! Joseph
Re: Re:French Wine and Swiss Watches
Truth is I bought a case of this "stuff" 17 years ago on pre-release sale. I'm almost embarrased to say I paid about the cost of a couple of VC straps. My wife and I are celebrating our 35th and decided to have a little tasting. Miki
Re: Re: Re:French Wine and Swiss Watches
Great call, Miki! Don't drink it all at once
Save a bit for every new VC purchase. Congrats on the upcoming 35th! Joseph
that's a fantastic way of celebrating! Happy 35th :-) (nt)
Re: Re: Re: Re:French Wine and Swiss Watches
Thanx Joseph and a great idea, but how about:  Even better if it would be one of your "cast-offs". That would give us cause to share one of these bottles.
Two nice choices! Congrats and enjoy Miki (nt)
Re: So what's the big deal about French Wine and Swiss Watches???
Congratulations and enjoy celebrating your 35th. Nice choice to enjoy the evening. I as well have bought Bordeaux futures for years, was a good deal back then. Best wishes, Matt
OK, how about a California Cab and a Swiss Watch on a ...
stormy night with 50 MPH winds from a tropical storm?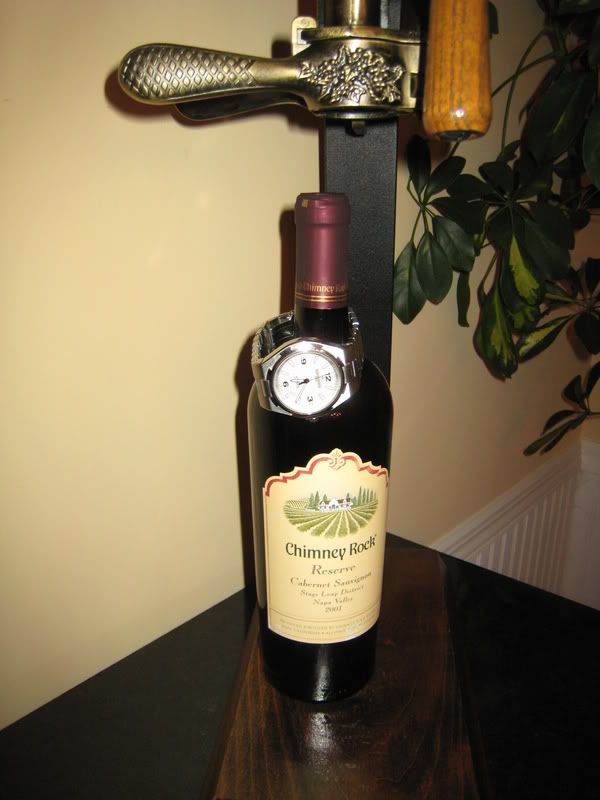 Congrats on the 35th! Probably a better combination than...
a Swiss wine and a French watch.
  No offense to any Swiss vintners and French watch brands. 
Hope it was a most enjoyable celebration. Duncan
Congrats Miki on your 35th wedding anniversary!!!
If will consider myself the luckiest and happiest man on Earth if I ever get to also celebrate such an anniversary!
And nice way to celebrate! If you have one or two bottles left, I would be open to swapping them with some VC straps
Cheers, Francois