Some thoughts about Vacheron Constantin...
May 23, 08 03:16
Last year, I wrote an article for the Vacheron Constantin magazine in the Asia-Pacific region.  After checking with Alex, I thought that I would share it with my fellow Loungers.  I hope that you will enjoy reading my thoughts and I thank you for taking the time to read it.  I have also included some pictures that were taken by VC to accompany the article.
Thanks,
Duncan
Vacheron Constantin: My Manufacture for the Ages
By Duncan K. Wang
If during the 1970's, the Swiss watch industry faced some of its darkest days due to the Quartz Crisis, then today might mark a truly golden age for the industry. This is truly the era of haute horology and both the manufactures and their fans have enjoyed this period of unprecedented achievement and rewards.

One manufacture, that has seen it all, is Vacheron Constantin. Being the manufacture with the longest, continuously running operations of over 250 years, Vacheron Constantin has endured the difficult periods and has always remained as one of the most highly regarded brands in the watch industry. Throughout history, this revered manufacture has remained true and consistent to its values and principles of producing the highest quality timepieces. For these reasons and others, Vacheron Constantin is one of my favorite brands to collect.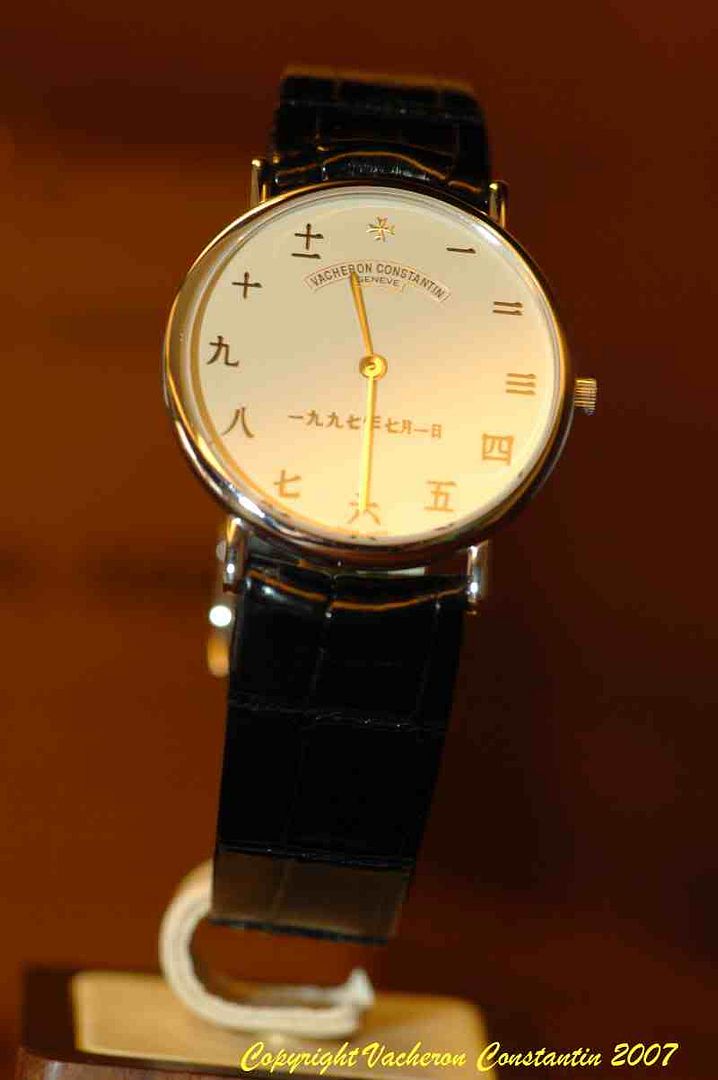 To commemorate the 1997 handover of Hong Kong from the British to the Chinese

As a watch collector, I am faced with a plethora of choices, especially during this time of phenomenal growth in the industry. Sorting through all of the new and different offerings is a challenge, albeit a most enjoyable one. For me, there are few hard and fast rules in choosing a watch but a couple of the basics are that the watch should be special in some manner and therefore it should embody an emotional relationship between myself and the timepiece. Secondly, the watch must be wearable. A fundamental philosophy that guides my collecting is that I must want to wear the watches in my collection, be them the simplest two-handed time only watch to the highest of complications. My Vacheron Constantin watches more than satisfy these criteria.

There are two timepieces in my collection, which are wonderful expressions of the virtues of Vacheron Constantin. Both demonstrate not only the fine craftsmanship that goes into the manufacture's timepieces but also are significant to me beyond their tangible value as beautifully crafted watches.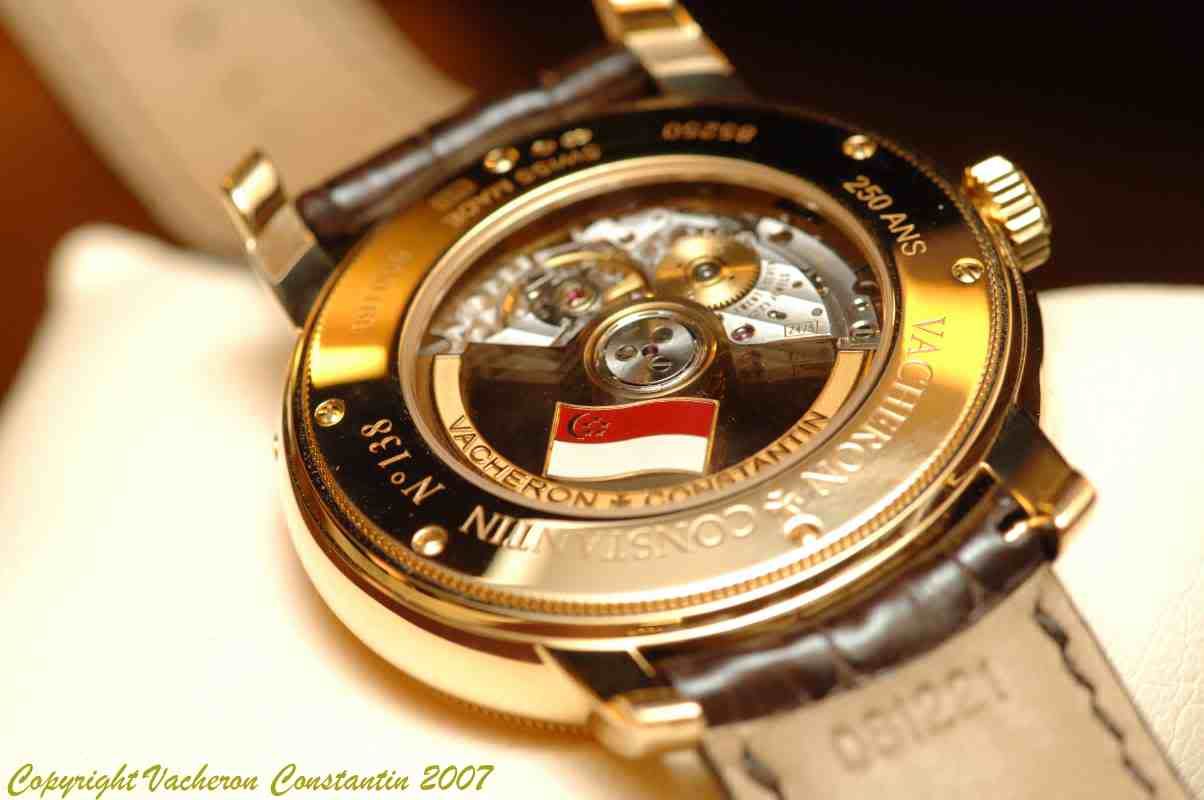 The specially handpainted rotor on the Jubilé 1755

In 2005, Vacheron Constantin celebrated its historic 250th anniversary. The year was marked with wonderful celebrations and also the release of some truly masterful timepieces to commemorate this grandest of anniversaries. While much of the attention was focused on the Tour de L'île as being the world's most complicated wristwatch, there were a number of other very special pieces produced. One of my favorites is the Jubilé 1755. This watch featured the brand new Caliber 2475 automatic movement and exhibited some of the finest finishing and gorgeous guilloche work that has ever been seen in fine watchmaking. The brand has always been known for its exceptional levels of decorating and polishing and this piece was no exception. However, there is one piece that was produced which is just a little bit more special. One of the yellow gold pieces was held in reserve to create a piece unique and was subsequently donated by Vacheron Constantin so that it could auctioned for the benefit of a children's charitable cause. On this piece, the Singapore flag was handpainted onto the rotor creating a truly memorable piece. Personally, I have always had a tremendous affinity for the Republic of Singapore and have spent much of the past 10 years living there. The opportunity to own this special piece and help a worthy cause was irresistible. As a person with considerable involvement with charities, I always respect companies that demonstrate a true commitment to giving back to the community and Vacheron Constantin has been a tremendous supporter of charitable purposes, be them organizations assisting the less fortunate or those supporting the arts. Not only does the company produce the highest quality timepieces, but it also sets a standard for civic mindedness that I admire and hope other organizations will emulate.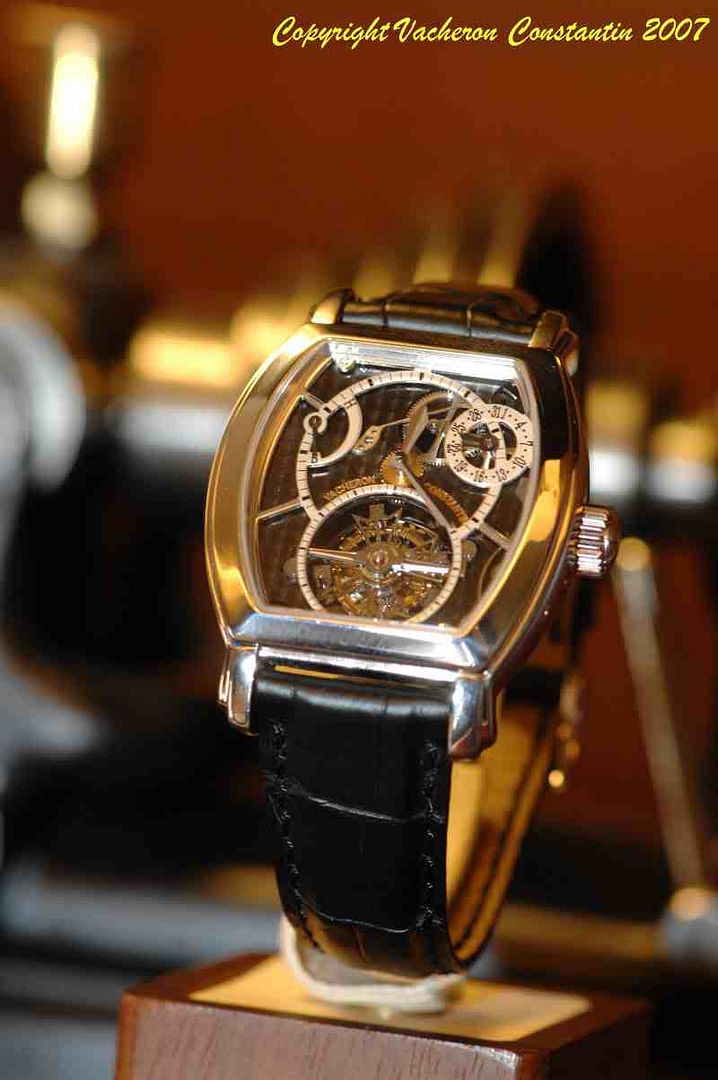 The Black Malte Tourbillon in platinum

While the production of the 250th anniversary pieces was extremely limited, in 2006, Vacheron Constantin produced an even more limited edition with its Black Malte Tourbillon. Only three pieces were made and they were available exclusively through the brand's boutiques in Singapore and Kuala Lumpur, Malaysia. Certainly the nature of the limited production would ensure a degree of collectability for these pieces but I found something far more significant for both the brand and its collectors alike. While one typically thinks of the manufacture for their beautiful and timeless pieces which radiate traditional horology, one instantly realizes that something is different with this watch. At first glance, one can see that the Black Malte Tourbillon presents a much more modern look to the historic Malte Tourbillon. The movement is black nickel plated and then is finished with stunning perlage decoration. This creates the appearance of a very modern material, carbon fibre. I see this wonderful timepiece as the epitome of the modern execution of traditional values in fine watchmaking and I hope that Vacheron Constantin will continue this course to broaden their appeal to the watch-loving community. The Black Malte Tourbillon could mark a significant point in the evolution of the brand and I consider myself very fortunate to have this piece in my collection.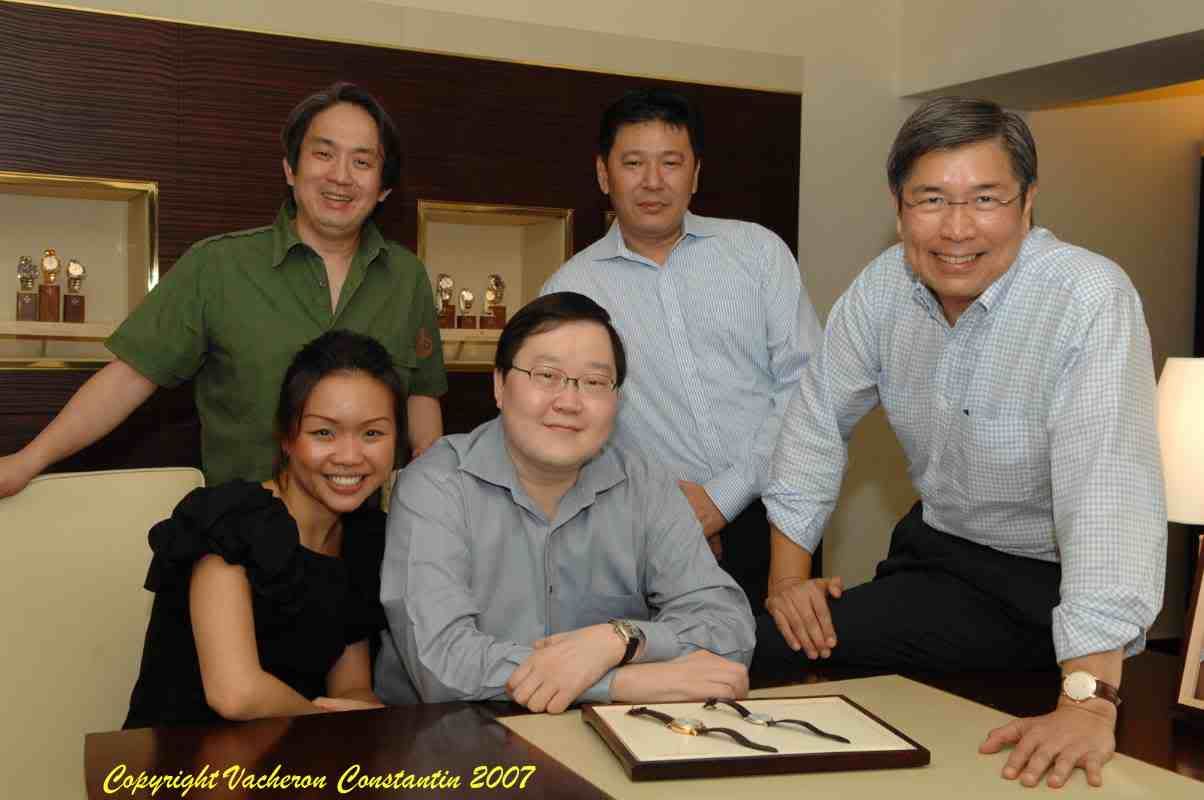 Good friends with beautiful watches!
From left to right Back: Mr Ng Tjeng Jaw, Mr. David Heng (Managing Director for Vacheron Constantin - Southeast Asia) and Mr. Larry Wee
Front: Ms. Jenny Hui (Marketing Manager for Vacheron Constantin - Southeast Asia) And Mr. Duncan K. Wang


Vacheron Constantin has a richly deserved place amongst the very best of the hierarchy of fine watchmaking and that is what initially appealed to me as a collector. Over the years, as I have learned more and seen the developments in the watch industry, I can see that there is much more to the brand than just their timepieces. From Mr. Juan-Carlos Torres, their Chief Executive Officer, to all of the friendly and gracious people in their Singapore office, the company is infused with quality and that is then found in their products. Now, with over 250 years of storied history under their belt, Vacheron Constantin is evolving and poised to be equally successful over the next quarter of a millennium.

Collecting fine timepieces is a very human experience. For me, it goes far beyond just the tangible watch, as they need to evoke an emotional and intellectual response. Vacheron Constantin consistently achieves this reaction with its timepieces. In 2007, they redefined the concept of horological art with the stunning Métiers d'Art Les Masques pieces. This is yet another example of how the brand produces superior timepieces that are designed to bring their owners a truly rewarding collecting experience. As Franco Cologni wrote in the foreward to his fascinating book, the "Secrets of Vacheron Constantin", this is a manufacture and these are timepieces that appeal to the five senses. With deference to Mr. Cologni, I humbly add that they also appeal to another vital organ, the human heart. For me, there is nothing more that one can ask for from watches or for that matter, anything in life.