no anti-magnetic on the dial?
The only thing I can think of...
... is that the date display includes a "0" for the single-digit dates.  Not having owned or handled a first gen OS chrono, I am not sure what was the norm for the date display.  But I must say, I always like to see the "0" in the first window, so good for VC for doing that. By the way, thanks for giving me a good excuse to stare at this watch for a while.  Not that I needed an excuse.  I could easily see owing my later generation OS and a first gen as well.  So greedy I am.
Best, respo
We have a winner, Respo the eagle eye! :-)
You are correct.  The old OS Chrono's big date has a blank space instead of a "0" that was added to the star wheel for the future generation OS Chronos.  But they all use the same movement - so the date windows are exactly the same size and in the same relative positions. Therefore it was an easy change.  I like the "0" as well, as the Great Ghotbi says "it looks more balanced",
BR, Dan
So, Dan, did you request this change?
Did you ask for this change to be made during a service?  Was this, as you mentioned, and if I understood correctly, a variation among the first gen Overseas chronos? respo
I was told that this was done during the transition
from Gen 1 to Gen 2.  I guess they ran out of the blank star wheels and were getting the ones with the "0" when this watch was made? VC tells me there aren't many, if any, others out there.
BR, Dan
I think this is what you mean...
Hi Dan (and fellow Loungers), Here is an old shot of my 1st gen Overseas with black dial and arabics, which is currently in the spa after more than 7 years of service (though with rather limited wrist time).  I believe it spent considerable time in the dealer show window so I wouldn't be surprised if it was manufactured 9 or 10 years ago. As you can see, there is no zero in the date display for the tens place. I am really curious to see how it comes out from the spa (supposedly within the year).  Will try to post some pics when I get it back. Best regards, Kazumi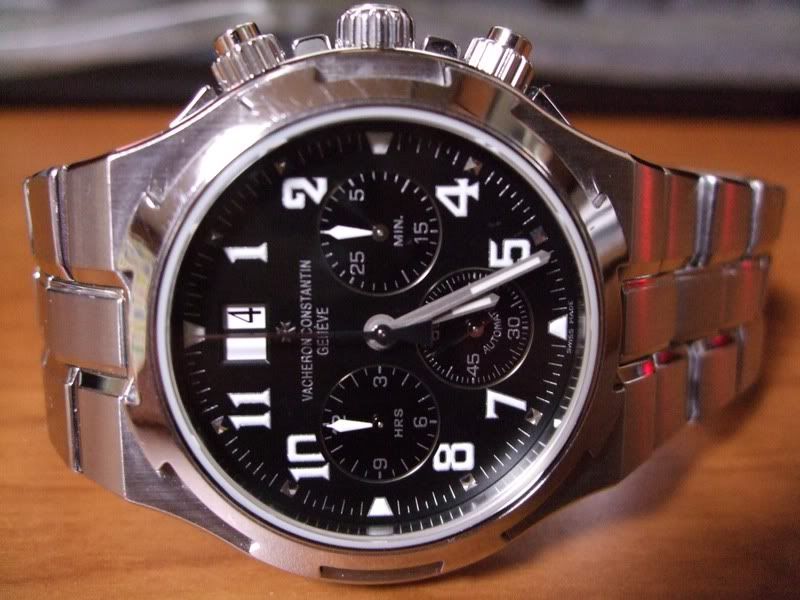 I think yours will come out looking like new when you get it back
My OS Chronometer did, and it was pretty scratched up when I sent it in. Your picture is absoutely right about the big date, thanks for showing a comparison/contrasting scan. BR, Dan