Vacheron Chronomètre Royal 6161 ,
March 5, 13 17:33
credit: Noodia

some thanks
-To Berny that make it possible :) ,
- To Alex Ghotbi for all the things he shares, the infos given, and his kindness.
Thanks Alex for all collectors you help.
-Noodia for his photos, the watch deserves better thant the poor photograph that I am.
-Vacheron historical service for their infos given.
It is through a continuous education, through the net, I think to my french friends, Tac and Marv and their dedication to chronometer.
To the meeting with Mr De macedo when we talked about peseux 260 and Vacheron guillochage.
To all people sharing on the net, especially SteveG and the japanese site "Nakahiro Parfait", I looked so much your sites so many times
links
everything is here
http://www.thehourlounge.com/thread/view/chronometre-royal-1907-100-years-of-flamboyance_2998_2998.html
A bit on P453 and P454
http://vacheron.watchprosite.com/show-nblog.post/ti-654601/
The legendary SteveG site on his Chronometre Royal
http://ninanet.net/watches/others12/Mediums/mvccr.html

There were many chronometers  Peseux 260, Omega 30T2RG, lZénith 135, le Movado 126 , the rare Longines 27 chronométre and 360 and others.
But the Vacheron Constantin P1007BS et P1008BS are finished to an exceptionnal standard  and they have the balance stop, that's why they are for me the king of chronometer.

to compare with P453 from my 4073 where it's coming from.


credit Dje
i modified SteveG photo to show the stop second in red and the central second modification (also in P454).


credit: SteveG
Another SteveG photo to show how the small second at 6 is moved to the center, very nice little complication.
http://ninanet.net/watches/others12/Mediums/mvccrm11.jpg
http://ninanet.net/watches/others12/Mediums/mvccr.html
the case
The case is for me iconic of Vacheron along with the tear drop lugs design




credit: Noodia
Several references of this version exist
6108 small second snap on caseback
6108 central second snap on caseback
6110 small second screwed down caseback
6111 central second screwed down caseback
6161 central second with bracelet ? With screwed down caseback?
6067 central second? small second?
This is still unclear for me. I suppose that the screwed down are more around 36mm and the snap on caseback around 34mm.
What I have seen is two different Chronomètre Royal one 6111 in 36mm with a bracelet identical to mine in design but slightly larger
My 6161 in 34mm has a bracelet

You find the same kind of design on the ultra thin 6099
http://cdn.chronollection.com/upload/561/485023/4/large_vacheronconstantin_12300118kgoldleshistorique1955herrenuhrrarvp27200euro_6099.jpg
credit: chronollection
Funnily a Patek Philippe has also this kind of design ref 2568, tick talk has already talked about here
need to add also the 6074 and 6075 with integrated bracelet






credit: Antiquorum


Caseback is here a snap on with "Chronométre Royal" engraved.




credit: Berny

the dial
Nearly every ChronoMètre Royal have a silver dial.
For example here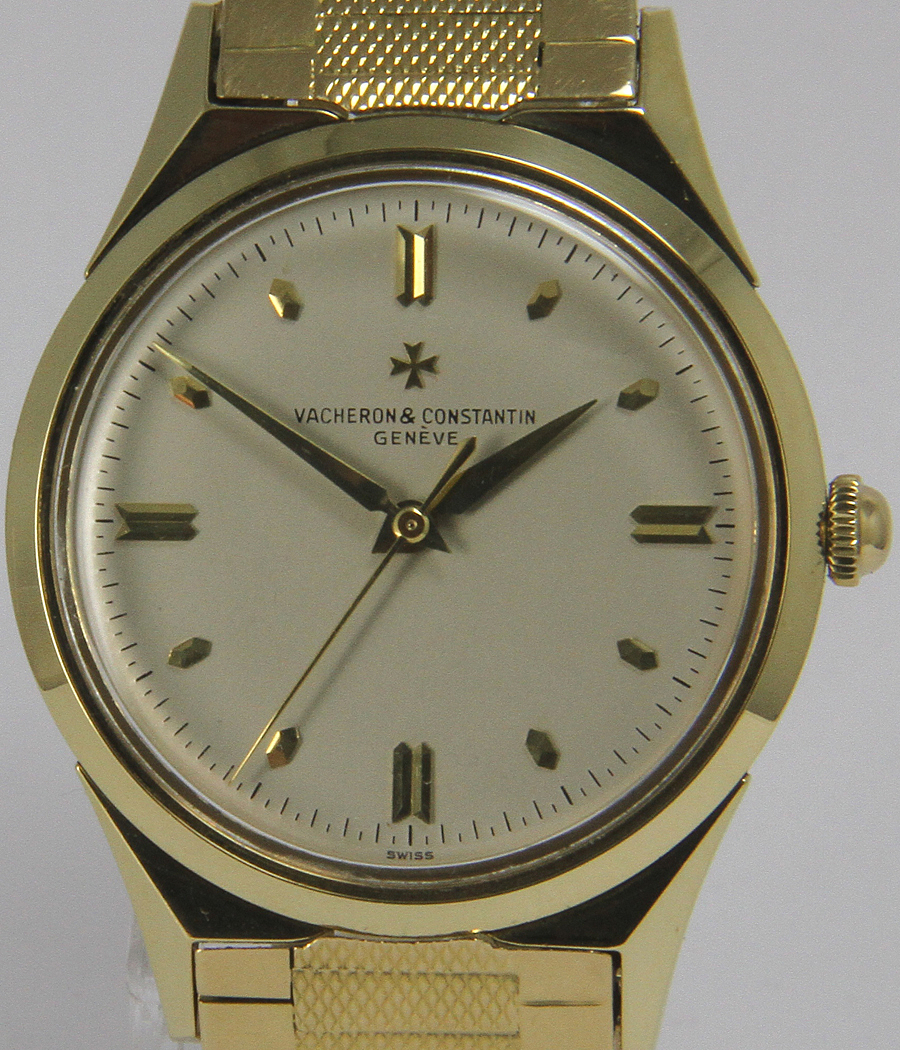 credit: R.Meertz Worldoftime.de
This one has a guilloche dial which make it really exceptionnal imho.
I have already seen one by Mr De Macedo in paris and I was very impressed, never recover from it actually.
From that point I understood Alex weakness much better :D
So a full rose gold Chronométre Royal with that dial was above my dreams.
"Lance" Hands are specific.
I actually regret that they are not on the last 1907 Chronométre Royal because they are a signature of this piece.
As every other detail of this watch I love them, the pointy rear of thiese hands is something you won't see on another watch, very typical of the Chronomètre Royal

Index are another specific detail, 3-6-9-12 in arabic numbers, triangle faceted at 1, 5, 7 and 11, and long faceted at 2, 4, 8 and 10h. Quite unusual.

For the dial itself,the outside ring is silvered doted for every minutes Vacheron Constantin is written on a "cartouche" and the main part is a wonderful GUilloche.
The is a kind of vertical "combing" that change direction in a V form.
This gives a 3D vision "trompe l'oeil" with some arrows that look like in depth or rising depending on the light.

This is something to be seen for real which imho unmatched in vintage dial, the most beautiful you can get with a cloisonne enamel.
I suppose the job was done by Stern at that time, the owner of Patek, but it needs to be confirmed.

The bracelet[
Realised by Gay Frère Bracelet is typical.
The center link is like guilloche with some diamond/rhombus shape, the side link are fully polished.
Because fo the specific shape of the lugs it integrates easily the design of the watch nearly like an integrated bracelet.
The buckle has a security system and two positions, it has a diamond guilloche like the central link.

Christian symbol, horlogical mechanism, Vacheron Constantin emblem hjas something fascinating.
It is not directly to be seen here, but you can still find it.
-The lugs.
Under this angle it is easer you have a branch of the cross that appears. Branch that repeats four times obviously, like the maltese cross has been dispersed around the case.





credit: Noodia

-The dial
Index are surprising, normally index ar 1 and 2 o'clock are identical, and this is not the case.
Binding the ligne they design you can see...:






credit: Noodia


Actually you can do that on other watches if there are pointy index at 1 and 2 and not pointy at 3, but this detail make sense here
and I doubt that this detail is pure luck.

my opinion
This is for me the very best of what I can hope in watch by its design, its caliber, its dial and its details, everything is at the highest level.
I don't see what can be "better" by Patek or others. this is a dream come true and I got a "grail" because this is one.
I am very happy  to have got such a piece, a great moment in my young collectors life.
On the wrist you can't miss it with that dial and bracelet and see a branch of the maltese cross is a nice feeeling.
As long as you get closer you can lose yourself in that maze of details. The weight is a very nice feeling and very balanced because of the bracelet.
At first I thought I won't "dare" to wear it on the bracelet, actually, I don't see why I would not, the bracelet is such a nice piece by itself.
Thanks for reading