Congrats on the Uni-Compax!
I like the strap, it goes well with the patina
I really like the larger sub-dials on vintage chronos.
Regards,
Tony C.
Nice watch Bill, how often do you change watches in a day? :-) (nt)
I feel bad about ignoring some of my watches--especially the dress watches, which seems to be all of them except for my Overseas, which I wear the most often. I'm thinking of getting a set of "beater bands" -- leather bands I can put on my watches and wear all the time; saving my good bands (i.e. all of those over-priced aligator bands with the marque's name) for special occasions.
I've been wearing my Grande Osmior Mécanique Extra-Plate a lot lately because in addition to keeping excellent time, it's big enough for me to see exactly what time it is...especially before my first cup of coffee.
@Dan--Speaking of a lot of watch changes...that one you have today is beautiful!!
Wow, Dan, is that crown original?
Very cool! What model is it?
Regards,
Tony C.
Thanks Tony, yes - I believe the crown is original
I've seen a picture of this model in another post, both with and without this type of crown. 
(http://www.thehourlounge.com/en/vacheron-constantin-discussions/and-some-questions-cr-experts-613996)
It is a Ref. 6340 Chronometre Royale from 1965.  Here is a pic. of the cal. 1008/BS movement:
One of great movements, and always a pleasure to view. Congratulations on owning such a superb watch, Dan.
Best regards,
Tony C.
I've been wearing this GP chronometer recently...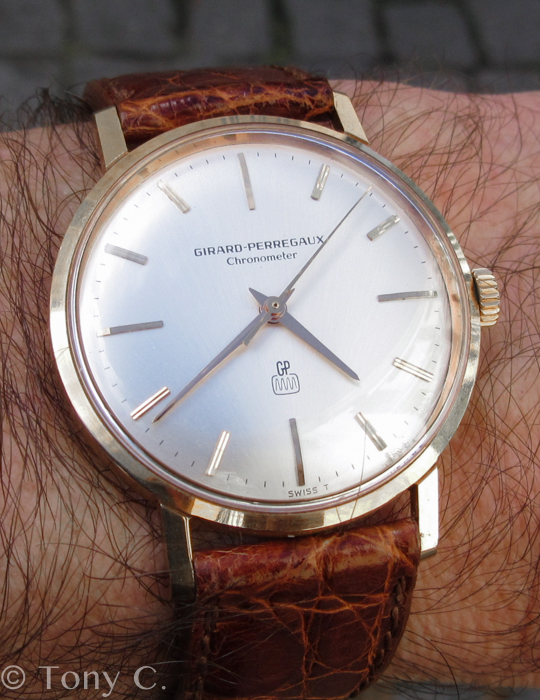 I can see why you've been wearing it!
That's an interesting symbol below the GP, can you tell me what it represents?
It was GP's icon used to designate their high-frequency chronometers...
and, along with IWC's iconic lightning bolt, associated with their Ingenieur model line, that GP "squiggle" icon is one of my favorites!
It was only used through the early years of GP's HF chronometer manufacturing, and was quickly replaced by an "HF" designation.
Cheers,
Tony C.
the one shown above is a hand-wind model, and they were very low production. I do not believe that the above-mentioned icon was used on the automatic models.
interesting thank you. What is the frequency of this GP?
Thanks Tony, I've seen HF before but never the squiggle. :-)
Very interesting. 
Very cool Liger, that looks beautiful! (nt)
Liger
The micro-rotor is stunning
nice touch with the tourbillon-style bridge 
Re: The micro-rotor bridge has a "Col de Cygne" or
"Swan neck" design.
Thanks Dean,
Liger
There's a watch that will take your breath away!
Re: My last arrival, a LF
Happy to hear you finally received it.
It is quite stunning and dramatic, front and back!
Congratulations and wear it in the best of health.
Joseph
Thanks Joseph. Additional view of the movement under the dial
Great vintage piece.  I like the strap you picked.
After a recent splurge, no new watches for me for ahwile.  But I'm looking at strap changes for existing pieces :-)
Thanks, Dan. My late great-uncle picked it up after returning to the States from WWII. A better than average hand-me-down.
there really is something irresistible about these vintage Rolexs. Congrats