I wore the suit specifically  because I knew I would be tring on the gray-dialed PT.  I am trying to learn to dress better -- Joe (4Js) is my mentor in this endeavour.
Best, Robert 
At the moment I am wearing nothing as I am laying in bed in LA
after having attended a beautiful event here to celebrate the opening of the new Rodeo Drive Beverly Hills Vacheron boutique. What an amazing night. I sent pictures to Alex last night from the event and I believe her will post them as I do not have a computer with me. There was an extensive collection of Vacheron timepieces shown including the new 14 day Tourbillon which is the first time I have seen it in the flesh. Gorgeous! But also quite expensive. The gray dialed watch you are wearing is nice but until I see it in person I am unsure about it; it seems a bit monochromatic to me and a bit "flat." Again, I'm sure i'll have a different opinion when I see it in the flesh. Have a terrific and safe weekend everyone! Best regards, Eddy Ps I wore the Fish to the event.
very Marilyn Monroeish Ed :-)
Well, Ed, the Fish is a hard act to follow!
And compared to that dial, it is hard to think of another that could compete. However, "monochromatic" and "flat" are not words that come tio mind when you see the gray-dialed Pt. PT.  It is stunning in person.  Then again, it is fair to say that I am a tad obsessed with Vacheron's gray dials at the moment. 
I hope you see one soon.  And get out of bed already! 
Robert  
You chose all the great shots!
Love the watch. But, I know your secret choice! Best, Joe Ps I'm wearing a Patek today, and iPad only, so I can't post!
It may be a secret, but I wear my heart on my sleeve and my watch under it. Have a great weekend! Robert
Robert, you must make that your favorite saying!
Lovely pics Respo. I love the grey and platinum version...
I think this is one of the nicest three hand watches in the world. I have the 'regular' PG version - if one can charecterize anything from VC as 'regular'.
I would NOT argue with you on that point? Best, Robert
Re: What are you wearing today?
I wish I could post more pictures of the new 'crush', but I think you were talking watches?
Vintage Longines Conquest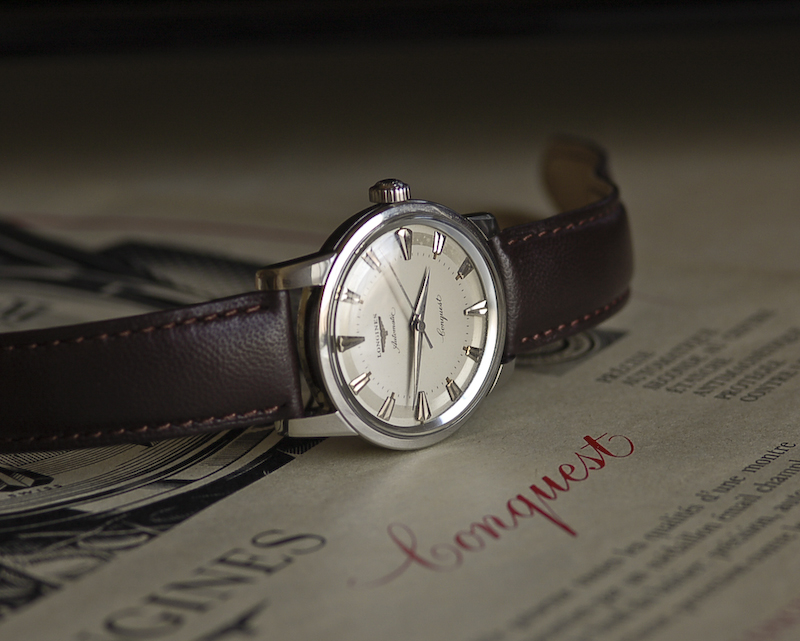 How did you get a hold of Robert's crown jewel, SJX ;-))) ???
BTW, I handled  respo's salmon dialed Historique chrono once and I have to say you guys have one of the nicest VCs around ever (platinum and salmon are an explosive combo in my book). Bet you're gonna miss it while it's taking a time off at the spa. Had it only been made in larger size I would've surely considered getting one. best always!
Re: How did you get a hold of Robert's crown jewel, SJX ;-))) ???
Radek, I think there are at least 5-6 Louingers who have that watch. A very popular item, and with good reason! Best, Joseph
...that we represent significant percentage of all the owners of the salmon-dialed Historiques Chronograph.  I was delighted to join your club last year. 
All best, Robert
Robert you just hit 500 posts :-) congrats!
I had not even been paying attention to the count.  Needless to say, I love being a part of the Lounge. All best, Robert
A late night email to a good friend, who happened to know of this watch for sale. With friends like these, who needs enemies? ;-) - SJX
the case engraving is stunning!
This also caught my eye...
What a wonderful piece! Tony
Re: This also caught my eye...
Thank you very much.  Would it be ok to post pictures of other unusual antique watches here?  I can't get to the bank until the weekend to get photos, most likely.
This sounds like a good idea...
It would be nice to view some of your antique watches from time to time. Photographs are always welcome plus details that you feel might be relevant. Hopefully your contributions will bring you closer to the Lounge, it's members and some very interesting pieces from V & C. I shall certainly keep an eye out for you!
Regards Tony
Waltham with green guilloche dial, 18k case
Waltham Riverside Maximus, white gold case.  
Unsigned 36 jewel Chronograph, key wound and key set, so 1880's at the newest.  Movement is enamaled, with set rubies and citrines.  Enameled on lower plate as well.  I have no clue what company made this, as the dial is plain white with roman numerals and moon hands.
Thomas Mowbry and Son, 18k case, hand made chain.  The links were soldered together and hammered to flatten them. The watch is enormous.  I think its what's called a size 20s. I know these are not VC watches, but I thought it would be acceptable to post them on this thread.
the dial of the 1st Waltham is stunning!
Meeting other members of your watch family...
Thank you for taking the trouble to introduce four nice pieces. I agree with Alex, the dial on the first Waltham is something special! When did you acquire that beautiful V&C watch? Tony
Re: Meeting other members of your watch family...
I had bought the V&C watch about 7 years ago at auction.  It dates from about 1910, and had just been serviced.   I paid either $400 or $600 for it. I bought the Waltham just because of the dial.
Re: the case engraving is stunning!
I collect antique watches, mostly pocket watches and some wristwatches.  I don't have any other VC's, though. 
Re: What are you wearing today?
Re: Re: What are you wearing today?
Could you please upload the image?  The link does not work.