Well, I have this one with me today.
With the Exhibit in Beijing, I took out my oldest pieces to share with friends...for some reason Museums just aren't friendly enough to take pieces out of their exhibits so visitors can hold and inspect them more closely. 
Here it is normally:
And here it is in a newly made brass container.  I have a deck watch that came with wooden box and brass container, but the brass top to the container was cross-threaded.  So I had a new brass top made.  What I did not know was that the factory (one of my company's vendors) decided to make me a totally new brass container, with two brass tops.  So now I have 2 completely usuable containers that happen to fit two watches. 
And what great luck to have two interchangeable containers. I just love the long elegant hands. Thank you for sharing it. 
Brilliant Dan, nice work!
Re: Well, I have this one with me today.
Beautiful Dan,
A great dial and the brass container looks like a perfect fit!
Joseph
Hey, is that crown not pushed in? Don't get it wet Alex! You can send it to me for safe keeping if you'd like. 
Re: in honor of this week end's auctions
A very nice version of that watch, Alex.
It looks great on your wrist!
Mine too, Robert.
It looks terrrific, but then I am partial to that one
It looks like it's going for a dip. Make sure everything is screwed down tightly.
Joseph
Re: What are you wearing today?
Very nice, Jaimie!
Gotta love that design.
Is that an M4 you're sitting in?
Joseph
Re: Funny you should ask...
or a V&C, for that matter 
.  Busy working on the bicycles so Sinn is my watch of choice.
Wore a vintage V&C last night (ref 4166) at the film festival in town, but didn't think to take pictures 
.  Am still pondering the fantastic documentary "Best of Enemies" about the infamous debates during the Presidental Election campaign of 1968 between Gore Vidal and Bill Buckley Jr.  An amazing and public struggle between to ideologues from opposite sides of the spectrum.  It is almost depressing that they were arguing points which are still political fodder today.  Neither man saw his utopia come to pass, and one of the most powerful scenes was a later interview where Buckley confesses he is simply tired of life.
I want to see that documentary.
I would also like to see the ref. 4166. ;-)
I'm Sinn-ful too...LOL
Nice watch! I have the EZM10 - more cluttered but I like it.
Dave
Although every watch in this thread is a stunner and worthy of comment, with VE week just past, the pairing of military models and military-style watches is a great idea 
.  Can't come closes to the historic significance of Joseph's amazing Cartier but I'll post this pair of Germans to see your Italians.
Wish I had a Smiths to pair with this Spitfire.  I can imagine the pilot saying, "Just put the bloody thing back together before they call another scramble!"
Love your models, super!
Something to say thank you 
Ugly (but freshly done at least) picture for a cute watch and model (made by a talented English modeller).
These models are fabulous! I never seemed to be able to make mine look like that...
There's a Spitfire in the war museum in Ottawa; I was surprised to see how small they are - you could almost put one in my living room.
Dave
Early 1990's Breguet Type XX 'Pilot Watch'
I just love the now aged dial numbers and brown leather strap :)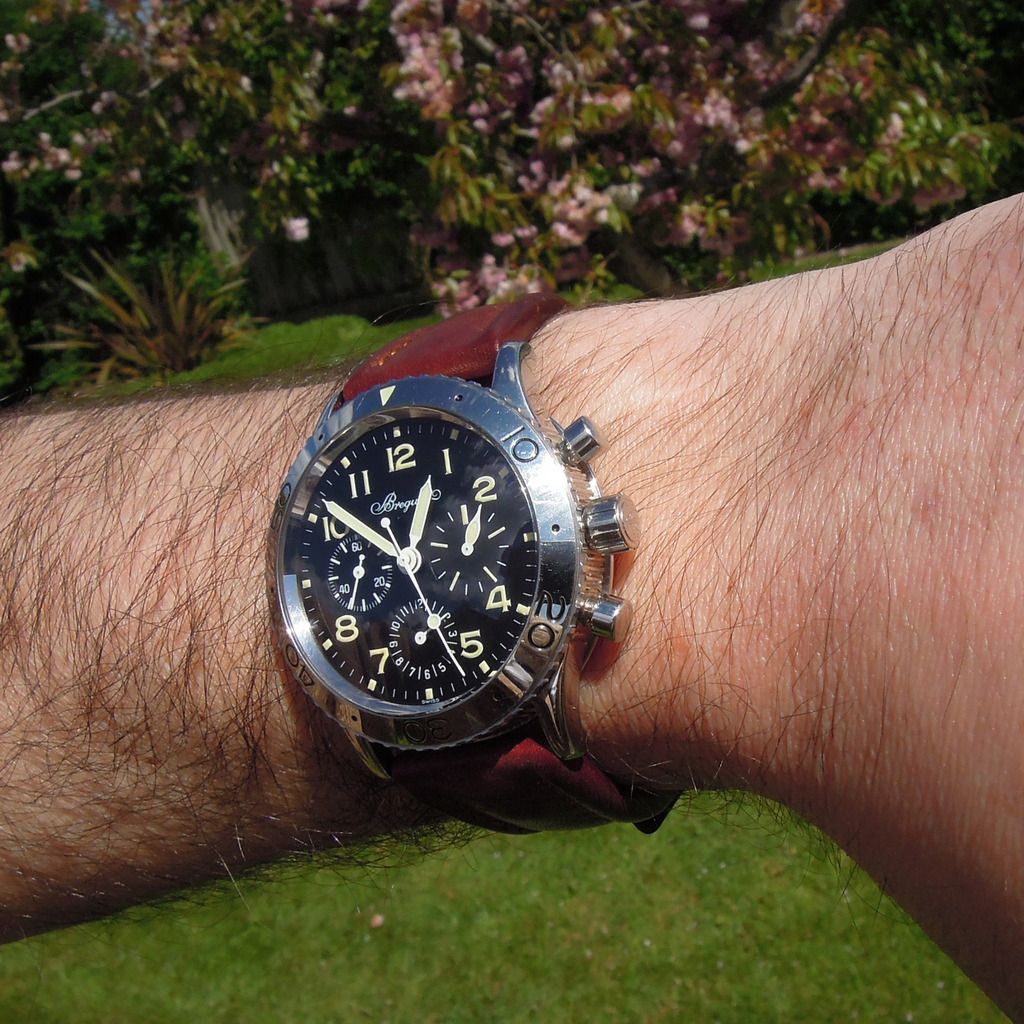 I wish I was you! :-). (nt)
Re: I wish I was you! :-). (nt)
Thanks Dan,
but if i think about your VC collection, i wish I was you also! )))
Re: What are you wearing today?
Not a VC, I am afraid.
I am  wearing a watch that I got some 7 years ago after reading one of Alex's article who described Voutilainen's work 'en passant' on this very forum.
So a small indirect way to say a big thank you, Alex.
Thank you also for the very nice content and gentile atmosphere that always seems to reign on The Hour Lounge. 
Good evening to all.
Z'
good to see you here and WOW, what a watch :-)