IWC really hit the nail on the head with their BPW, I also like the
version in the Ingenieur case
OMG Alex, that is breathtakiing!
WOW...I would have voted for that design as the Hour Lounge watch!  Is that the original dial?  It's perfectly delicious
thanks :-) I believe the dial to be original there are some
patina spots on the very periphery but hardly noticeable. Normally the movement should have a swan neck for the fine adjustment but it is missing here and I have yet to have one fitted.
That is the kind of case design that really stands out, beautiful.
There is also the "devil horn" style lugs are a real nice variation on that design.
May I ask you the size of the watch? Thanks!
oliver
its 36mm but wears bigger due to the form of bezzel and lugs (nt)
Nothing brings a smile to my face quite like seeing a beautiful VC in rose gold.  That watch is really beautiful to look at and must be a joy to wear. I really like the curves of the font for the numbers 12 and 6, very understated but elegant. 
Best regards,
Dino
What a remarkable dial – and watch. Thanks for posting.
Regards,
Tony C.
This was a secret, but now, I must reveal that he borrows it from me from time to time.
(metal) for me.
But sorry, no VC: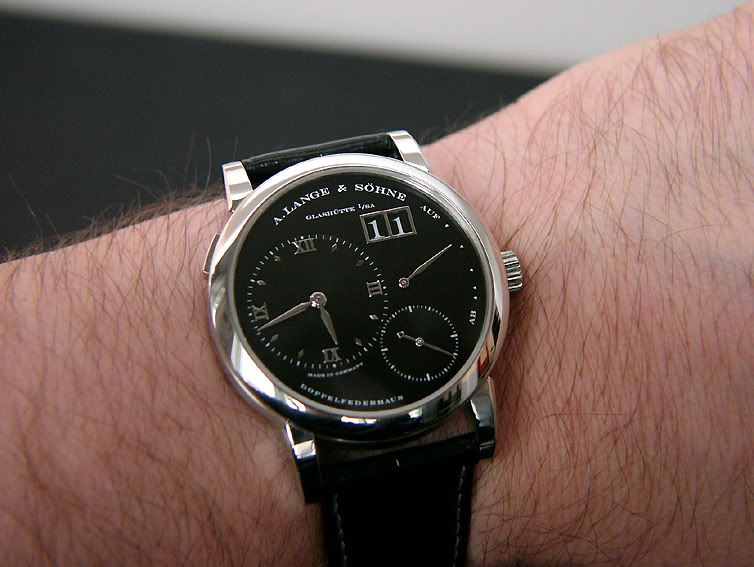 All the best from Berlin!
oliver
which one gets mots wrist time? The QP or the tourbillon? (nt)
Every time I see a picture of this watch, my heart melts...
Looking at this beautiful QP, what a great way to start off the year
it was my most recent (old) acquisition, and most probably one of the only Seikos
you will ever see on this forum!
Regards,
Tony C.
why is Laurel attached to the name Seiko? was is a joint
a brief bit of background:
In 1881 a company was founded in the Ginza district of Tokyo called K. Hattori & Co. Ltd. They opened a retail shop which carried clocks and watches. In 1892 the owner went into the manufacturing business, opening the Seikosha Co. Ltd., and they began producing clocks. Then, in 1913, they added Japan's first wristwatches to the line, under the brand name "Laurel".
Fast-forward to the 1960's, when many of the classic Seiko trademarks were introduced, including the Bellmatic, World Time, King Seiko, Grand Seiko, Seiko 5, and Sportsmatic. The watch which I have posted – a first generation Alpinist (a model which thrives today, incidentally) – was, to my understanding, Seiko's first 'sports' watch (their first dive watch was made in 1965). My reading of both the Seiko and Laurel names being used on the dial is that the early '60's was a brief, turbulent, transition period leading to Seiko's refining and use of these new model/line names. In fact, the very next version of the Alpinist was released under the "Champion" name.
For those interested in a more detailed history of Seiko, I'd strongly recommend reading this article:
http://www.timezone.com/library/cjrml/cjrml0023
Regards,
Tony C.
very interesting thanks Tony (nt)
Sorry i have been unfaithful i wore this one
No worries about splashing champagne on this piece
I bought it because it is a hot watch & my ad(read good friend) even gave me a discount on this piece
Now i cannot take it off my wrist
Not really a sports watch but i swam in it & it held up
TL
Re: Nice one Tim :-) (nt)
Thanks Alex
Are you getting the 5712?
TL
It should arrive by March but as soon as I recieve it I'll
flip it
just kidding :-)
This is what I was wearing for 2007, but
in 2008 I hope it will be a vacheron perpetual. I would like to have Vacheron build a one of type but in 1 year????? One can always dream!!!!
what kind of perpetual would you like to see them make? (nt)
Re: what kind of perpetual would you like to see them make? (nt)
Case:  Rose gold 40mm diameter Sputnik Style.
Functions---Time
                 Sweep seconds
                 Day/Date/Month in windows
                 Moonphase (blue with gold stars and man)
                 Leap Year indicator????not 100% sure.
                 Automatic
Dial---------Black
                 Rose gold baton markers (1755?)
                 Rose gold cabochon minute markers
                 Guilloche
                 Vacheron & Constantin
Crown------Same as "Tour de I'lle, slightly recessed in case
Hands------Dagger (similar to Patrimony traditional)
The 3 windows could either be grouped together on the top of the dial (preferred) where there are 2 windows parallel to each other and the 3rd on to be up above them in the center.
If there is not enough space to fit all 3 then keep the 2 together and the 3rd to be at 6:00 just below the opening for the moonphase.
I am not sure about the leap year indicator because I want to keep the dial balanced and symmetrical and do not like a number associated to it. In my opinion they are confusing; is #1 leap year, or is it #4 etc....just some sort of indicator would be preferable.
What do you think?????
agree 100% I would like to have the day/date/month indications via
Re: agree 100% I would like to have the day/date/month indications via
Alex...Thats very cool. I had not thought of that layout. It would much more complicated to design but were discussing dreams here so you have just go for it. Thanks for the idea I love it.
John