Teach me to flash my ring. MikiJ
Re: This one since I have 100 phone calls !!
If only I had a shot of reading this beautiful dial! MikiJ
Re: I don't follow you Miki
How soon we forget. I'm the old fool that buys wonderful watches he can't read.
I fall in love with beautiful faces I can't see, such would be the case with your GP.
I keep reminding myself watches are like women, only cheaper and safer! Best, Miki
No it's impossible to read
At least without glasses and I never wear them...
But cute it is,
like women
Doc
Re: What will we wear this week-end?
Heading to chicago for the weekend and bringing this along. It doesn't have the bling factor of your ring but best I can do.
John
OOPs forgot to attach the picture
I understand your 5970' position
it hurts to say
Doc
This is by a VERY LONG MILE my favourite PP - I especially like the lugs on it
That is one piece I would really like to have in my collection... congrats John!
May I dare ask for a few other close-up shots, even if we're on the HL?
Re: Amazing and beautiful...
Hi Veillotron...I will get some out later this week, but want to respect that this is the vacheron forum. So in that note I will also  post some pictures of some nice vintage vacherons.
John
Re: Re: What will we wear this week-end?
"Bling" you said "Bling"! There are two types of bling:
1) The "flash & dash" as in a Superbowl Ring
2) the "real deal" as in a Patek #5970
As always, wear in good health. Miki
Which team and year is your SB ring for?
The 49ers vs. The Chargers Superbowl XXIX January 29th 1995
The Chargers kick off and The Niners take possision at the 20
First play, Young to Rice, 80 yard TD. Game, Set & match! Miki
Very cool ring and story...
My Wife has alway been a huge 49ers fan so I'll have to tell her to check out the pix of the ring.  Nice GP, Miki.
Best regards,
Dino
I have yet owned a Patek...haven't found the one I really like. And they are SO expensive
Like you, I do not really find too many PP's interesting.  I really wanted to buy the 5135 annual calendar with window date displays but alas it was too big for me.  The 5146 is less expressive but it is a good all-rounder.  As far as price is concerned, I think VC's watches are just as expensive for the most part.
But as you may already know, nothing stirs the soul quite like a VC!  There are so many VC's that I would like to have but unfortunately I have yet to win the lottery or find out Alex's home address.  In fact, you recently got one of the VC's that my heart is really aching for....the Contemporaine boutique edition.  Actually, the regular version in PG is also good looking.  Yes, I want something simple now (setting the dates on the 5146, Toledo, and Jubilee can be an exercise in patience when you are rushing to work in the morning).
Of course I wouldn't mind getting my hands on a Tribute to Great Explorers, but that is a different fairy tale altogether...
Cheers
kazumi
This is the way I see it.
I frequent many watch forums, and I find this forum is still filled with many enthusiats. Patek forum still has the same group of passionate people but is also starting to attract more newcomers who have the slightest idea about PP and just like the brand because it's considered 'THE BEST" by the market. It's worse with AP...too many rich people with nothing better to do than to flaunt it in ROO LEs...sorry if I am too harsh.
I love AP, I also have great respect for Patek (but haven't really found a model that really speaks to me) but with that kind of crowds flashing their suddenly increasing collection EVERY DAY, it's just too much for me.
VC's collectors still maintain a kind of modesty and are low profile. I like that!
Kazumi-san, ganbatte ne!
Kazumi,
you too.
A PP,
but it's OK
Doc
Re: What will we wear this week-end?
On saturday this sporty piece form 1967:
But the sunday will be VC day:
By the way: my ref 6782 is now at VC for a thourough service......
Have a great weekend,
kind regards,
Mark
I have been thinking,
just thinking of a Rolex.
The old impressive President
Which resently was up for sale at Antiquroum,
I had already put some money on my account...
This one
And it went for 7,670 CHF  !!!
That's only the worth of the gold !
But I missed the auction !
But please don't tell anyone
Doc
...a pitty you missed it....just between us of course...;-)
Nice one though !
regards,
Mark
This weekend the 1st VC I bought...
I got a new pair of rg,wg, and yg cufflinks that I haven't worn yet and I want to break them by pairing them with this VC.  Sorry for the old photo, I have to take some new photos this weekend. 
Best regards,
Dino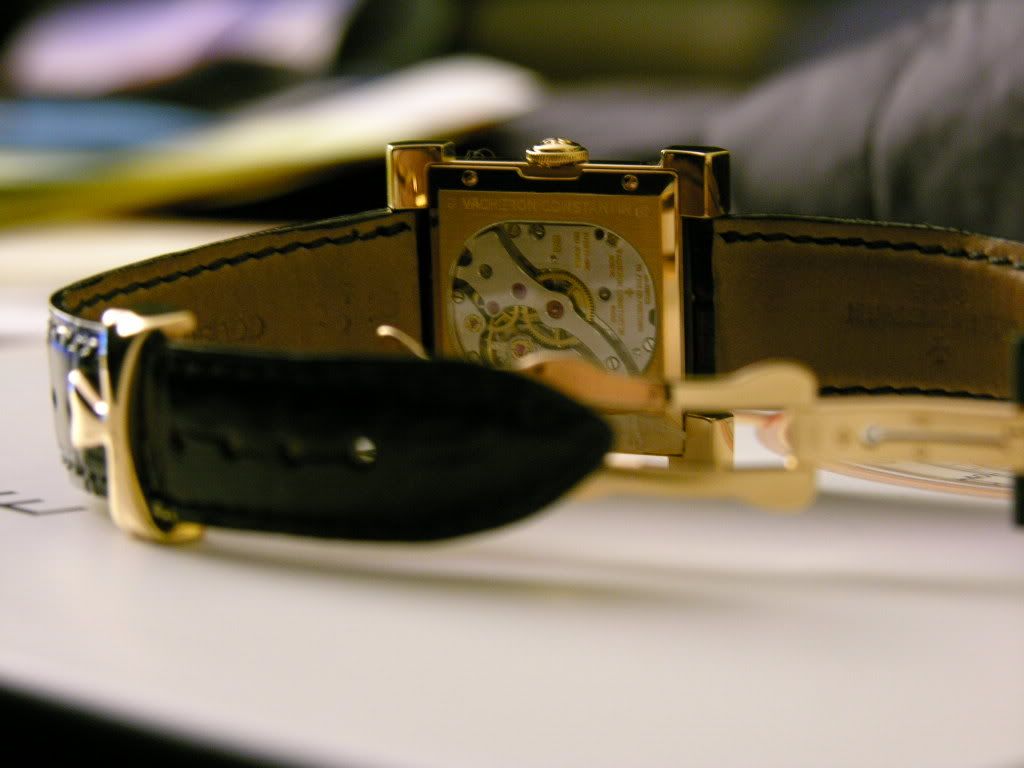 Re: This weekend the 1st VC I bought...
You dog, you just had to post "that one"! As always, wear in good health. Miki
Congratulations to a Les Historiques
which is a beauty from the dial side,
so come on,
more pics,
even though I liked this pic very much  
Doc
One more pic for Miki and Doc
Hi Guys, 
Thanks for the kind words about the 1st VC I ever bought.  I will try to take some new photos of it this weekend, especially since I have to give Miki something to dream about until he locates a Carree for his own wrist
. 
Best regards,
Dino
which now is already hard to come over !
I have only this Les Historiques
This is one of my first VC wrist watches I bought,
because of Alex and Bill
Before that I was a dedicated Vacheron & Constantin pocket watch collector........
Still loves it,
as much as when I bought it!
Look at that dial and the movement,
without Geneva Seal !
21 jewels, Geneva waves and perfectly made,
but then VC thought it unnecessary,
the Firm was speaking for itsellf?
Perhaps they should return to that now, since each and every watch,
soon have Geneva Seal
Congrats to your lovely watch
Doc
Re: One more pic for Miki and Doc
Someday my Prince will come!
I came close to A Les Historique Chrono but I couldn't read the dial.
Another try at a Vacheron, but alas another watch purchased.
Take good care of "our" Carree, Miki
so what did you go for Miki? (nt)
Beautiful dial color goes really nicely with
your ring and links.  Very handsome Chopard I might add
Best regards,
Dino
Dino, this is one of the nicest vintage VCs I have ever seen!!
When it comes to vintage, I really like the square/rectangular cases...
This one is really gorgeous...
Congratulations and wear it in good health!!!
I have always liked intersting shaped VCs.  The first VC I ever tried on was a square Historique manual wind model based on the Toledo.  It was a lovely watch, I was a student at the time and used to check that watch out whenever I'd pass the dealer's window.  But shortly after finishing grad school, I saw a picture of the Carree Historique and fell in love with that one.  Then I was lucky enough to try one on in person and I was sold on that model.  Its my 1st VC and one of my favorite watches.  I hope that VC will be releasing some new Historique models in the coming years. 
Thanks for the kind words about my Carree and I hope your recovery is going well.
Best regards,
Dino
2008 will make you happy Dino :-) (nt)
Thanks Alex, I'm already looking forward to SIHH : - ) Nt.
fly saftely in the weekend
Doc
YOUR OWN SUPERBOWL RING???
If you are not joking and this is really an authentic SuperBowl ring, then I must say that I am EXTREMELY jealous!!!
The watch is very nice, but it just cannot compete with the ring...
That must be your most prized possession - a Superbowl ring of your favourite team, and on top of that it has YOUR name on it!!!!
Were you a player or part of the organisation?
I woul pay a fortune to get a SB ring from my team (even if it didn't have my name on it). Sadly for me, my team - or my favourite player never won a SB
... The Bills made it 4 times in a row, but never won it (if only Norwood's kick had been a little bit more to the left...)
, and Dave Krieg, the Indiana Jones of quaterbacks, never got to the Big Show
All that to say congrats on the ring (and the watch)!!!
Veillotron
Re: YOUR OWN SUPERBOWL RING???
What real fan could ever forget "wide right"?
IMHO the greaterst four year run any NFL team will ever enjoy.
The Niners were owned by the most gracious and generous Edward J. DeBartolo Jr.
He provided Superbowl Rings to a number of close friends and associates, gratis!
His after victory parties were just as memorable, as is he. Best, Miki
A close friend of Mr DeBartolo... you are hanging in good company
. He was indeed a class act!
Thank you for the kind words for my Bills
Miki, this is a pretty cool story.
If I had to wait 5 years before I got my hands on a VC QP watch, I have been dreaming all my life of getting a SuperBowl ring (or a Stanley Cup ring - hey, I'm Canadian!)... You are a truly lucky person -  if ever you have the time, I would really appreciate it if you could post close-up shots of your football relica...
Thanks
Veillotron
Does this mean I'll have to sqeeze into the my original Stanly Cup jacket?
Custom made for a handful for the first Penguins Cup, also with my name.
ok, that's just too much I can take
I am going to go and cry for a little while...