Breguet is another maison that I love. But why I can't see your photo, Anka? My pc doesn't see only your pics!!!
BOOOOOOOOOOOO!!!!
I already mentioned this problem to Alex, and I am also a bit frustrated not to view them. Maybe it's due that I use Firefox?!
Moreover, I can see my pics during the upload, but once it's together in the post, I have a blank square!!!
Alex, please some help!
If this problem can be solved, I will of course send other pics Leonardo. We keep in touch.
Re: Of course, especially after this exceptional review you made!
I am desperate : I cannot see it either !
I know this one came before, but it reminds me of the Roger Smith.. my favorite independant watch (along with the JDN, but that one is a little bit less low-key...)
After seeing the RG in the flesh at the HL SIHH dinner, I am even more in love with it...
Beautiful Breguet Anka (nt)
Observatory movement...we are talking heavy stuff here!!
Nice watch.
Actually, I also like quite a few Breguet models but my tight budget does not allow me to stray away from my first love...VC, of course!
Thank you for your kind words Kazumi.
I focus also on VC, of course, but I got this opportunity to catch this watch some years ago that I couldn't let it away like this...
Vintage IWC Ingenieur ref. 666A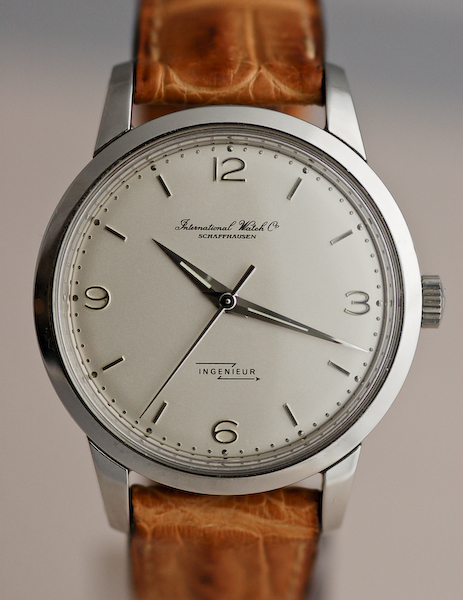 Re: Vintage IWC Ingenieur ref. 666A
Fantastic! I prefer this version to other (more famous, 1832). This is very wearable. 1832 maybe is too thick.
Re: Vintage IWC Ingenieur ref. 666A
Re: Vintage IWC Ingenieur ref. 666A
What a crisp shot.  The watch looks to be in excellent shape.
Its vintage pieces like these that make you appreciate the current line up more.
Actually, the re-edition is a testament to the sound and timeless design of the originals.
A real keeper.
Best
Kazumi
Thanks to all for the kind comments...
The "new" IWC vintage version is a bit too large, in my view. The original ref. 666 series were cased at 36.5mm, and the new one is 42mm. I understand that there is a trend towards larger cased watches, but I believe that 40mm would have been sufficient, or, even better, they might have offered a 38mm version to go with the 42mm one.
Regards,
Tony C.
Leonardo, his doesn't come up as a surprise... ;-)
It is a lovely 222. The steel version is my favorite model by a long mile
Thanks!
And next week I have a surprise: finally to my home a NOS 222's bracelet!
Hi Leonardo.
This was on display at the entrance at SIHH since this year's them was "sports/sporty".  Although the 222 may be more on the elegant side compared to its other Gerald Genta siblings from AP, PP, and IWC, the watch still occupies a special place in VC's heritage.
Sorry for the blurred shot.  I just got in to the exhibit area and my hands were probably still shaky from the excitement.
I'm not sure Alex, I might side with your wife on this one... I'd have to see a wrist shot to see how big/ out of place it looks...
One thing that is for sure is that I MUCH preferred the one you had at SIHH...
Yes, I think a wrist shot is in order...
I don't know about your wife, but I am sure it gets many comments (if not second glances)!
looks better than I expected, but still... this piece is out of my league
Must be a little hard to wear under a sleeve...(nt)
If you think I'm funny, when I showed my new watch to my wife ...
Anyway, after the almost 24-hr trip back from Zurich via Heathrow, I was so relieved to finally make it back home.  Saving what I thought was the best for last, I showed my wife my beloved Contemporaine boutique edition after showing her the other things I acquired during my trip...Now for the highlight of the show...
Kazumi: (slowly taking out watch from pochette to show wife)...
...And here it is...The VC Contemporaine boutique edition... bought from VC's flagship boutique in Geneva, from the directeur boutique himself!!
(slight pause)
Wife: ...It looks like a Longines....
Kazumi:  
OMG!
No offense to Longines.  They have been in the business a long time too and they have not succumbed (as far as I know) to the gimmicky designs that plage the industry right now.  But still, we are talking of completely different animals here...sigh.
Oh well, here are a few more shots of my Longines
 (sorry Leonardo.  I just couldn't resist)
Enjoy the rest of the weekend guys!
Ciao
Kazumi
I really like its dimensions, and its pure dial... And the black (IMO) looks much better than the white one.
I just wish I had taken the opportunity and spend more time looking at it  when we were at SIHH
Your watch is oustanding, and flat to suit for dressy events.
Congrats again.
Cheers, Patrice
Another funny VC Patrimony Contemporaine story this week...
My wife went to visit her sister in Rome this week on Wednesday (while I was still subdued by antibiotics curing acute angina)...
When the plane touched down in Rome she texted me: 'I'm already there'.  My answer was an ordinary and mandatory 'Ok'.
Then five minutes later she texts me again: 'I'm on the airport shuttle and this guy right next to me is wearing a Patrimony employee edition'. All of a sudden I get all alert and write back: 'Must be a VC employee. Get that thing off his wrist, buy it from him...' She, of course, laughed me off.
But then it hit me. My wife, Camilla, who is a watch lover herself (owns two VC watches already and her new Patek Aquanaut oversized men's edition is on its way from New York as we speak), started really learning and sharing my passion in Vacheron Constantin. Atta girl!!!   
Re: Another funny VC Patrimony Contemporaine story this week...
Hi Radek,
When you say "angina" surely you are not referring to cardiac angina, are you?
You're a bit young for that!
And I don't think antibiotics would do much for it.
Did you mean "Vincent's angina" or something else?
Best wishes for a speedy recovery,
Joseph
I hope my angina doesn't have anything to do with any cardiac diseases...
It's just acute flu where you can barely swallow cuz your throat aches so badly...
Getting back in shape already ;-) 
WOW your wife sure knows her watches ! (nt)
Wow...climbing mountains and making strawberry pie...
is there anything you can't do?!
good looking strawberries and very cool contrast between the red and
silver of the watch