Re: What's on your wrist today on Friday ?
IWC 3712 for me. Sorry don't own a camera photo of same watch courtesy of Michael Sandler
Love this watch! I can't understand why IWC stopped production of the
I have worn mine the whole week ! (nt)
Tonneaus is always handsome !
In Europe we don't turn the time until 30 th of March !
It's quite a rare watch you have there, Joseph,
I haven't seen to many
As I remeber it's been with you for quite a while now,
a keeper
Doc
Do you have ANY VC days ? LOL !! (nt)
LOL! Hope no wet dream... :D
Today is a national holiday, went to the mall with my family with Patrimony on my wrist. But wearing my RO chrono as I type this. Sorry Doc, no scan...you all know how beautiful it is!
Coincidence!
I'll say!!
I thought it was mine and couldn't figure out how you got a picture of it!!
LOL
Joseph
The "BaFin" of your paper does not feat with the stars of the VC (nt)
The color of the coating is extremely beautiful on your Urwerk Alex!
How do you compare this watch with your other pieces? Congratulations on such a fantastic watch!
Regards,
Mike
I have very ecclectic tastes and each watch has a special
place but considering that Felix Baumgartner (the watchmaker behind Urwerk) started his career at VC Urwerk is rather on top of my favorites list
looking good even after reaching the top of the world :-) (nt)
the coolest in this Club
How many degrees minus was it at the top ?
Doc
-25 Celsius without windchill, but colder at home!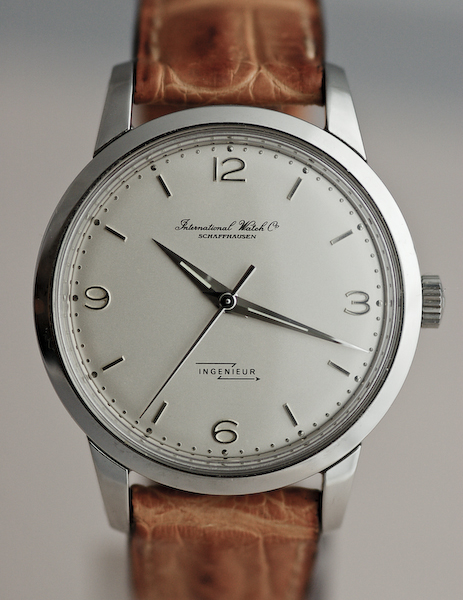 is it a vintage in such an extraordinary finish or a retro made?
Very, very clean, like it much
Doc
thank you for the kind comments. This watch is has not been reconditoned, including the (authentic IWC) dial. However, as you know well, unless one acquires a watch from the original owner, it is impossible to know with certainty that the dial is original.
I am very lucky to have a collector friend who has helped me to source some rare vintage IWC watches which are in extraordinary condition. This one is particularly unusual, as the dial is commonly associated with the hand wound cal. 89 models, and very rarely seen on the Ingenieurs.
Now, I am making a very fine distiction here: there are some 3, 6, 9, 12 Arabic dials seen on ref. 666 Ingenieurs, but they almost always have some very slight differences (e.g. a flat top to the numeral 3) when compared to mine. What I have learned over the years through me research of vintage Ingenieurs is that there are some very rare examples with unusual dials. What might have happened in the case of the one pictured above, is that IWC had an order (perhaps from a small foreign market) which it could not fill with the usual 'stock' dials, and therefore used some dials which were originally designed for cal. 89 models. I have never seen another one exactly like it, though I am certain that there were others.
Best regards,
Tony C.
I never seen this watch before, as you understood, and now I know why
It's without discussion a IWC, but I can't get rid of, that there are traces of both JLC and VC,
perahps the hands, but that just add to to the clean dial!
Once again, thanks and congrats to a very nice watch
Doc
Just for reference, Doc...
here is an IWC catalogue page from the late 1950's. You can see that the reference 347A (an automatic, actually) has a dial which is almost identical to the one on my Ingenieur.
Don't forget that the dials were made by independent companies, so it is not surprising that some basic designs would be common to several different Swiss watch companies.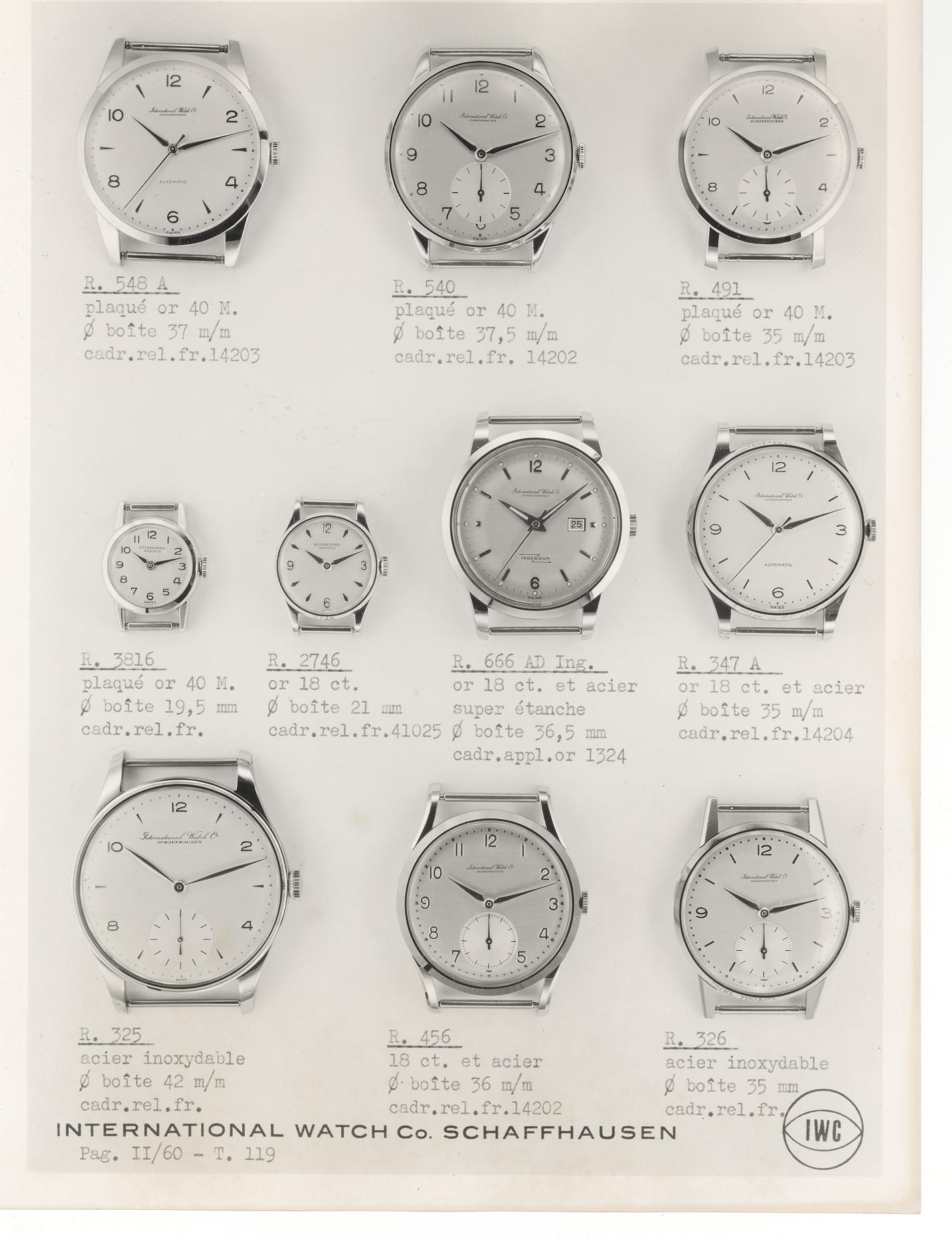 Thanks, very informative and
interesting!
That's the perhaps most charming with being a WIS,
when you find the wells
Heritage!
Doc
We can see that again and again :-)
I love the 1755, but still I cannot accept the power reserve,
not really on any watch !
I think it's so unneccesary...
But as I said before, sometimes it takes years for me,
to fall in love with a watch, like my DTR, which I didn't like at all,
from the beginning...
I love the 1755 and was really very close to ordering it blindly,
but then someone whispered in my ear, about the power reserve...
It's like Automatic on the dial or PT950, and other not needed information.
Reminds of the cars in 70's, when all kind of information was glued on them.
As clean as possible is my philosophy,
but that will probably not stop me, from one day being a proud owner of a VC 1755
The guilloché is just outstanding
Doc
Just give it time, Doc...
Actually, I understand what you're saying, especially a power reserve on an Automatic!
However, I do find the PW to be one of the more useful complications/features.
You see, my work requires me to use the PC the whole day so I usually remove my watch to avoid getting scratches on the buckle, etc.  This means that even automatics don't get wound up as they are lying on my desk the whole time.  Just yesterday, the PW display saved the day for me (my Jubile was ready to run out on me). 
I think as long as they are tastefully presented, I am sure you there is still a chance for one to find its way on your wrist.
Best
Kazumi
This is beautiful Doc (nt)
but I wouldn't say that PP is better than the Omega
But it's a beautiful classic watch, with "Clous de Paris" !
Mickey is a true gentleam, elegant as always !
Please tell him 
Doc
Mickey says "thanx guys". He got this one because of the Email Dial. Oh yea he can read it too!