I believe he's Kari Voutilainen.
And I think he's fixing a watch for you
...you are getting his watch Alex?
assembling the dial and hands to the movement, but who is he? Employed by VC or a prominent guest
Chees Doc
I'd like to think that....
he's working on my watch .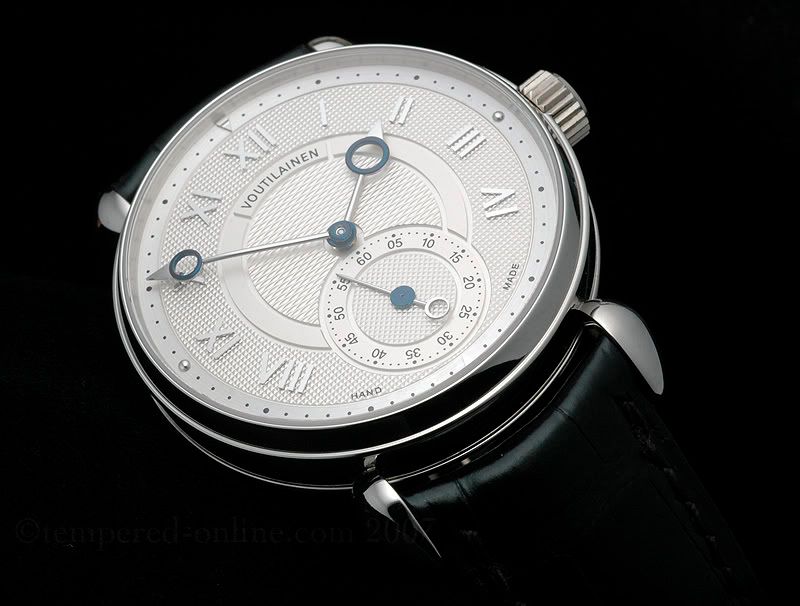 Is that baby yours, Alex??
If so, you are a man full of surprises
... tomorrow, I get back to Belles montres to look closer to that  LoL
Re: looks like we have the same tastes...
Gorgeous
!  I'm speechless it's such a lovely watch and I love the dial color
!
Best regards,
Tom
Ans this model looks better with roman numerals - good choice!
Re: I'd like to think that....
Rob, You are truly a killer
!  And the hits just keep on coming
. Best, Tom
He's an entomologist trying to determine the gender of a mosquito
he resembles kari, whom i am honoured to have met and spoken to, i ...
hope he is collaborating with VC  :)
good eyes guys :-) Its Kari but he's not collaborationg with VC but
doing something for HL
Check back on Dec 1
You really are the Teaser in Chief :-) (nt)
Re: good eyes guys :-) Its Kari but he's not collaborationg with VC but
I see movement holders on his bench and what looks like a very thin movement in his hands...could it be a special watch for the loungers????  Alex you are a master of suspense....very entertaining. Thanks John
Wow, this I gotta hear! (nt)
Not the mythical HL watch???? nt
if it was the HL watch it would be from VC not Voutilainen ;-)
I'd love to know more....
about Voutilainen, as this is the first I've heard of the gentleman.  I've googled him but can you tell me about this design and manufacturing ethic?  Why do his watches appeal?
I am intrigued, and looking forward to the response on Monday...
Doing something for HL... Could he be the "Surprise Huest" at the HL dinner at SIHH?
You really have some fine pieces Alex,
but is it OK even if it's not VC ? In this case I think I have to say yes
I like the younger brother, of course
Cheers Doc
the will be a comparaison between the quality of the finishing of a Vacheron Constantin and a Voutilainen ? or a comment from him about the Vacheron finishing ? I am sick and stuck home this week. Cheer to my fellow loungers, Berny
Hope you're getting well soon. Take care!
Berny, take care of you...
and I hope we could meet at Belles Montres like last year... If not, later on as I learned. Cheers, Patrice
Remets-toi tres tot, Berny! (nt)
On the flip side (there's always one), you'll have more time to surf the Lounge