Now that you've found it.....
how does it feel on your wrist? Afterall that is a long search.  ;)
Hey, good for you, Jefe!!
Congratulations, Alex.
Good things come to those who wait (and check out various sources)!
I know you really wanted one.  Wear it in the best of health!! Best regards, Kazumi
and thanks for all your help on the Japanese transaction which
unfortunately never went through.
For a supposedly "Square VC Guy"...
I find your most diverse and interesting personal collection to be more in line with your original Avatar! Needless to say that I very much admire your collection. As always, wear them all in good health. Luca
You have an impressive collection of high end watches, Alex!
the Speedmaster is a pure icon which really looks good on your
Just back from a complete refurb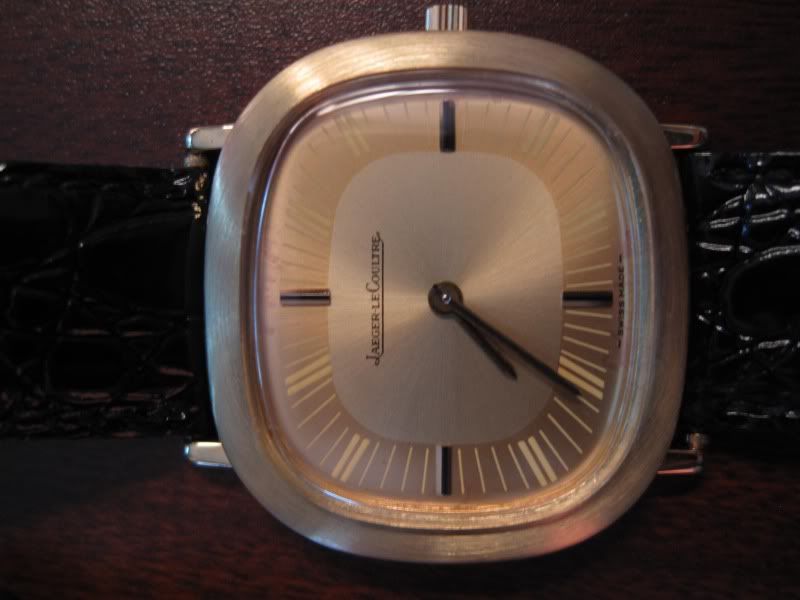 Today is a suit and tie day so I decided to wear this one. It is just back from a 50 week journey to Le Sentier. I origianlly purchased this in 1974 and wore it sparingly as it is very formal. About 18 months ago as I was putting it on the stem came off in my hand. I realized it had never been cleaned so off it went to the AD, then home for a refurb. I really like the shape and simplicity. Great weekend to all, Ray
congrats. being a fan of MB&F, u can't miss this, which is also ......
the brainchild of max busser, it  all started with the shiruken.  enjoy the watch with an amazingly lasting appeal in spite a modern look. i love it.
your fault Aaron, with that avatar of your's there was no way I could
get the watch out of my mind
I wish I had the wrist for this beauty. Congrats!
That is one pretty watch, Vassilis.
I am green with envy!!
Keep the photos coming! All the best, Kazumi
looked like a fun celebration!!! (nt)
Congratulations on celebrating your special occasion. For those of us with 30+ years we know what an accomplishment that is. My finest watch is with me just 21 years while my bride has now clocked 33 years with me, lol. On top of that she enjoys watches so I got it made when I bring home another watch. Enjoy and take care. Best wishes, Matt
Thanks so much for the congrats and sharing your story too
.  Thank goodness my wife has been a great supporter of my Vacheron addiction like yours...we are really lucky!
Please forgive my ignorance...Sir!
Isn't patrimony just plain beautiful?
Lucky I got one as well...I better wear mine now!
Perhaps this for this evening...
Have a wonderful weekend! Matthew
Wow! Classy platinum...perfect indeed (nt)
I'm wondering if the Patrimony Contemporaine isn't one if not THE
nicest dress watches currently available!